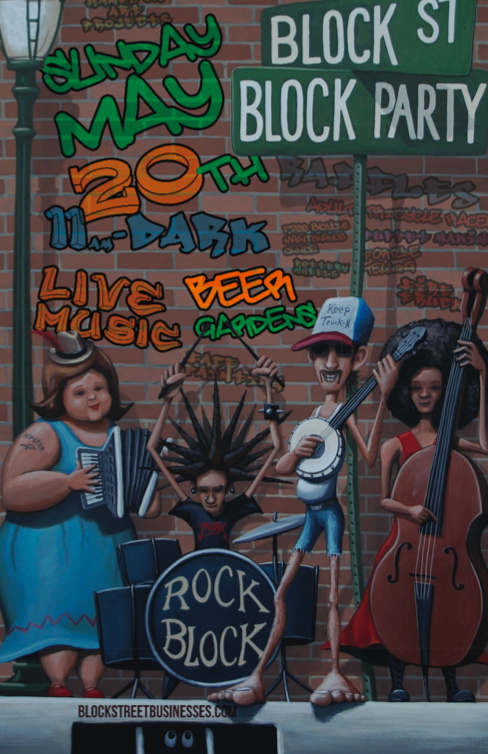 Block Street Business Association volunteer Kirsten Blowers exclaimed, "Block Street Block Party is the only place you can get funky with all your favorite people on the greatest street in the world!" Kirsten owns Riffraff on Block Avenue, and her boutique is hosting body paint and bust a move activities all day during the event.
After the resounding success of the inaugural Block Street Block Party in 2011, the Block Street Business Association is ready to
"Rock Block" once again on Sunday, May 20th, 2012, from 11 a.m. until dark.
The community darling of a party will take place on Block Avenue in downtown Fayetteville, Arkansas, covering all the nooks and crannies from Dickson Street and Mountain Street.
The all-day festivities are open to the public and made possible by the volunteer efforts of the Block Street businesses and generosity of over 30 community and corporate sponsors like Bank of Fayetteville, Little Bread Company, Sound Warehouse, Adventure Subaru, Sound Warehouse, Swift's Jewelry, Riffraff, Cox Communications, Hugo's, New Belgium Brewing, Culligan and Little Guys Movers.
The event has expanded with five beer gardens, 50 local bands and booth exhibitions by over 100 local vendors, community groups and artists. There will be six different live music stages, the Goodfolk Productions Stage, ZoneOne Electronica Stage, JR's Lightbulb Club Stage, Block Street Businesses Stage, Kids' Stage and Tables & Ale Stage. With already nearly 3,273 invitees on the
Facebook event
and 912 and growing confirmed attendees, the Block Street Block Party organizers hope to attract thousands of Fayetteville locals, people from across the region and their families and friends to one of the few unique downtown districts that truly symbolizes Fayetteville's independent spirit and diverse mix of funky, locally owned and operated businesses.
Volunteer Wade Ogle, "Block Street Block Party marked the single greatest day of my life, and, believe me, I've had many. Like a lot. Several." Wade booked bands and entertainment from 1p until after dark at the
stage
outside of his business
JR's Lightbulb Club
, including bands Messy Sparkles, Glory Bones and Fauxnz, as well as stand-up comedian Ray Porter.
Volunteer Stacey Wieties owns
Dark Star Visuals
, a beads, gift and fashion boutique that celebrated its 20-year anniversary as a business on Block Street. "Old-school Fayetteville came out of the woodwork for Block Party last year because it was like the street festivals used to be! No one had seen one like this in the last two decades."
Stacey continued, "When you've been in business so long by yourself, it's awesome to feel like we have strength in numbers. Now we are 30 strong local businesses on one street!"
Volunteer Jessy Lang owns
Good Things Boutique
, Block's destination for a sustainable shopping experience, as well as manages the Block Party exhibitor application process. "All the businesses on Block Street have really pulled together to make Block Party a great day for everyone. We have such a cool variety down here, which this festival really seems to showcase."
Block Street Block Party promises all-day family-friendly fun with such attractions as art piano, Block Street Block Party character photo station, a fire truck, giant checkers, chalk drawing competition, hot air balloon rides, pony rides, waiter's race, jump roping competitions, adult tricycle races, bouncy house, puppet and tutu making, Shag fauxhawks, sandcastle building and an "I Spy" on Block social game.
On-site food vendors will include the Squeaky Wheel Cart, Diamond Bear Brewery, Mountain Bird Coffee, Greenhouse Grille, Arsaga's, Kind Kitchen, Petra Cafe, Hammontree's, Joe Kool's Italian Ice, Lucky Luke's, Mountain Crepes and Gilberto Alanis. Additionally, Hugo's and Little Bread Company will be open all day serving up trademark local faves like the Derek's Special, Bleu Moon Burger, Garlic Grilled Cheese, California Veggie and fresh pastries.
Terra Tots will have a diaper changing station, and Brainstorm Tattoos will be offering temporary tattoos. Fine art, pottery, gifts and handmade jewelry will be for sale from artisans, artists and designers like Catherine Boley, Beth Woessner, Jason Jones, Ginnette Rogers, Bella Vita Jewelry, Urban Jungle Jewelry, Allison Eastman Britt Design, Erin Lang, Katherine Cloud and Karen Patton.
Ozark Poetry Slam will host a poetry performance. Prism Education Center will have games for kids, and The Art Experience will set up a puppet craft table. Attendees can attend free bicycle maintenance clinics courtesy of Highroller Cyclery, adopt a new fur friend at the Fayetteville Animal Shelter's dog adoption booth and even get tarot card readings from the Renaissance Fair booth. Cash Mob Fayetteville is providing a scavenger hunt for local businesses, and the Green Village Foundation will offer African drumming and face painting of African animals.
Proceeds from the Block Street Block Party will go to local charities and to better Block Avenue with bike racks, benches and more.
For an expanded listing and additional details on events, contests, musical lineups, activities and participants, please visit
http://blockstreetbusinesses.com
.