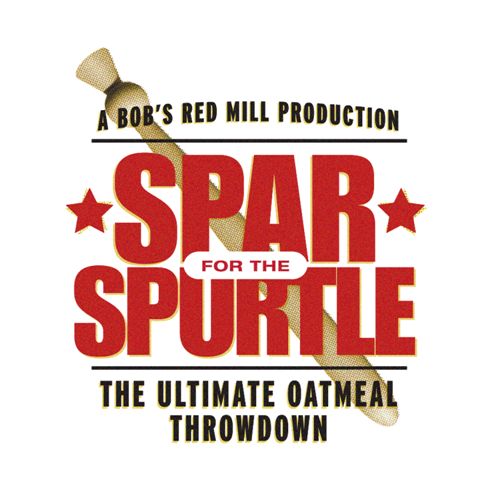 With healthy, whole grain Steel Cut Oats® as the main ingredient, culinary lads and lasses across the country kicked up their kilts and proved they can make creative and delicious porridge as part of the Bob's Red Mill Spar for the Spurtle Contest. Now, Bob's Red Mill Natural Foods is proud to announce the three finalists who will battle head-to-head in the Spar for the Spurtle Ultimate Oatmeal Throwdown in Portland, Oregon, on August 26, 2011. Finalists will compete in the live cook-off for the grand prize of an all-expenses paid trip for two to Scotland to help represent Bob's Red Mill at the 18th annual Golden Spurtle World Porridge Making Championship.

"We've seen how creative the competition is in Scotland, and we wanted to put out the call for help in bringing home another victory at the 2011 World Porridge Making Championship," said Matthew Cox, the 2009 World Porridge Making Champion and marketing director at Bob's Red Mill. "We're thrilled with the culinary creativity demonstrated in the videos we've received in the contest, and we are looking forward to watching the finalists compete in the cook-off here in Portland."

The finalists who will compete in Bob's Red Mill's Ultimate Oatmeal Throwdown are:
• Merry Graham from Newhall, California, who whips up a light and savory version of Steel Cut Oats with her Black Bean Porridge Patties.
• Rachel Kimbrow from Bob's Red Mill's hometown of Portland, who uses a holiday spin with her Gingerbread Oatmeal recipe.
• Jim Schafer from Kohler, Wisconsin, who brings a tropical twist to Steel Cut Oats with his Nutty Coconut Oatmeal.

The three finalists were chosen from the nearly 50 home cooks and professional chefs who submitted video recipes that featured Bob's Red Mill's Steel Cut Oats, the "World's Best Oats," in the Bob's Red Mill Spar for the Spurtle contest. During the live cook-off on Friday, August 26, the finalists will prepare their recipes from scratch in front of an audience at Bob's Red Mill's Whole Grain Store and Visitors Center in Portland. The grand-prize winner will be selected by a panel of celebrity judges and will travel to Scotland to compete in the Golden Spurtle World Porridge Making Championship.

The prestigious Golden Spurtle competition is held every year in Carrbridge Iverness Shire in Northern Scotland. Bob's Red Mill first competed in the championship in 2009, becoming the first American representatives to do so. That year, the company won the coveted Golden Spurtle and the title of World's Best Oats (a spurtle is a Scottish kitchen tool dating back to the 15th century that is traditionally used to stir porridge and prevent it from becoming lumpy).The world title is awarded to the porridge-maker deemed to have made the best traditional porridge using oatmeal, salt and water. The Spar for the Spurtle winning recipe will compete in the specialty category, which allows for additional ingredients to be used.

"We're excited to return to the World Porridge Making Championship this year to show just how creative people can be when they set out to cook whole grain foods for every meal of the day," said Bob Moore, founder of employee-owned Bob's Red Mill.

For additional cook-off information or to view all of the video submissions, please visit www.SparfortheSpurtle.com, www.bobsredmill.com, or Bob's Red Mill's blog, Facebook page or Twitter page.

ABOUT BOB'S RED MILL
Bob's Red Mill Natural Foods, a distinctive stone grinding miller of whole grains, was founded in 1978 with the mission of moving people back to the basics with healthy whole grains, high-fiber and complex carbohydrates. Bob's Red Mill, now an employee-owned company, offers a diverse line of more than 400 all-natural, organic and gluten-free flours, cereals, meals and mixes for pancakes, breads and soups that are available throughout the U.S. and Canada. With its dedicated gluten-free manufacturing facility and strict organic protocols, the company has emerged as a leader in providing safe and delicious natural, organic and gluten-free products. For more information, please visit www.BobsRedMill.com. Additional information is available at Twitter.com/Bobs_Red_Mill, Facebook.com/BobsRedMillNaturalFoods and www.BobsRedMill.com/blog/.