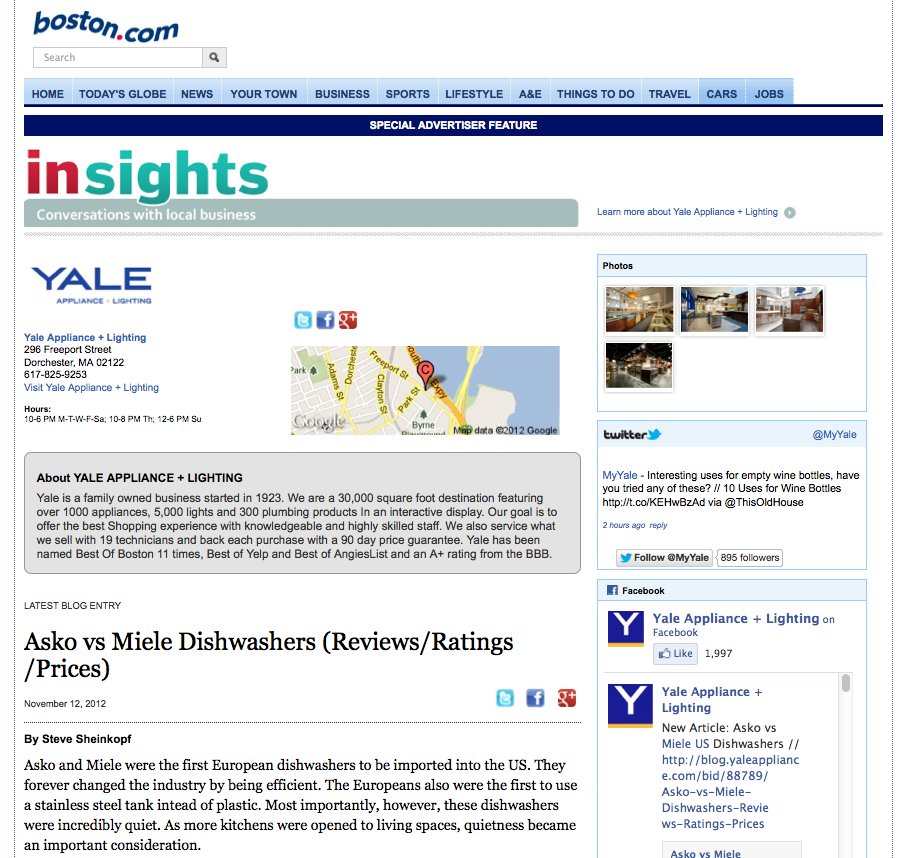 Boston, November 13, 2012 – Boston.com is launching Insights, a new advertising program that gives New England businesses a way to promote and share their own blog content and company information in multiple sections of the website. The program, now available on Boston.com, helps companies and service providers engage readers and entice new customers by driving traffic to their blogs and websites.

Advertiser blogs are featured on multiple pages and sections of Boston.com - pages that fit well with company locations and industries (health, retail, travel, real estate, etc.), as well as on the site's sports and news sections. Insights blogs will also be featured on pages that group content from the advertiser's industry and location. The dedicated business pages for each advertiser will feature Twitter and Facebook feeds, social media sharing tools and photo galleries they create.

"Insights transcends traditional website banner ads to create real conversations between local businesses and customers," said Jason Kissell, Boston Globe and Boston.com Vice President of Advertising Sales. "It offers optimized positioning and brand exposure to advertisers with quality content to promote, helping our clients build credibility, share their expertise and reach new audiences through the powerful Boston.com network."

Insights is optimized for smartphones, so that advertiser content and pages are accessible, visually pleasing and easy-to-read no matter where the reader is. Insights advertisers also receive weekly print listings in The Boston Globe's g section, and monthly listings in The Boston Sunday Globe.

"This new program will be immensely valuable to our loyal advertisers, many of whom are seeking ways to get their content in front of more readers in a highly-targeted way," said Rachna Agarwalla, Business Development Manager for The Boston Globe and Boston.com.

Three advertiser packages are available, featuring different levels of service. All packages offer blog promotion on relevant, location-based, news, sports and group content pages. Packages include a dedicated business page, mobile-optimization, print listings and Boston.com Insights badges for client blogs and websites.

For more information on how advertisers can use Insights to grow their businesses, email insights@boston.com or visit www.boston.com/insights.