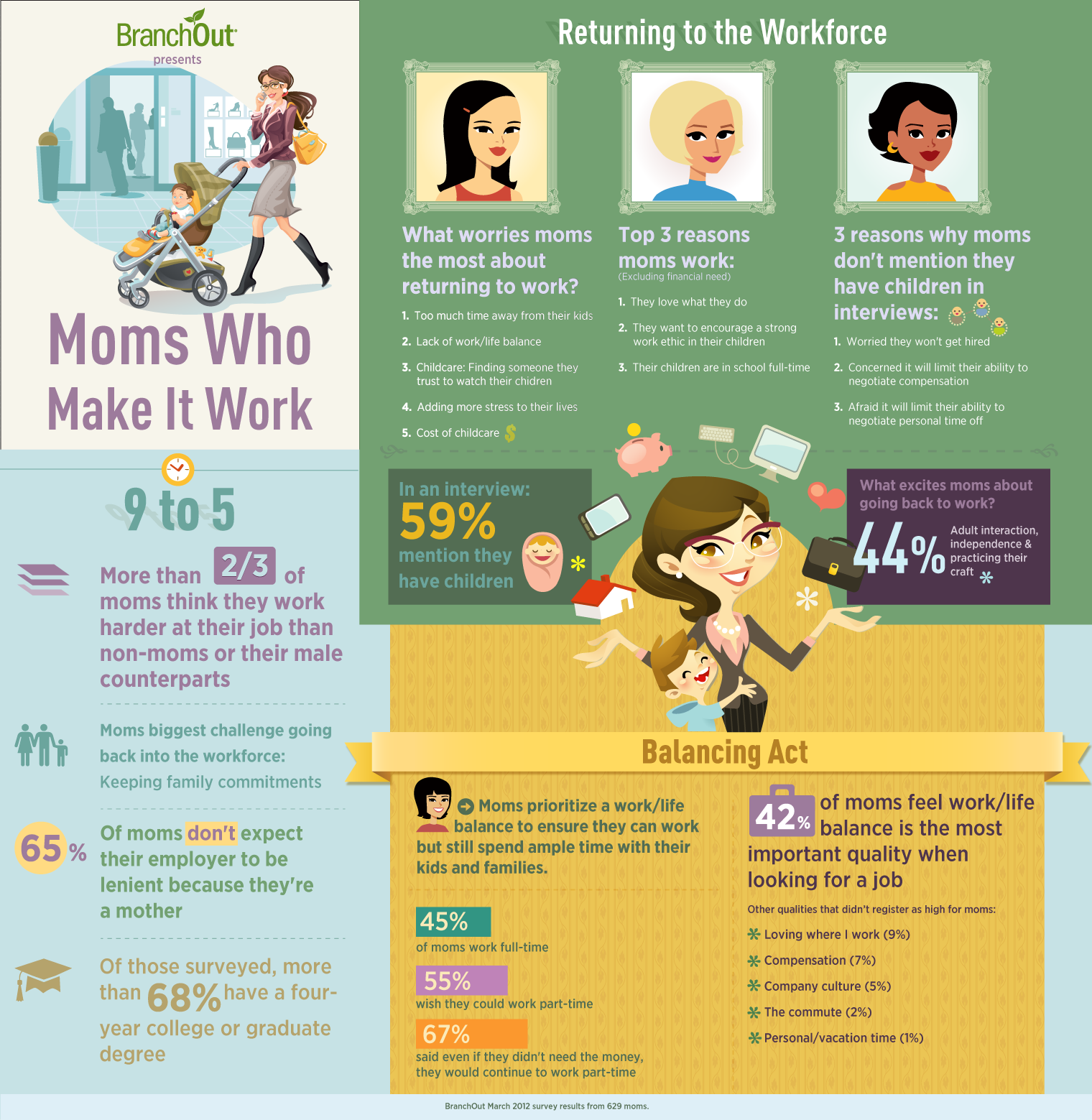 Working moms continue to face a diverse set of challenges. From striving for the right work/life balance to determining when—or if—to re-enter the workforce after taking time off to start a family, mothers everywhere are faced with crucial decisions like these every day.
In honor of Mother's Day, we commissioned a survey which examines many factors that play a role in the choices women are making that affect their professional careers. Our survey, which polled more than 600 moms, found that respondents believe it's important to keep a work/life balance and often worry about being able to do so. Some moms are even hesitant to mention they have children to potential new employers for fear that it may jeopardize their chances of landing their next position or will limit their ability to negotiate compensation or time off.
Here are some of the key findings from our survey, which was conducted earlier this year:
During the Job Search:
Nearly 9 out of 10 women (86 percent) said that, in their job search, they look for a position that's conducive to providing a work/life balance
For moms planning to go back to work, besides salary, nearly half (44 percent) said the ability to interact with other adults, practice their craft and have a bit of independence all excited them the most
When looking for a job, finding a work/life balance is the most important quality (42 percent) – more so than compensation – following by "loving what I do" (32 percent)
You've Landed the Interview!
59 percent proactively bring up that they have children during interviews
Nearly half of moms (44 percent) work because their families are dependent on the income
Working 9 to 5:
More than two-thirds (68 percent) said they believe moms work harder at their jobs than non-moms or their male counterparts
Moms prioritize a work/life balance to ensure they can work but still spend ample time with their kids and families

Just under half of respondents (48 percent) said their employer provides a work/life balance

More than half (55 percent) would choose to work part-time
BranchOut's recruitment specialist, Rebecca Meissner, has these tips for moms considering getting back into the workforce:
Update your resume. Being a mom is one of the hardest jobs you can have. From juggling multiple schedules to keeping your family on task and on track to working across many different families or volunteer organizations, employers recognize the valuable project management skills you learn as a mother. List those skills on your resume to keep your experience and skills fresh and up-to-date.
Leverage your network. As a mom getting back into the workforce, it's extremely important to leverage your network of close friends and family. These real connections know what your skills are and can help get your resume to the top of the pile – and will also give you tips to get the inside track in an interview.
Looking to switch careers? Taking time off to be with your kids also gives you time to reflect. You might decide that your old career didn't afford you the work/life balance you want to have as a mother, or perhaps it gave you time to explore and develop new passions. Either way, if you're looking for a new career, think of how you can add some of the skills you'll need to your resume. Informational interviews are a quick way to start figuring out what those skills are. If you have some additional time, online courses and volunteer work are great ways to start learning those skills to help you be better positioned for success in your new endeavors.