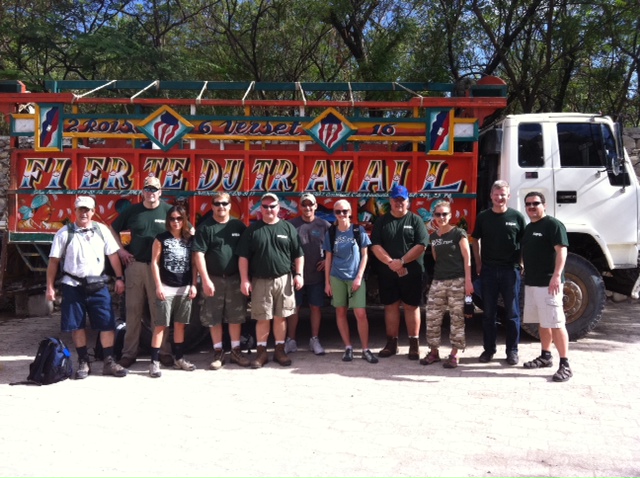 Chicago, IL—A group of nine employee volunteers from Sapa Extrusions North America, including one volunteer from Sapa Group in Germany, recently traveled to Haiti to participate in an on-going restoration effort from damage done during the 2010 earthquake. The trip was an employee initiative supported by Sapa employee donations that were matched by Sapa Group.
To organize the initiative, Sapa teamed up with RainCatchers, an organization that leads volunteer trips to Haiti to build sustainable rainwater collection systems. The inaugural trip lasted one week, during which Sapa and RainCatchers volunteers supported the construction of residential buildings and water systems to prevent cholera contamination.
"Our company's leadership has been very supportive of this trip, and we've seen a great level of interest from our employees," said Kevin Stuban, trip coordinator and director of fabricated products for Sapa Extrusions North America. "As a result, we have been able to give back to the community in a way that unites us as a company from the top down. As a group, we wanted to do more than just write a check to help with the restoration effort in Haiti; we wanted to get involved with boots on the ground and make the most impact."
Sapa's "boots on the ground" effort was concentrated in the mountain region of Seguin, south of Port-Au-Prince, where all of the country's produce is farmed. Produce from this region is transported to Port-Au-Prince and feeds more than one million people each year. Seguin makes up the majority of the green and fertile area in Haiti, making irrigation a necessity.
Part of Sapa's volunteer effort was dedicated toward constructing four new homes to provide shelter for the families that farm this region. The homes were equipped with rain catchers to create a clean water supply system for more than 100 people. In turn, the families that farm this region will be able to produce food for about 14,000 people in Port-au-Prince.
"The impact of the work we did in Haiti is symbolic of the circle of life," explained Stuban. "We helped build safer homes with clean water, which will allow those families to continue producing food for the entire country."
Sapa employees also helped restore the roads leading to Port-au-Prince from Seguin, making the mountain road more passable, allowing farmers to safely transport food and supplies.
In addition, Sapa employees helped update the RainCatchers clinic in Haiti to improve conditions and allow for more volunteer groups to continue the restoration effort. Updates included new plumbing, piping and filters; a new roof and ceiling to fix leaks and mold; new showers; and fresh paint.
The Sapa employees that traveled to Haiti came from four different Sapa North America plants, including Craig Ebling, Jeff Faust, Shawn Schmitt and Frank Koller from the Cressona, PA plant; Chad Chynoweth and Alex McLeod from Spanish Fork, UT; Leigh Grignon from Portland, OR; Kevin Stuban from Chicago, IL and from one Sapa plant in Germany, including Stefan Falk from Offenburg, Germany. The RainCatchers volunteers included Bob Keesee, Travis Farmer, Jordan Stuban and Kathy Stuban.
Sapa hopes to continue this restoration effort next year.
About Sapa
Sapa Extrusions – North America is part of the Sapa Group, the world's largest aluminum profile producer. Sapa is represented in Europe, Asia and North America with 16 plants in the United States and Canada. Further information can be found at www.sapagroup.com.
About Raincatchers
Raincatchers (www.raincatchers.org) is an organization that leads groups of volunteers into the mountains of southeast Haiti to build simple, sustainable rainwater collection systems called Raincatchers.
# # #