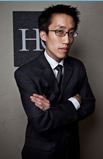 BuzzBroz has begun promotion for an exciting new web series called THE CONSULTANTS on YouTube.

Produced by Nelson Cheng, who also stars as the uptight CEO of the consulting firm, Tennyson Chin, "The Consultants" is a comedic web series about Hastings Consulting, a fictional management consulting company. Whereas "The Office" is bumbling middle management, "The Consultants" is about that back-office nether region comprised of wanna be masters-of-the-universe who work hard, get paid a ton, and treat themselves too seriously!

Says BuzzBroz CEO Sheetz, "I discovered "The Consultants" on a Facebook ad. "The Consultants", Producer's Guild Finalist for best new web series, was not getting the attention it deserves. It just show how these days with several billion videos on YouTube even the finest material will not get viewers without promotion."

Adds Sheetz, "We're really getting behind the buzz on this superb quality web series. It beats the paperclips off THE OFFICE!" We expect "The Consultants to generate some serious heat with the conenctions we have inside YouTube and how we cross promote great material like this across Twitter and Facebook as well. As a filmmaker myself I know that making a great video is no longer enough.