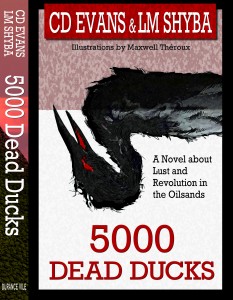 "a darkly funny, satirical novel...a fever dream of sorts, but its message is clear: When it comes to the oilsands, the stakes are so high that anything is possible." -- Toronto Star
"5000 Dead Ducks is a masterfully crafted satire weaving together two of the hottest topics in Alberta (or Alberia) today: provincial politics and the oilsands." -- Calgary Herald
Calgary, Alberta — Christopher D. Evans QC, author of the best-seller A Painful Duty: 40 Years at the Criminal Bar, and Lorene M. Shyba PhD, innovator of Spies in the Oilsands are now touring to promote their new, bestselling novel, 5000 Dead Ducks: Lust and Revolution in the Oilsands.
Set in the near future, this savage satire is about how a group of unscrupulous lawyers seize the Alberia Government and scheme a disastrous takeover of the Oilsands. To bankroll their enterprise, they have no problem gaining the financial backing and the muscle of seriously rich oil barons – all of whom have egregious motivations including, of course, Money and Power.
The book kicks off with the discovery by environmentalists of 5000 dead ducks in PetroFubar Energy's tailing ponds. In the course of ducking the international public outcry that ensues, cold-blooded executives, evil separatists, lesbian and other lovers, FarEastern and Montexian entrepreneurs and a megalomaniacal criminal lawyer scheme, screw, and march to the hypnotic rhythms of fascism.
C.D. EVANS has been known as a brilliant, somewhat eccentric, criminal lawyer. On retirement a few years ago, he released his memoir, A Painful Duty: 40 Years at the Criminal Bar.
LORENE SHYBA recently earned a PhD by investigating how interactive theatre and video games can be used to foster discussion and action on issues stemming from oilsands development. More
Published by Durance Vile Publications on November 24, 2011. Chapters are available for review and the authors are available for interviews.
ISBN 978-0-9689754-4-2 Read Chapter One Excerpt To purchase 5000 Dead Ducks go to a bookstore near you, or contact info@durancevile.com
FOR A REVIEW COPY, OR TO INTERVIEW THE AUTHORS, CONTACT LYN CADENCE AT lyn@cadencepr.ca or 403.465.2345.
2012 ALBERTA BOOK TOUR
JOIN US FOR READINGS AND DRINKS
Rumour has it, Terra the EcoZealot
and Tarzana the Oilslut will take turns entertaining.
All events are free.
Thursday, March 15: DeMille Books,
5:00 p.m. 207-6 Ave. SW., Calgary.
Friday, March 16: Bentleys Books,
2:00 p.m. @ Java Jamboree, Cochrane.
Saturday, March 17: Owl's Nest Books,
Noon. 815A 49 Avenue S.W., Calgary.
Wednesday, March 21: Café Books,
7:30 p.m. @ Georgetown Inn, Canmore.
Friday, March 23: Audreys Books,
7:30 p.m. 10702 Jasper Ave., Edmonton.
Saturday, March 24: Chapters Books,
12 - 4 p.m. 5250 – 50th St., Red Deer.
###