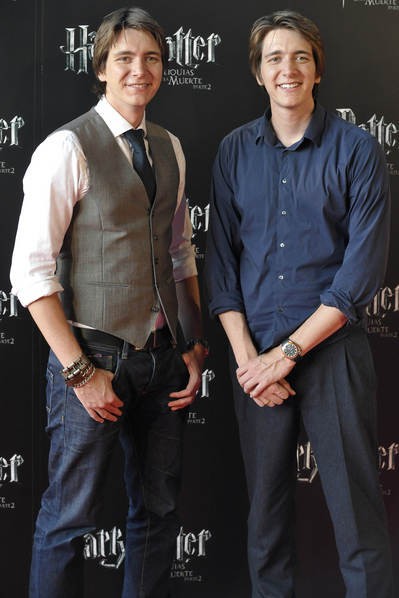 (Calgary, AB) – Good things come in pairs! British actors and real life twins, James and Oliver Phelps from the blockbuster Harry Potter films will be amongst the powerhouse lineup attending the Calgary Comic and Entertainment Expo April 27-29, 2012 at the BMO Centre.
The Phelp twins were recurring characters in the decade-long Harry Potter franchise, and were one of J.K. Rowlings favourite characters featured in all eight of the films. Best known for their humorous portrayal of Fred and George Weasley, the older brothers to Harry's best friend Ron Weasley.
"James and Oliver added a lot of laughter and charm to the Harry Potter films," says the Calgary Expo Event Director, Kandrix Foong. "Since Sunday, April 29 is World Wish Day for the Make-A-Wish Foundation, we're very happy to add yet more guests that children and adults alike will find exciting and entertaining."
The brothers are replacing fellow Harry Potter actor, Tom Felton, who had to post-pone his appearance due to a scheduling conflict. The twins were famous for their pranking and mischief at the school and are now bound to bring Weasley's Wizard Wheezes to Calgary!
Calgary Comic & Entertainment Expo is a non-profit organization showcasing pop culture including comics, sci-fi, gaming, anime, and horror. Since 2006, the convention has grown to host over 30,000 attendees in 2011 and is Canada's second largest pop culture convention. Calgary Expo April 27 – 29, 2012 at BMO Centre, Stampede Park, in Calgary, AB, Canada. For more info & tickets, visit www.calgaryexpo.com
2012 Calgary Expo guests include Stan Lee (X-men, Spider-Man), Robert Englund (Nightmare on Elm Street), Amanda Tapping (Stargate: SG-1, Sanctuary), Katee Sackhoff (Battlestar Galactica, 24), James Marsters (Buffy the Vampire Slayer), Adam West (original Batman), Hayden Panettiere (Heroes), Adam Baldwin (Firefly), John Noble (Fringe), Dave Prowse (Star Wars), and the nine principal cast members from Star Trek: The Next Generation.
- 30 -
Media Inquiries, please contact:
Mediatonic PR
778-737-6877
press[at]calgaryexpo[dot]com