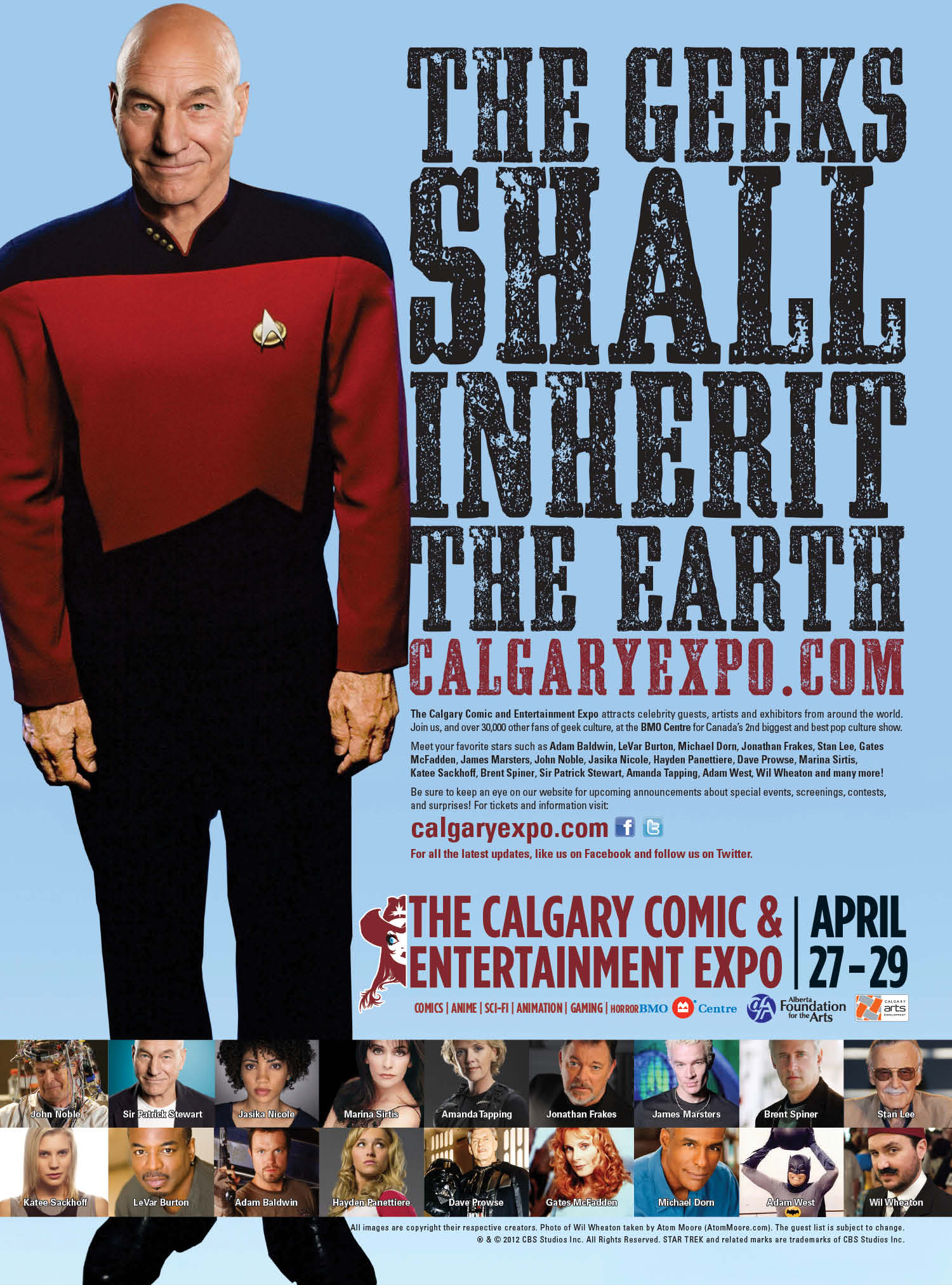 Ever wish you could beam yourself up like they did on Star Trek? Now you can with the Calgary Comic & Entertainment Expo and Vulcan Tourism Transporter App. Two transporter-room themed bus shelters launched today with Trek-themed "Augmented Reality" technology. It will give fans a FREE opportunity to beam their friends out of the shelters using an iPhone or iPad in Calgary until Monday, April 30, 2012.
The transporter and its software will then be beamed to Vulcan, AB as a permanent and interactive display just in time for Spock Days June 8, 9, and 10. (www.vulcantourism.com).
"This technology is so cool— it's an interactive way for fans to have some fun," says Kandrix Foong, Director of The Calgary Expo, who spent two months planning the concept in partnership with Vulcan Tourism. "It's just one aspect of the celebration for the 25th anniversary of Star Trek: The Next Generation® and the cast reunion activities we have planned during the weekend of April 27-29."
A third bus shelter will be on display at The Calgary Expo from April 27-29 donated by CBS Outdoor and will be located in the Vulcan Tourism (Star Trek Museum) booth area for fans to enjoy for FREE. The software was custom-designed for the Calgary Comic & Entertainment Expo by E-axis. Vulcan Tourism graciously provided funding for the technology.
Media can check out the preview video at http://www.youtube.com/watch?v=9ES6aS82K2kTransporter App will be available for FREE download at www.calgaryexpo.com/transporter along with instructions on how to enjoy the Augmented Reality experience.
ABOUT CALGARY EXPO
Calgary Comic & Entertainment Expo is a non-profit organization showcasing pop culture including comics, sci-fi, gaming, anime, and horror. Since 2006, the convention has grown to host over 30,000 attendees in 2011 and is Canada's second largest pop culture convention. The Calgary Expo April 27 – 29, 2012 at BMO Centre, Stampede Park, in Calgary, AB, Canada. For more info & tickets, visit www.calgaryexpo.com.
2012 Calgary Expo guests include Stan Lee (X-Men, Spider-Man), Robert Englund (Nightmare on Elm Street), Amanda Tapping (Stargate: SG-1, Sanctuary), Katee Sackhoff (Battlestar Galactica, 24), James Marsters (Buffy the Vampire Slayer), Adam West (classic Batman), Hayden Panettiere (Heroes), Adam Baldwin (Firefly), John Noble (Fringe), Dave Prowse (Star Wars), and the nine principal cast members from Star Trek: The Next Generation.