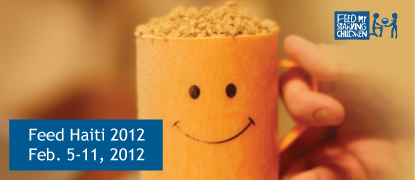 GOLDEN VALLEY, MINN. – In January 2010, a 7.0-magnitude earthquake rocked the small island nation of Haiti. Calvary Lutheran Church, Golden Valley, Minn., responded with a million-meal food-packing event within days of the disaster, as well as at the quake's one-year anniversary. Today, Calvary invites the community to remember the ongoing needs of Haiti by providing and packing another 750,000 meals through Feed My Starving Children (FMSC), a Christian non-profit organization committed to "feeding God's starving children hungry in body and spirit."
Feed Haiti 2012 will take place Sunday, Feb. 5, through Saturday, Feb. 11, in Calvary's Gathering Room and Chapel. Calvary is located at 7520 Golden Valley Road, Golden Valley. Visit calvary.org/Haiti or call 763-231-2988 to make a donation and/or to register for a volunteer shift (see schedule online).
"The Haitian people remain in desperate need of life's most basic needs, including simple nutritious meals," said the Rev. Steve Dornbusch, Calvary's senior pastor. "We're grateful to Feed My Starving Children for helping us bring the community together around such an important and life-saving cause."
Working in two-hour shifts, volunteers will measure ingredients, fill bags, seal bags, pack boxes and stack pallets. Volunteers must be at least age 5, and student groups must follow the appropriate student-to-adult ratios (one to one through second grade, three to one from third through sixth grade, four to one from seventh through ninth grade, five to one from tenth to twelfth grade).
The meals will be funded entirely through the financial contributions of individuals, groups and organizations. Donations to Feed Haiti 2012 are being collected online, on site and by mail (Calvary Lutheran Church, 7520 Golden Valley Road, Golden Valley, MN 55427), with the goal of raising $180,000 (24 cents per meal). Organizations also have the opportunity to participate as "sponsors" at three different levels; call 763-231-2988 for details.
FMSC's MannaPack™ Rice meals provide the key nutrients a starving child needs to survive and thrive, and are distributed through various community settings: orphanages, schools, clinics, refugee camps and nutrition programs. While children in 67 countries receive FMSC food, the meals prepared at Calvary will be delivered specifically to Haiti, the poorest country in the Western Hemisphere.
The mission of Calvary Lutheran Church is to lead people into a growing relationship with Jesus Christ. Established in 1946, Calvary offers seven weekly worship services and a wide variety of programs for children, youth and adults. For more information, call 763-545-5659 or visit calvary.org.
Founded in 1987, Feed My Starving Children is an international Christian hunger relief nonprofit that provides nutritionally complete meals for starving, malnourished and hungry people in nearly 70 countries. The meals—costing less than a quarter each—are funded by donors and packed by volunteers. FMSC has maintained the highest four-star rating from Charity Navigator for seven consecutive years. Learn more at fmsc.org.
###