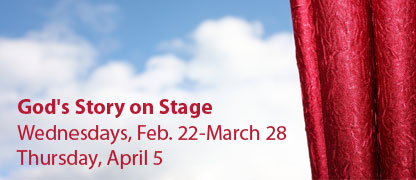 GOLDEN VALLEY, MINN. – Move over American Idol—God's story is in the spotlight this Lenten season! Beginning Ash Wednesday, Feb. 22, and continuing every Wednesday thereafter through March 28, Calvary Lutheran Church, Golden Valley, Minn., will hold its annual Lenten worship services and live character portrayals. The series will conclude on Thursday, April 5, with a special Maundy Thursday portrayal of John in the upper room.
Calvary's Lenten dramatic monologues—complete with costuming, make-up, lighting and full production—bring some of the most well-known and lesser known people of the Bible to life to share their stories and lessons learned. These worship services are open to the public and will be held at two times: 5:30 and 7 p.m. Calvary is located at 7520 Golden Valley Road in Golden Valley. Find further details at calvary.org/lent.
Themed "God's Story on Stage," this year's line-up will feature:
Herod Antipas (Feb. 22).
Woman in the Crowd (Feb. 29).
Jairus (March 7).
Woman at Bethany (March 14).
James, the Brother of Jesus (March 21).
Malchus, the High Priest's Servant (March 28).
John in the Upper Room (Maundy Thursday, April 5).
"As people learn more about God's story, they often find themselves in it," said the Rev. Steve Dornbusch, Calvary's senior pastor. "We cover a lot of ground through our portrayals—all kinds of joys and heartaches, and successes and failures—and, more often than not, people leave saying, 'Hey, that could be me.'"
Special music will be provided by:
St. Anthony Sacred Dance and Calvary's adult choirs (Feb. 22).
Tonia Hughes (Feb. 29).
Ben Hertle (March 7).
Northwestern College Choir (March 14).
Amifetika (March 21).
Kenni Holmen (March 28).
Tim and Jerry Johnson (Maundy Thursday, April 5).
Supper will be served from 4:30 to 7 p.m. each Wednesday during Lent, as well as on Maundy Thursday. The cost for each meal will be $6 per person or $18 per family.
An additional service without a portrayal will be held on Ash Wednesday at 12 noon. This service will consist of prayer, reflection, scripture and hymns.
The mission of Calvary Lutheran Church is to lead people into a growing relationship with Jesus Christ. Established in 1946, Calvary offers seven weekly worship services and a wide variety of programs for children, youth and adults. For more information, call 763-545-5659 or visit calvary.org.
###