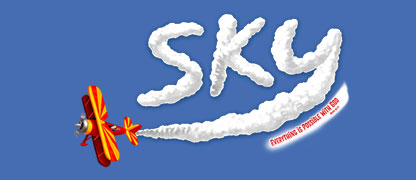 GOLDEN VALLEY, MINN. – Kids are fascinated with flying, often pretending to be birds, planes and super heroes in their quests to be airborne. Such is the inspiration of "Sky," a colorful kids adventure combining the thrill of flight with valuable lessons in confidence and faith. Two week-long sessions of "Sky" will take place at Calvary Lutheran Church, 7520 Golden Valley Road, Golden Valley, Minn., on:
June 4-8, 9:30 to 11:30 a.m., for ages 3½ to 6 years (must have turned age 3 by Jan. 1, 2012).
June 11-15, 9:15 a.m. to 12:15 p.m., for ages 4 to completed grade 6 (must turn age 4 by June 1, 2012).
Each session is being offered for only $10 per child. To learn more and/or to sign up, visit calvary.org/sky or call 763-231-2968.
For an additional $15 per child per day, families can also register for extended daycare during the second session (June 11-15) from 12:15 to 4:30 p.m.
Based on the popular Vacation Bible School curriculum by Group Publishing, Calvary's "Sky" experience will show kids that they can trust God, no matter who they are, how they feel and what happens to them. Each day will feature special games, crafts, songs and other interactive activities that encourage kids to engage with the Bible and to live out their faith—all while having fun and making new friends.
"In a world full of bullies and other negative forces, it's important for kids to remember that God's love is boundless, just like the sky," said the Rev. Steve Dornbusch, Calvary's senior pastor. "This will be our focus and deepest prayer during 'Sky'—that children from all across the community will find lifelong purpose and strength through our time together."
The mission of Calvary Lutheran Church is to lead people into a growing relationship with Jesus Christ. Established in 1946, Calvary offers seven weekly worship services and a wide variety of programs for children, youth and adults. For more information, call 763-545-5659 or visit calvary.org.
###