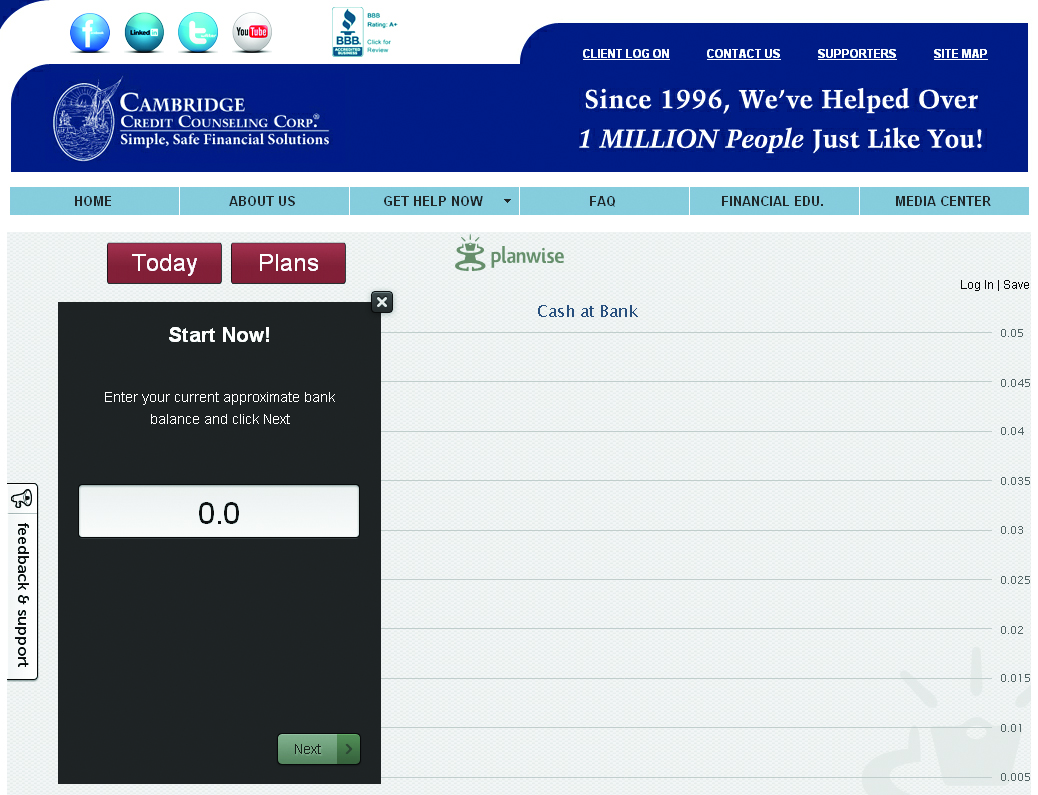 Building a budget or spending plan is about as popular as visiting the dentist for many Americans, but the digital era has made the process much easier. In an effort to encourage more consumers to overcome their fears about their own finances and create a working household budget, Cambridge Credit Counseling has partnered with
Planwise.com
to make the process as painless and user-friendly as possible.
In 2011, 100% of Cambridge's new clients developed a budget, many for the first time, and 89% of those individuals found that the process helped them improve the way they manage their finances. Now it's hoped that clients will also take advantage of Planwise.com's powerful on-line financial management tool, which aligns financial insight with user capacity, providing a realistic approach to meeting financial goals. The focus of Planwise is to empower users to make informed decisions by working with a simple interface, keeping the focus on consumer education.
"When my staff and I first began conducting personal finance seminars, the standard budgeting tools were a pad, a pencil, and hours of time trying to make sense of everything," noted Christopher Viale, Cambridge's president and CEO. "Planwise's technology takes the arduous process of developing a budget and financial plan, and makes it 100 times simpler."
Planwise helps people create workable strategies for purchasing a home or an automobile, or for repaying debt. After a consumer selects a goal, Planwise offers specific ideas and tips to get there, based on the consumer's personal financial profile. The site also includes a multitude of scenarios based on specific life stages and milestone events, and analyzes how each might impact a person's financial plan. Planwise also allows each user to share this information with the other people in their life, especially those who will play a role in helping realize their goals.
"We believe that helping people see the future impact of changes they can make today is the best way to help them to make those changes and take control of their financial security," remarked Planwise CEO Vincent Turner. "For most people, this means more properly understanding their income, spending and debt, and being able to see the impact via simple graphs."
Cambridge clients will gain access to the Planwise portal from the non-profit's website,
www.cambridge-credit.org
.
ABOUT CAMBRIDGE CREDIT COUNSELING CORP.
Cambridge Credit Counseling Corp. is a professional housing and credit counseling agency dedicated to educating young adults on the importance of sound financial management, and to providing financially distressed Americans with education and debt management services appropriate to their needs.
ABOUT PLANWISE
Planwise is a free website of tools & content to visually map out major financial decisions. Planwise isn't about what you did with your money, it's about what you're doing next. More than a rate calculator, Planwise creates interactive graphs to actually show you how your plans will impact your finances, and vice versa – whether you're buying a computer, a car, a first home, a vacation property, or more.
What makes Planwise different is its human side; the site overlays financial insights with dozens of real-world scenarios based on every stage of life, from students to seniors and everything in between. The site can be fully personalized to each user's individual situation, but is completely anonymous and totally free to use.