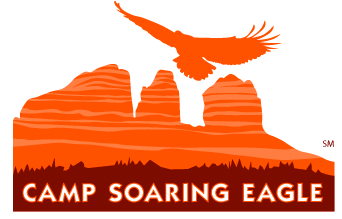 American Kiosk Management (A.K.M.), the largest "owner operator" specialty retailer in the world, has established a special Camp Soaring Eagle Fundraising Committee and plans to raise $50,000 in 2012 for C.S.E.
During the first quarter of 2012, the committee developed and implemented strategies to increase guest donations and employee contributions. With over 250 kiosk locations in malls throughout the United States and Canada and over 500 automated retail shops, American Kiosk Management is leading the way in leveraging their network to help the kids.
The committee's initial focus has been to excite and motivate the employees about C.S.E. The committee created contests, prompted employees to wear Ask Me About C.S.E. pins, and distributed C.S.E. marketing materials. The cart contests provide weekly and on-going motivation. The cart leaders and team members are reminded about C.S.E. by wearing the pins on their uniforms. The C.S.E. fact sheet, brochures, and camper schedule build awareness among the employees and guests. Sending simple thank you messages to participating employees and praises from the CEO/COO and field corporate go a lot farther.
The Committee communicates the weekly C.S.E. contributions to corporate. An intranet CSE goal thermometer is posted daily and bi-weekly messages are sent to our employees.
To date, the engaging and lively cart contests netted increasing donations totaling $9,450—for six weeks and $16,435 to date. These funds account for 32.8% toward the $50k goal.
If you would like to learn more about the A.K.M. fundraising initiative or would like to implement a similar program in your company, please contact Jennifer W. Perry at 928-284-9393 or e-mail her at jperry@CampSoaringEagle.org