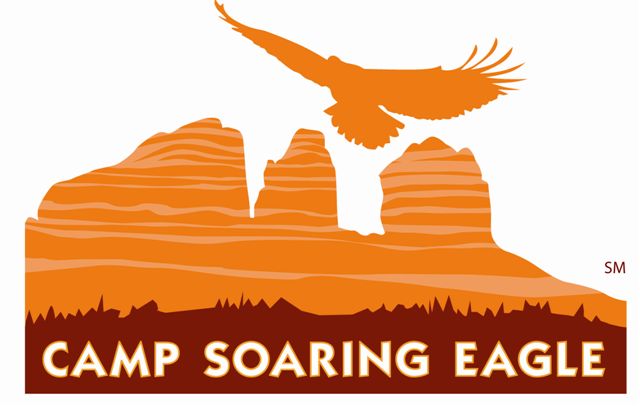 While kids all over the Valley of the Sun are starting
to make their camp plans for the summer, there's another group of kids who can't make the same kind of plans so easily. These kids can only imagine the hikes, horseback riding, jumping in the pool and late night stories around the campfire. These kids have chronic and serious illnesses that prevent them from enjoying these traditional activities. These are the kids of the Camp Soaring Eagle Foundation.
Camp Soaring Eagle's mission is to give kids with serious illnesses and their families a chance to discover the healing power of laughter and the sheer joy of play, that sickness has too long denied them.
Camp Soaring Eagle Foundation's is proud to partner with Whirlwind Golf Club at Wild Horse Pass, in Chandler, AZ, former NFL / MLB players and Initial Impressions to hold "Tee It Up For Children's Laughter" golf tournament on Friday, April 8, 2011 proudly sponsored by The Linda Johansen-James Family Trust and National PEO.
Golfers have the opportunity to purchase sponsor packages that can include NFL/MLB/LPGA players, such as Jerome Daniels/Arizona Cardinals, Mark Walczak/San Diego Chargers, Bert Camoaneris/New York Yankees, Mike Charles/Los Angeles Rams, Russell Davis,/New York Giants, David Lovern/Detroit Lions, Irv Smith/Cleveland Browns, Ed Smith/Green Bay Packers, Andia Winslow/LPGA and others.
Camp Soaring Eagle Foundation's generous supporters and participating golfers will help give 350 children from Arizona, ages 7 - 15, with serious illnesses, the opportunity to attend overnight camp. Camp Soaring Eagle provides these year round, medically safe camping programs completely free of charge to the campers and their families.
This tournament is Friday, April 8, 2011 at the Whirlwind Golf Club at Wild Horse Pass. Registration and box lunch at 12:00 Noon. Shotgun start tee-off begins at 1:00PM. Following the tournament, players will enjoy a barbecue, cocktails and awards at 5:00PM. Registration fees are $200 per person or $600 a foursome. To register contact: Sherry Baker 602-769-2738 or sbaker@campsoaringeagle.org.
For more information about Camp Soaring Eagle please visit www.CampSoaringEagle.org or contact Jennifer Perry, Executive Director, Camp Soaring Eagle Foundation, 928-284-9393, jperry@campsoaringeagle.org.