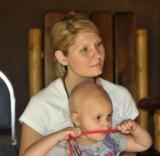 Thanks to the incredible generosity of the Olson Family, owners of the Briar Patch Inn, located on Oak Creek in Sedona,AZ the Camp Soaring Eagle Foundation was able to welcome 8 families with children with cancer to a week-long family retreat in Sedona. When Rob Olson heard that Camp Soaring Eagle was looking for locations to host its camping programs for seriously ill children he knew he had the perfect spot. "Many who have come to stay or visit us have commented on how rejuvenated they have felt, even after being on our property for just a short time," stated Rob Olson, owner of Briar Patch. "Briar Patch is indeed a magical place, and I am hopeful that some of these kids and their families will experience first-hand the healing powers from being here. " The Olson Family offered the entire property to Camp Soaring Eagle for five days and four nights completely free of charge.

The stresses a family faces when a child is diagnosed with cancer are immense and the process of daily treatments often pulls the family apart in many directions. The Camp Soaring Eagle Family Retreat Programs are designed to give these families an opportunity to briefly escape the stresses they are under, celebrate their family and have an opportunity to relax and be among a group of families going through the similar situations. "Our daughter Riley has gone through a lot in the past 1 ½ years and the last 5 days have allowed us to spend stress free time together. Time we so desperately needed. The Camp Soaring Eagle Family retreat gave our family a precious commodity, something that hospitals, doctors and friends cannot: time together!" - Camper Mom

The Briar Patch Inn and the Olson Family lead the way to make this program a reality and the local community followed along by demonstrating to these families that the people of the Verde Valley are as beautiful as the red rocks around them. Rosalie's of Sedona provided lunch and dinner each day and sumptuously satisfied even the youngest of campers. Local entertainers and community members entertained the families nightly with a Magic Show, Bingo Night, Carnival Games and Campfire Songs. Local tourism businesses including Pink Jeep Tours, Out of Africa, and the Red Rock Volunteer Rangers showed the families many of the sights and sounds of the area.

The week culminated with the installation of the Camp Soaring Eagle Pole of Courage. The pole, similar to a Totem Pole was cut down on the property and carved by a volunteer with an eagle on the top and feather to represent each family who attended. During the week the families decorated it with their handprints and personal touches. On the last evening the pole was raised and cemented in the ground as a permanent symbol of the courage and strength of these families.

"My husband and I are facing a very difficult decision regarding the treatment of our 6 year old son, Steven. He is currently in between chemotherapy treatments for Retinoblastoma, cancer behind the eye and we must decide whether to take his eye in hopes of saving his life. This family retreat has given my husband and I time to dedicate all of our energy to playing and laughing with Steven and time to step back from the daily chaos to talk and reflect on this decision. Thank You Everyone Who Made this Possible! - April Shores"

Camp Soaring Eagle is completely free of charge to the campers and their families and funded through donations and charitable contributions. If you would like to you can get involved in helping Camp Soaring Eagle deliver the healing power of laughter, please contact: Jennifer W. Perry, Executive Director at 928-284-9393 or jperry@campsoaringeagle.org.