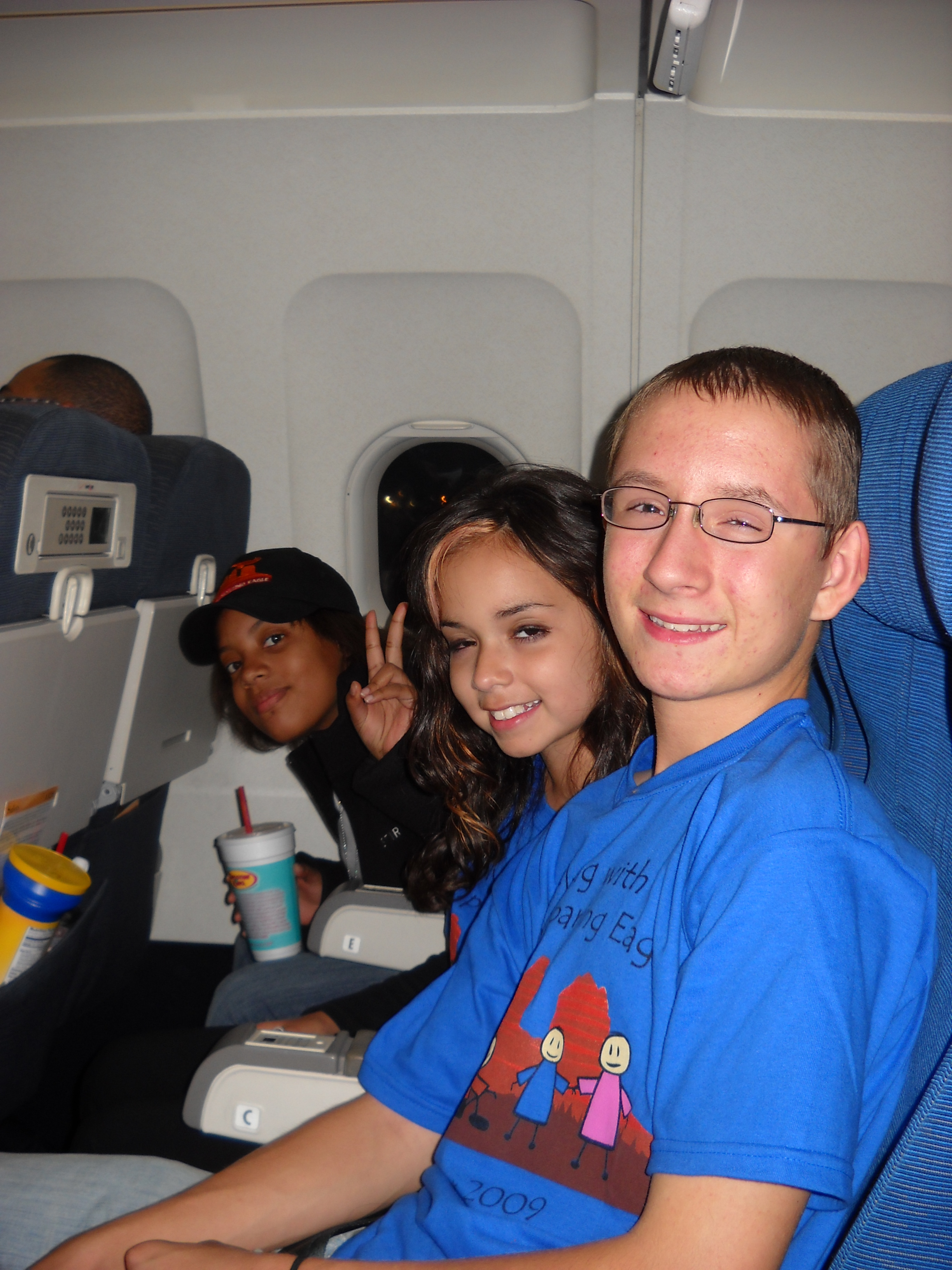 After months of preparation, Camp Soaring Eagle served its first campers this month. On June 8th, 19 children and their families from across the state of Arizona met at the Radisson Hotel Phoenix for a Bon Voyage Party. While Camp Soaring Eagle continues with construction at their campus in Sedona, arrangements were made to provide 20 children suffering from serious illnesses a week of camp at Paul Newman's Hole in the Wall Gang Camp in Ashford, Connecticut.

Camp is a joyous adventure to look forward to. It is a place where children can hike, fish and meet new friends. But for many children suffering with serious illnesses, camp is not an option because of their medical condition. The Association of Hole in the Wall Gang Camps have overcome this barrier and created a network of camps around the world where children with life threatening and chronic illnesses can go and have traditional children's camp experiences while also being medically safe.

"I have a disease which makes it difficult for my body to digest food, Flying with Camp Soaring Eagle was a dream come true because there aren't other camps in Arizona that can handle my medical issues. While at camp I learned how to be a photographer and created my own slide show for talent night."
Camper Jasmyne

Thanks to the generous support of our sponsors, 20 children and four chaperones flew across the country to Connecticut to experience the flagship Hole in the Wall Gang Camp founded by Paul Newman in 1988. Our local sponsors include, Bill and Kelly Brainard, Paralee Obelee, Pink Jeep Tours, the Sedona Village Business Association, Hilton Sedona Resort and Spa, Arizona Solar Power, Linda Johansen-James and One Way Solar Systems.

"This was the best week of Lorenzo's life. His self esteem has risen 1000%, your entire staff made him feel so special."
Camper Mother.

Our campers came from all over Arizona including Clarkdale, Page, Lake Havasu, Chandler, and Surprise to attend camp. They ranged in age from 10 to 15 and had conditions such as leukemia, PKU, and sickle cell anemia. Our partner hospitals and organizations including, Flagstaff Medical Center, Sanson Pediatrics, Cardon Children's Medical Center (formerly Banner), Phoenix Children's Hospital and Qwest to Cure all assisted in recruiting our first campers.

Special thanks go to our two volunteer chaperones. Judy Hill of Sedona and Christine Jorgensen, R.N. of Phoenix who generously volunteered a week of their time to escort our campers to camp. They did everything from supervising and leading the children through the airport security and check-in, to administering medicines, participating in all camp activities such as fishing, archery, horseback riding and of course singing camp songs. Thanks to these incredible volunteers, 20 children from Arizona now have memories that will last a lifetime.

"I now believe in angels", said a camper's mom, "Rosa was shown so much love and respect, we have truly been blessed."

The Association of Hole in the Wall Gang Camps develop their programs on three tenants: all campers will be safe, respected and loved. This motto carries through every aspect of camp and is very important in assisting children with serious illnesses overcome self perception and anxiety issues associated with pediatric illness. Camper Seth experienced this intention, "I had the best time of my life. It wasn't all the activities that made camp so great, it was that I felt like I had a huge camp family and everyone really cared about me."

While we are very excited to have been able to provide these incredible experiences to our first campers, the need is far greater than these 20 children. Currently there are over 120,000 children in Arizona alone with serious illnesses who are in need of confidence building camping experiences. These children face tremendous challenges and with your help we will welcome them to Sedona to discover the healing power of laughter. Camp is completely free of charge to the campers and their families and is available thanks to the generous contributions of individuals, foundations and corporations. Camp Soaring Eagle remains under construction in Sedona and needs your support so that we can serve these children right here in our state. Once completed Camp Soaring Eagle will be on the only year-round medically based camp in the state that can serve children with all types of medical conditions.

Stay tuned for information about Camp Soaring Eagle's inaugural Golf Tournament Weekend taking place October 3rd and 4th with a nationally acclaimed speaker and celebrity guests.
For more information about Camp Soaring Eagle, visit www.CampSoaringEagle.org or contact Jennifer Perry at 928-284-2287 or jperry@campsoaringeagle.org

# # #

Camp Soaring Eagle aspires to be a member of the Association of Hole in the Wall Camps. We are following a set of guidelines that we hope will lead to provisional membership and then full membership upon the opening of our camp. These requirements are designed to assure that each member camp provides the highest level of safety and programming for the children. They are also designed to assure that each member camp has sound financial support. At this time the Association of Hole in the Wall Camps is assisting Camp Soaring Eagle to meet the necessary requirements. Being a part of such a well-established and acclaimed network of camps will provide Camp Soaring Eagle with the experience, knowledge and support to operate at the highest level of excellence.