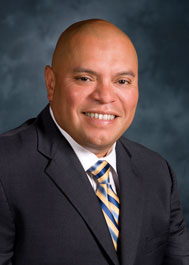 Capital Metro Board Chairman and Austin City Council Member Mike Martinez has been named "Government Leader of the Year" by the Alliance for Public Transportation (APT).
Martinez was among several members of the community recently recognized by APT for their support of mass transit as part of the solution to the growth and congestion issues in the region.
"I'm honored to accept this award from the Alliance for Public Transportation; however, this is really a reflection of the work done by Capital Metro staff, operators and my colleagues on the board of directors," said Martinez. "We are proud of all the hard work everyone has done to effect the necessary changes we've seen over the past year and look forward to continuing the progress."
Martinez has served on the Capital Metro board of directors for more than four years. He was elected chairman in January 2010.
"Congratulations to Chairman Martinez," said Linda S. Watson, Capital Metro president/CEO. "During his tenure on the board, he has demonstrated a strong commitment to improving public transportation in our community. Under his leadership, the board has made some difficult, but necessary decisions resulting in a stronger, more accountable and efficient Capital Metro."
A retired firefighter and former president of the Austin Firefighters Association, Martinez has dedicated most of his life to serving the public. He was elected to the Austin City Council in June 2006.
APT is a non-profit organization representing business, non-profit, government, and education groups and interests that promote the importance and benefits of public transportation in central Texas.