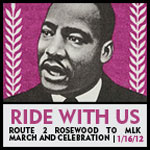 Ride Capital Metro to the 2012 Dr. Martin Luther King, Jr., community march and celebration planned by the Austin Area Heritage Council, on Monday, Jan. 16.
For just $1, people can catch a ride on Rosewood (Rte 2), which makes stops adjacent to the march route and destinations. Capital Metro is adding buses to the route between 8 a.m. and 4 p.m. so that riders can catch a bus every 15 minutes.
"Capital Metro encourages everyone attending the Martin Luther King, Jr. Community Celebration to take advantage of our increased bus service on Rosewood," said Capital Metro President/CEO Linda S. Watson. "We are pleased to support the work of the Austin Area Heritage Council again this year and invite the community to visit with us at the Huston-Tillotson festival."
All other Capital Metro services will operate on a Saturday schedule on the MLK holiday. There will be no MetroRail or UT Shuttle service on Jan. 16.
The festivities begin at 9 a.m. at the MLK Statue on the University of Texas campus with a short program and march towards the Capitol.
After Gospel music from the south steps of the State Capitol, the march continues to Huston-Tillotson University for a festival that lasts until 3 p.m.
Several free parking locations are near the Rosewood route, which travels along E. 11th Street and stops near both the Texas State Capitol and Huston-Tillotson University. Montopolis (Rte 4), Martin Luther King (Rte 18) and Exposition/Chicon (Rte 21/22) may also be viable options to get to and from the festivities.
Plan your trip at capmetro.org or call the GO Line at (512) 474-1200.
For more information about the MLK Celebration visit the Austin Area Heritage Council's web site www.mlkcelebration.com.