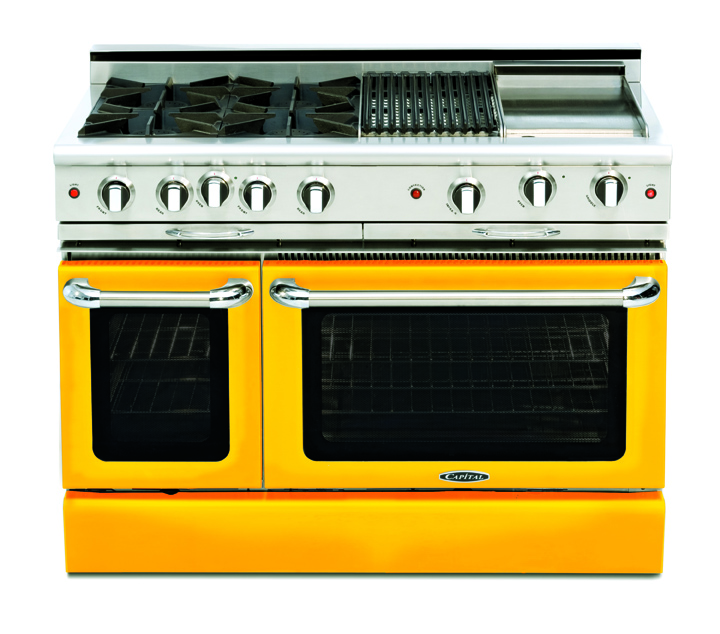 Santa Fe Springs, CA: Capital Cooking, known for power and performance in their cooking products, is enhancing design inspiration by expanding color finishes to new product lines. Since its launch this year, the Culinarian range has been available in a variety of color selections; but now color is available throughout other product lines. The standard palette includes 10 colors: black, cobalt blue, signal blue, flame red, wine red, ruby red, white, oyster white, pale green & yellow.
"Stainless steel is a timeless finish on any appliance, but we wanted to give our customers choice for their own unique environment. Color choices are proving popular on the Culinarian Series, and now our customers have the same options for Precision ranges and Maestro wall ovens," announced Surjit Kalsi, president and chairman of Capital Cooking. "The standard colors are a starting place, but by no means a limitation. Customers can choose any color outside of our standard palette to fulfill their vision. To prove that point, we recently shipped a lilac range!"
With the ability to personalize Capital ranges & wall ovens, the design opportunities increase. The range and/or oven can be used as a color anchor or an extension of a color theme. And customers are assured the same exacting for color matching as Capital insists on for performance features.
Stainless steel and color Culinarian, Precision & Maestro products are now being distributed throughout the United States and Canada and available to view and order at specialty retailers. For further information, please email or call Press Contact, Lisa Herbert - lisa@flyingcamel.com or 519-756-2709, ext. 4.
##
Established in 2001, Capital Cooking Equipment is under the leadership of Surjit Kalsi whose long and decorated career designing high performance cooking products for companies such as Viking, Thermador, GE, Jenn-Air and DCS is industry renowned . Product lines include the Precision Series of ranges, range-tops, outdoor cooking and accessories, Maestro Series of cooktops and built-in ovens and the Culinarian Series of ranges and range-tops (and coming soon - dual fuel ranges). Capital is distributed throughout the United States, Canada, Australia and New Zealand through specialty retailers. Visit capital-cooking.com.