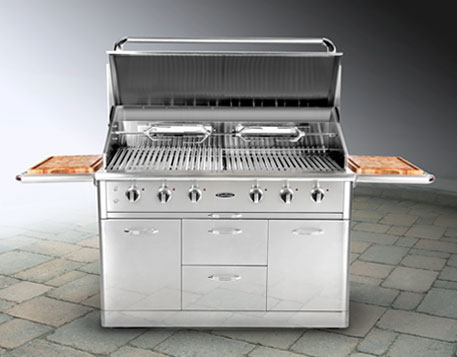 Santa Fe Springs, CA: Reviewing Capital Cooking's Precision Grill Series brings the same response as Capital's indoor offering. Leading edge engineering, unparalleled fit and finish and high performance cooking features - but offered for the backyard. The Precision Grill Series is all stainless construction and available in 30", 40" and 52" sizes in built-in and freestanding formats.

Here are some of the key features of the Precision Grill Series:

Hidden Rotisserie
Competitive products have a heavy rotisserie box that sticks out the side and actually needs to be stored when not in use. Capital's rotisserie is integrated into the unit so you don't see it, offering better aesthetics and ease of use.

Innovative Hot Surface Ignition System
No clicking! Perfect for lighting on a windy day and provides more reliable ignition.

Unique Design of Burners with Ceramic Grill Grates Encased in Stainless Steel Sheet Metal for Even Heat Distribution
The burner is shaped like a "W" but has crossbars coming over at the front. In a typical BBQ configuration, the front is usually a cool zone. This Capital design feature ensures that the surface has even heat distribution from front to back.

Zone Cooking
Just like a high performance range! Every burner has a baffle to isolate the zone from the next. You can control low, medium and high heats on the grill surface, which make it easy to sear on high and then move to a low burner. Cooking multiple foods at the same time that require different heats has never been better.

.And Worth Mentioning
Night lights for easy viewing of grilling surface
Spring Assisted Lid: A noiseless spring system that reduces the weight of the lid by about 50%
InfraRed Burner available for Searing (25,000 BTUs)
Comes FULLY ASSEMBLED
Unique Stainless Steel encased ceramic rods for longer life and flare-up suppression
All seamless construction means no sharp corners
Die-cast chrome plated knobs with black trims (cabernet red optional) and stainless steel bezels
Double lined hood minimizes heat discoloration and warping
Beautifully constructed carts with drawers and cabinets

In addition to the built-in and freestanding grills, Capital can furnish the outdoor kitchen with extra burners in both single and double burner configurations and a unique built-in, large capacity cocktail station that holds five, 20 pound bags of ice offers easy drainage via a well-placed plug. It also includes internal condiment containers and has a wide mouth front cavity for extra bottle, cans and tool storage.