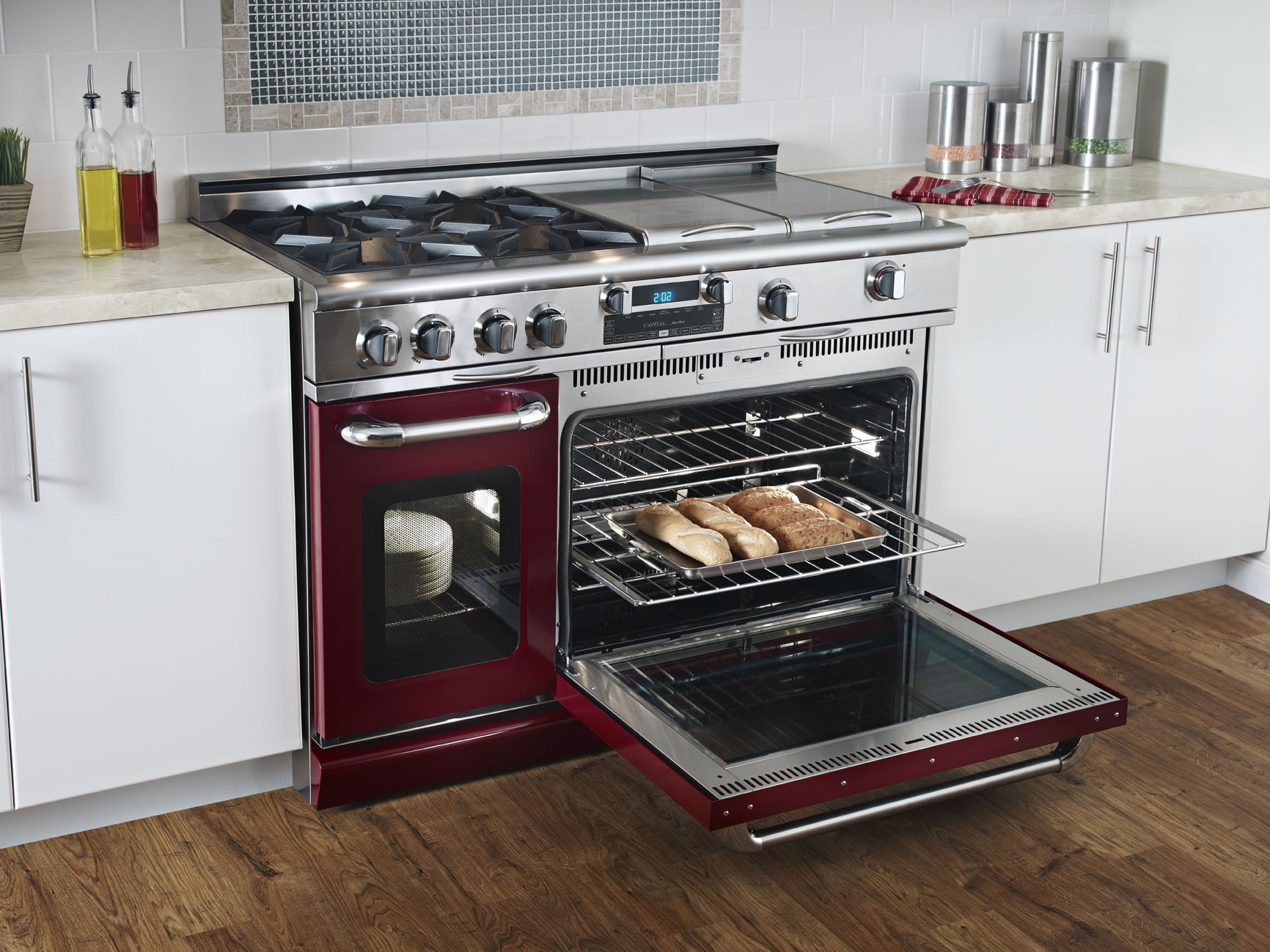 Santa Fe Springs, CA: Surjit Kalsi, chairman of Capital Cooking Equipment Inc., prides himself on listening and responding to his customers. Capital customers, distributors and its dealer network began asking for a dual fuel range last year after the successful launch of the open burner Culinarian range. This March, the company is debuting its extensive dual fuel cooking series at the Kitchen & Bath Industry Show in Booth #327 (Appliance Pavilion) from April 24-26, 2012. The new dual fuel Connoisseurian Series incorporates the best technology from both its electric ovens and gas ranges, offering both open and sealed burner versions, all self clean in 30", 36", 48" and 60" configurations.
"The Connoisseurian definitely fills out our product line," states Joey Kitabayashi, Vice President of Engineering at Capital. "We've been known for all-gas ranges but dual fuel is also a popular choice in the marketplace. We've worked to take the best attributes of our built-in electric wall ovens and match that with styles of gas cooktops that we have had great success with. Our dealers are excited to offer a Capital product in dual fuel that contains so many other Capital features that customers appreciate such as moist cooking and rotisserie."
Another important feature doesn't involve cooking, but listening. Capital engineers incorporated a two-speed cooling fan system in the oven. The high, noisier speed is only triggered when the oven is at extreme high temperatures over a long period of time, such as operating the self cleaning mode. What is considered "normal" oven use, i.e. temperatures under 400°F for under two hours triggers only the low speed cooling fan that is very quiet and not noticeable in a busy kitchen environment.
Capital has made important advancements with the new Connoisseurian line-up. The oven sizes have been increased, ranking Connoisseurian ovens amongst the top usable capacity of all dual fuel ranges on the market. All primary ovens have Capital's exclusive MoistRoast cooking feature that uses moisture, not steam, to produce perfect, moist roasting and baking, and also features Capital's popular motorized rotisserie system. The secondary ovens in the 48" and 60" sizes are fully functioning with bake, broil, convection, roast and self clean. And for safety, the engineering staff tested the external temperature of a fully operational baking oven and found it to be up to 30°F cooler-to-the-touch than many competitive models.
Offering both open burner and sealed burner system options in the Connoisseurian line will appeal to all cooking styles and preferences. The open burner system developed for Capital's Culinarian line is ideal for the home chef looking for restaurant power and advanced cooking functionality made possible by the open flame. The sealed burner system that Capital uses in its Precision Series is the most common gas cooktop system where the flame is controlled by burner caps of different sizes. Customers can choose which style of Connoisseurian is appropriate for their own lifestyle.
Connoisseurian Series Features
Available in 10 standard colors (door and kick plate). Custom colors can also be ordered.
PRIMARY ovens have:
MOISTROAST – Moisture-based cooking function preventing food from drying out when cooking
ROTISSERIE – Built-in, motorized
ALL ovens have the following features:
BAKE, BROIL, ROAST, DELICATE BAKE
SELF CLEAN
MEAT PROBE cooking
Convection Fan cooking for BAKE, BROIL, ROAST
Hidden Bake Element under glass
Ribbon Broil Element under glass
Dual Kitchen Timers (5 seconds to 11 hour 55 minutes)
TIMED COOK – You can set the oven to turn itself OFF after a set amount of time
DELAY COOK – You can set the oven to start cooking at a set time of day
Clock – Displays the time of day when range is not in use
Dual Halogen lights in each oven
FlexRoll racking system
Sabbath mode
Connoisseurian Series Sizing
30" Oven Size:
25-1/8" Wide X 16-1/2" High X 21" Deep (19" usable)
Overall capacity – 5.0 cubic feet; Usable capacity = 4.56 cubic feet
36", 48" & 60" Primary Oven Size:
27" Wide X 16-1/2" High X 21" Deep (19" Usable)
Overall Capacity – 5.4 cubic feet; Usable Capacity = 4.88 cubic feet
48" Secondary Oven Size:
12" Wide X 16-1/2" High X 21" Deep (19" Usable)
Overall Capacity – 2.4 cubic feet; Usable Capacity = 2.18 cubic feet
60" Secondary Oven Size:
18" Wide X 16-1/2" High X 21" Deep (19" Usable)
Overall Capacity – 3.6 cubic feet; Usable Capacity = 3.27 cubic feet
The Connoisseurian Series is going into production in May 2012 and will be distributed throughout the United States and Canada to specialty retailers during Summer 2012. To arrange an interview at K/BIS, or for further information, please email or call Press Contact, Leanne Wood Newman - leanne@flyingcamel.com or 519-754-7745.