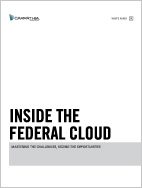 Carpathia Hosting, the leading provider of enterprise managed hosting services for government agencies and enterprises, today released its latest white paper, "Inside the Federal Cloud: Mastering the Challenges, Seizing the Opportunities" for free download.
Written to address the unique challenges government IT executives face when migrating to the cloud, the white paper first defines the federal cloud and then touches on key subjects, such as the drivers behind the federal cloud and how to prepare for common migration challenges.
"The Obama Administration's Cloud First initiative requires agencies to use cloud as their default delivery mechanism for new applications `whenever a secure, reliable, cost-effective cloud option exists,'" said Rich Thompson CISSP ITIL, Cybersecurity Practice Lead at Carpathia Hosting. "'Inside the Federal Cloud: Mastering the Challenges, Seizing the Opportunities' goes in-depth into how federal agencies can utilize partnerships with established services providers to ensure successful cloud migrations."
A company that commands one of the most impressive rosters of federal agencies under management, Carpathia currently delivers solutions for a diverse range of federal agencies including Department of Defense, Intelligence, Department of Homeland Security and other federal civilian agencies.
With active ATOs for over 20 federal agencies, an ability to work seamlessly with other integrators, operational and security staffing 24x7x365, support for private agency networks and an active facility clearance, Carpathia is one of the best positioned companies to serve the range of federal agency IT infrastructure requirements, and is the only provider in the industry that guarantees certification and accreditation for federal agencies within its service level agreements.
To register to download the free white paper, visit
http://carpathia.com/federal-cloud
.
To learn more about Carpathia's comprehensive suite of federally-compliant hosting and IT management services, visit
http://carpathia.com/governmentsolutions/
.