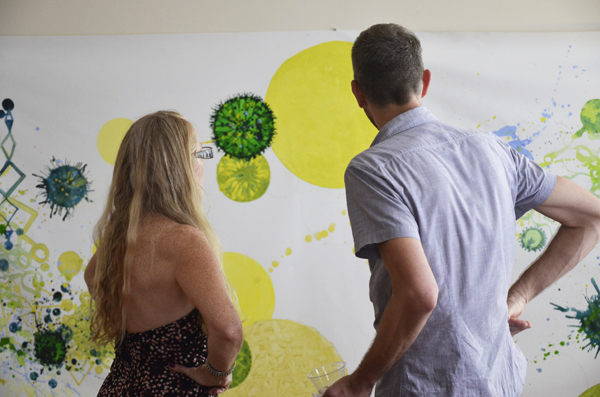 Find yourself year after year wondering what to do for New Year's, how to host a fun adult party or celebrate your child's birthday? We've got a creative answer -- Casart Creative.
Want to host a memorable New Year's Eve Party and be the talk of the town (for your innovative idea) long after the party? Purchase unprinted Casart removable and reusable, self-adhesive wallcovering to have an Adult Paint Party. Be completely creative through abstract design. Throughout your party, Casart can be customized with acrylic and other paint, ink and stamps and/ or pencil and other media. Casart is versatile enough to accommodate any artist. Casart is Art for your home, so why not truly make it unique - a one of a kind masterpiece.
Upload your own photo (simple, clean lines with single images work best) and Casart will create an outline version in either Black and White or Color Trace Contour so you can Paint by Color. We'll even include some game ideas in your box as suggestions.
Your child can paint their Picasso Art Pieces for a birthday party activity, for their own pleasure and for your parental mementos, a treasured Kid's Keepsake for years to come. Just peel and stick and adhere to your wall surface with our non-residue, pressure sensitive adhesive. No mess, no glue, no hassle in clean up, but you might want to use a drop cloth while the budding Picassos are being creative.
Contact Casart for further creative advice:
http://www.casartcoverings.com/creative.html
contact@casartcoverings.com
888.960.5554
###