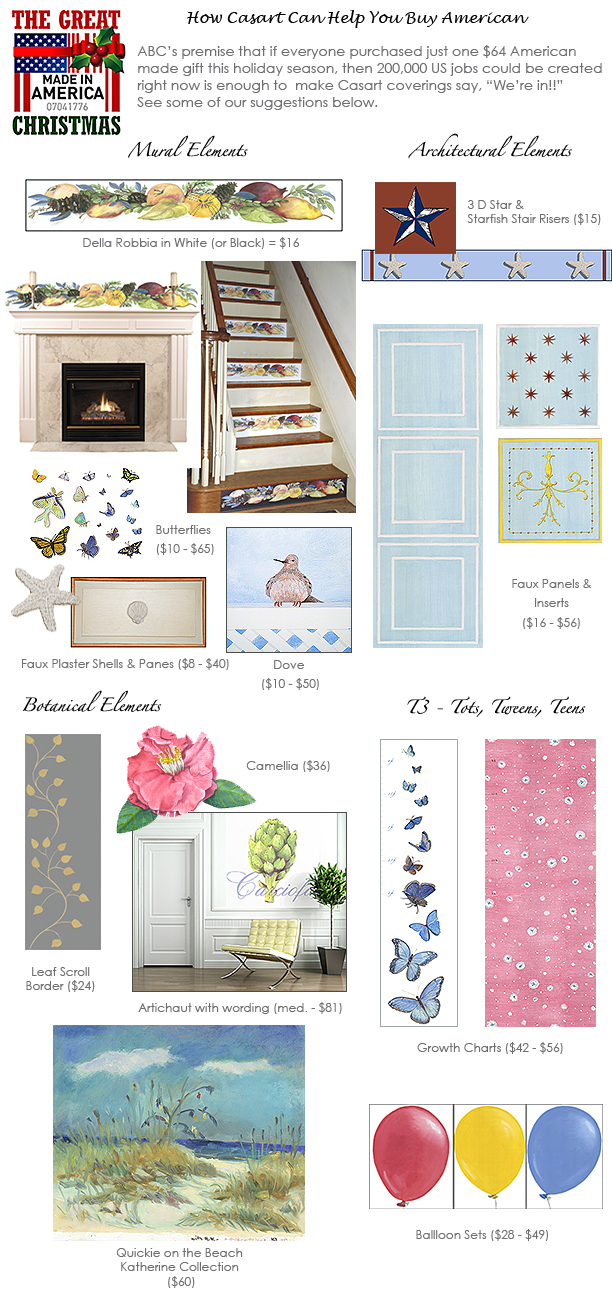 Christmas is the biggest holiday of the year. It's the time to make out those shopping lists for gifts, decorate the tree, and gather with family for the holiday. Do you know where those gifts and ornaments came from? And what about the food on the table? Is it all grown in the USA?
ABC News has been presenting a special on American made and purchased articles. Nine out of every 10 products Americans bought for the holidays in the 1960s were made in America. Today, more than half of what we buy is made out of the country.
According to economists, if every American spent just $64 on something made in America, we could create 200,000 jobs! That's not asking a lot considering that the average American spends $700 on Christmas or holiday gifts.
So where will you spend your money this year? We have some suggestions right from our Casart coverings web site, www.casartcoverings.com, where all our removable wallcoverings are made in America.
Botanical Elements:
Small Artichoke-$36
Small Camellia - $36
Leaf Scroll Border - Small ($24) or Large ($36)
Design & Mural Elements:
Della Robbia - for Stair Riser Decoration or above mantel or door frame -$16 Individual Butterfles - Small ($10) or Medium ($30)
Dove - Small ($10) or Medium ($50)
Trompe l'Oeil Starfish - Small ($8), Medium ($16) or Large ($40)
Sand Dollar or Shell Elements - Small ($8) or Medium ($16)
Trompe l'Oeil Panels- Small ($8), Medium ($16 or Large ($64)
Butterfly Composite Border - ($36)
Architectural Elements:
Starfish Stair Riser - ($15)
Faux Panel - ($56)
Panel Insert - ($16)
Faux Tile or 3D Star Stair Riser - ($15)
T3 - Tots, Tween & Teens:
Butterfly Growth Chart - ($42)
Firefly Growth Chart - ($56)
Balloon Set - Small ($28) or Medium ($49)
Balloon Bunch - ($63)
"Quickie on the Beach" painting from the Katherine Collection - Small ($60)

Also Casart Gift Certificates in denominations of $25:
http://www.casartcoverings.com/giftcard.html
For more info: contact@casartcoverings.com or 888.960.5554
###