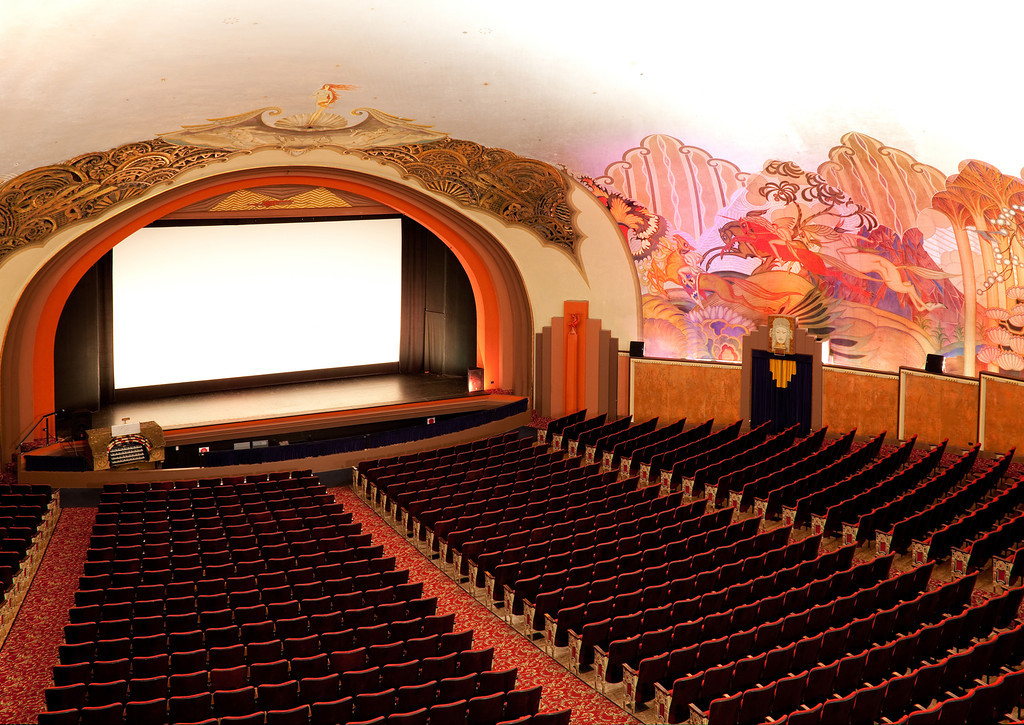 The Los Angeles Conservancy awarded its 2012 Preservation Award to the Santa Catalina Island Company (SCICO) for its substantial restoration of the island's historic Casino building, which opened in 1929. Beginning in 2009 the Casino's restoration involved acute attention to detail to preserve the building's Art Deco design and original sea-themed murals. The Los Angeles Conservancy will present the award to SCICO at the 31st Annual Preservation Awards Luncheon on Thursday, May 10 at the Millennium Biltmore Hotel in downtown Los Angeles.
"We are incredibly proud of this massive restoration and are honored to receive this recognition from the Los Angeles Conservancy", says Randall Herrel, CEO of the Santa Catalina Island Company. "The result is a building that authentically embodies Catalina's heritage yet is equipped with modern equipment and comforts.
Ever year since 1982, the Los Angeles Conservancy honors outstanding achievements in historic preservation as chosen by an independent jury of experts in architecture, historic preservation and community development.
The Casino, which has never been used for gambling, houses a 1,250-seat theatre downstairs and ballroom upstairs that overlooks Avalon Bay and is Catalina Island's most notable landmark. The original vision set forth by William Wrigley, Jr., who at the time owned Catalina Island, was to create a unique, large-scale venue for Big Bands concerts featuring all the popular bands of the era such as Benny Goodman and his Orchestra, Bob Crosby and the Bob Cats, Kay Kyser and Jan Garber, drawing crowds up to 4,000 dancers nightly.
Respected Los Angeles architects Walter Webber and Sumner Spaulding combined their talents to design this extraordinary building. Near-perfect acoustics were created for the theatre, which was the first to be specifically designed for "sound" movies. John Gabriel Beckman's exquisite Art Deco theatre murals combine with the lavish upstairs Art Deco ballroom that showcases an open dance floor, Tiffany-style chandelier, vintage stage and a full service bar. Large French doors lead dancers out onto the terrace promenade that encircles the entire building and offers a beautiful view of the sparkling lights of Avalon and the bay.
The Casino's restoration primarily involved repairing seawater and wind damage without compromising the building's historic character, repairing ornamental detailing, wood-framed windows and replacing the 26 rooftop flagpoles that once again are adorned by the American Flag in addition to other brightly colored themed flags.
Today, the Casino is home to the Avalon Movie Theatre (showing newly released films nightly), which recently received a new high-definition digital projector and Dolby Digital surround-sound system. The theatre is available for corporate presentations, film festivals and other events. The grand ballroom can be booked for private parties and weddings. Catalina Expeditions also offers daily "Casino Behind the Scenes" guided historic cultural tours that walk guests through the "green" rooms used by Hollywood's most iconic stars such as Cary Grant, Errol Flynn and Bing Crosby. The tour provides the opportunity to visit the Wrigley family's private screening room and the vintage collection of projectors and other early film memorabilia.
For more information about Santa Catalina Island, visit www.visitcatalinaisland.com.
About Santa Catalina Island Company
Located off the coast of Southern California, Catalina Island is a popular outdoor recreation destination also known for its vibrant history as a glamorous retreat for Hollywood celebrities. SCICO offers a wide range of services and amenities such as the newly renovated Descanso Beach Club, Pavilion Hotel, Hotel Atwater and Avalon Grille. SCICO's activities and expedition division, Catalina Expeditions, has added new adventures to its menu of 25 expeditions and activities with the Night Zip, Ultimate Land/Sea Adventure, Cape Canyon Expedition, East End Adventure, Sea Trek Undersea Adventure and many more. Most of the Eco and Extreme Expeditions are aboard bio-fuel H1 Hummers. These excursions are designed to introduce visitors to the island's rich history, wildlife and backcountry. Other activities include hiking, bicycling, buffalo safaris, fishing, boating, kayaking, snorkeling, golfing or relaxing on the beach. Santa Catalina Island Company has operated much of the island's lodging, dining and tour options for over 116 years.