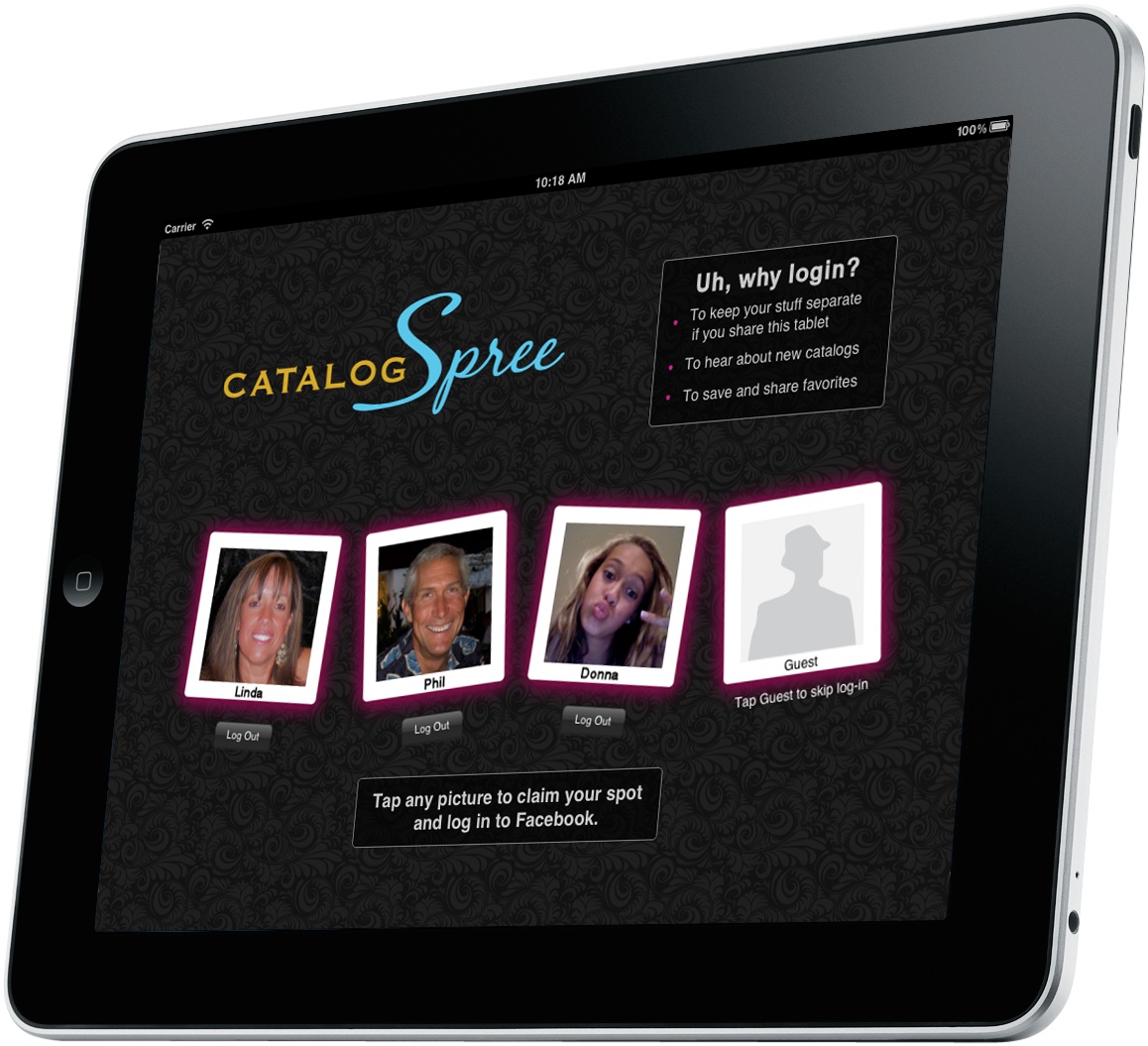 LOS ALTOS, Calif. (Feb. 6 2012) – Catalog Spree, the highest-rated shopping app for the iPad®, today announces the release of Version 3.0 with Facebook login. This allows users to have multiple Catalog Spree accounts on the same iPad®, synchronize favorites between multiple devices, and share products with friends on Facebook instantly.
With Version 3.0, Catalog Spree further enables the "shop with me" trend that its users have been clamoring for. Since November, Catalog Spree has observed a 300% increase in the amount of users "Favoriting" items in the app and a 50% increase in the amount of items that users share with friends and family via email and posting to Facebook. Now, friends can "like" and comment on the products that shoppers share.
"Women in particular love shopping together, but they also love the convenience and fun they experience with iPad® shopping," said Joaquin Ruiz, CEO of Catalog Spree. "We are bringing those two passions together, giving Catalog Spree shoppers the opportunity to shop socially with their friends from the comfort of their sofas. Already this quarter, we're seeing a dramatic spike in activity from consumers who are engaging their social networks from the app."
What's New in Version 3.0
• Facebook login – Share your iPad with others at home and still keep your shopping activity personal. You and other family members can save personal favorites and share information with different friends all from the same iPad.
• View catalogs by type – New library design includes 15 different categories within which hundreds of catalogs are grouped.
• Bright new user interface – Gorgeous color scheme, powerful tools and simplified product views.
Catalog Spree's app allows you to browse, discover and engage with the touch of a finger and now boasts more than 200 catalogs from over 100 brands, including retailers like Neiman Marcus, Sears, jcpenney, Serena & Lily, Merrell, Filson, and Hanna Andersson, with many more added each and every day.
With more consumers making lifestyle changes to go greener and save money, Catalog Spree is the leader in providing a more social, addictive, eco-friendly and fun way to shop.
To download the app, please visit http://catalogspree.com.
# # #
ABOUT CATALOG SPREE:
Catalog Spree is the highest rated shopping app for the iPad®. Catalog Spree allows you to discover, share, and buy with the touch of a finger. People want a catalog app experience that's fun and easy -- and saves trees. Catalog Spree is a sexy, addictive, eco-friendly way to shop and get daily deals from our trusted catalog partners. Padopolis is a privately held company based in Los Altos, California. For more information visit www.CatalogSpree.com.