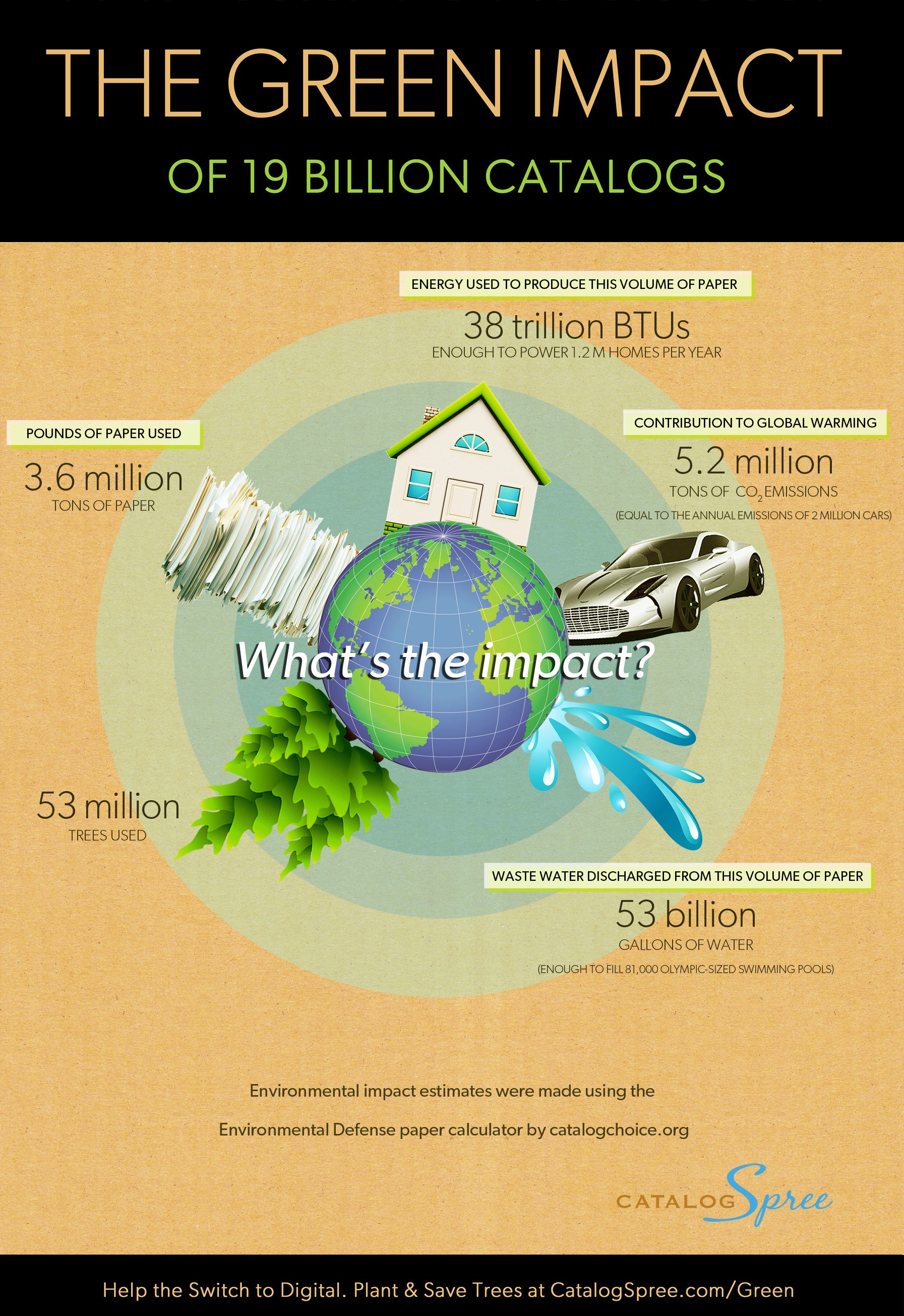 LOS ALTOS, Calif. (April 19, 2012) – Despite the fact that 19 billion catalogs are printed and mailed in the United States each year, American consumers would prefer to receive their catalogs digitally. According to a new survey from Catalog Spree, the highest-rated catalog shopping app for the iPad®, 89.8% of respondents indicated that they would opt out of receiving some or all of their paper catalogs in the mail if they were available digitally. Furthermore, 55.1% indicated that they would prefer all of their catalogs in digital form. These findings were based on the answers from 300 respondents.
These survey results come on the heels of Catalog Spree's Earth Month initiative to raise awareness about the environmental impact of catalog consumption in the U.S. Catalog Spree is planting one tree for every download of the app during the month of April – up to 25,000 trees – to help the Arbor Day Foundation reforest Pike National Forest in Colorado. Approximately 53 million trees are cut down annually to produce the 3.6 million tons of paper required for the 19 billion catalogs mailed in the U.S. each year (source: catalogchoice.org). More information and research related to these findings are available through infographics, which can be downloaded here.
"The annual costs of producing print catalogs are astronomical on many levels," said Joaquin Ruiz, CEO of Catalog Spree. "Catalogs often represent the biggest line item in a retailer's marketing budget, but their environmental cost has a massive impact too, especially when you factor in the trees required for the paper, the energy required for the printing, and the CO2 emissions from shipping. Browsing one's favorite catalogs digitally is engaging, entertaining, and environmentally sound... an increasingly important factor for consumers."
Other survey findings related to catalog and offline shopping habits include:
48% of respondents recycle their catalogs while 28% deposit to the trash.
24% keep their catalogs, with 20-29 year olds being the most likely to hang onto them.
Men and women report nearly equal time spent shopping per month (13.4 vs. 12.5 hours), but men report spending twice as much on gas going shopping when driving to stores, $109 for men vs. $58 for women.
Catalog Spree's iPad app allows you to browse, discover and engage with the touch of a finger and now boasts more than 200 catalogs, including Neiman Marcus, Sears, jcpenney, Lowe's, Merrell, American Girl, and Hanna Andersson, with many more added every day.
With more consumers making lifestyle changes to go greener and save money, Catalog Spree is the leader in providing a more social, addictive, eco-friendly and fun way to shop. For retailers, there's an economic incentive to going green as digital catalogs save costs related to paper, printing and postage.
For more details on the Earth Month campaign and to help save trees, visit http://www.catalogspree.com/green. To get Catalog Spree on your iPad, please visit http://catalogspree.com or download directly from Apple's App Store (http://itunes.apple.com/us/app/catalog-spree/id428274984?mt=8).
# # #
ABOUT CATALOG SPREE:
Catalog Spree is the highest rated catalog shopping app for the iPad®. Catalog Spree allows you to discover, share, and buy with the touch of a finger. People want a catalog app experience that's fun and easy -- and saves trees. Catalog Spree is a sexy, addictive, eco-friendly way to shop and get daily deals from our trusted catalog partners. Padopolis is a privately held company based in Los Altos, California. For more information visit www.CatalogSpree.com.