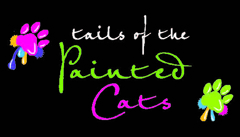 Claudie Monette - this year's 'drawing' Painted Cat

Claudie Monette - this year's 'drawing' Painted Cat
Lakewood, CO - The 2012 'Tails of the Painted Cats,' the Cat Care Society's (CCS) lineup of 18 one-of-a-kind, larger-than-life artwork cats - created by accomplished area artists - will debut during the month of May at the Lakewood Arts Council Co-op Gallery, 85 South Union Blvd., Suite C. A reception, open to the general public at the LAC Gallery, is Thursday, May 3, 6:30 - 8:30 p.m. The announcement is made by CCS President Diane Stoner, who says, "Our wonderful Painted Cats will again be raising funds for Cat Care Society's shelter cats and community outreach programs. Last year, we raised more than our $30,000 goal, and hope to do the same with our project this year."
Some of the Painted Cats are standing, and some are sitting, but they are all unique, original decorator pieces. You can visit the Online Gallery at http://www.catcaresociety.org/paintedcatsgallery.html - the larger (about 28" tall) Painted Cats each have an opening bid of $300 and the smaller Painted Cats open at $150. Advanced online bidding is available at http://BidOnACat.blogspot.com through Wednesday, July 25, 2012, at noon (MDT). Advanced bids can also be placed by calling Suellen Scott, CCS director of development, at 303-239-9680, ext. 19.
After the LAC Gallery during May, the second tour stop will be the Santa Fe Arts District during June, where the Painted Cats will be separated at galleries throughout the area in time for the First Friday Art Walk. Next, they will make an appearance at the Aar River Gallery in Westminster on June 29th for a Cat Care Society wine tasting. From Westminster, the Painted Cats head to the Tennyson Street Cultural District and will be placed in various businesses and galleries during July.
On July 28th, the Painted Cats will be auctioned at Cat Care Society's Gala Dinner Auction at Lakewood Country Club. The emcee is Ed Greene, CBS4 weather and news anchor. The auctioneers are Warren and Terri Smith of Two for the Show Auctions. Individual tickets for the Gala are $75.00 each ($65.00 prior to June 1). New this year is an individual patron ticket to a private VIP Meet & Greet prior to the dinner on July 28 where Ed Greene will sign the 2013 'Weather Cat' painted cat -- $100.00 each ($90.00 prior to June 1). Details regarding sponsorships, table upgrades and proxy bidding are also available by calling Suellen Scott, CCS director of development, at 303-239-9680, ext. 19.
The 2012 'Tails of the Painted Cats' collection and artists include:
1. Bridal Henna Cat by Kathy Burton
2. Colorado Calico by Ashley Conroy
3. C is for Cat by Liz Cooper
4. Little Roar by Jane McFadden Dorsey
5. Soleil by Gail Firmin
6. Cat Masquerade by Melanie Gwendahlin Keyes
7. Crazy Quilt Cat by Joan A. Lee
8. Helios by Karen R. Mahnken
9. Sushi Chef by Shirlee Akemi Miyake
10. Unity by Sara Nevadomski
11. Hibiscat by Carla Pawlewicz
12. Casino Kate: The Cat by K. Ross
13. Meowscarade by Pam Schmidt
14. Misty by Pam Schmidt
15. Pearls & Lilies by BW Sharp
16. Rudi by Bonnie Wilber
17. Toulouse Le Chat by Cam Williams
In addition to these 17 Painted Cats, local artist Jane McFadden Dorsey has again created the project's official 'drawing kitty.' This year it's Claudia Monette. For a $10.00 donation per ticket, names are entered in a drawing to take her home. The winner of Claudia Monette will be announced at the July 28th Gala.
Guiry's Color Source is the 2012 art supply sponsor for 'Tails of the Painted Cats.' For more information, visit: http://www.guirys.com
About Lakewood Arts Council and LAC Co-op Gallery
The Lakewood Arts Council (LAC) is a non-profit arts organization dedicated to serving the community by promoting and supporting the arts in Lakewood and the surrounding area. Founded in 1988, LAC encompasses all the arts: theatre, music, dance, visual arts and literature. Artists in the Co-op Gallery are all members of the Lakewood Arts Council. Multiple art disciplines are represented, from oils, acrylics, watercolor, pencil (colored & graphite), and pastels in two-dimensional work to ceramics and glass in three-dimensional work. The Painted Cats are appearing as part of the LAC Gallery's Cats & Dogs Exhibit. Located at 85 South Union Blvd, Suite C, the gallery is west of the St. Anthony Medical Campus in the shopping center behind the Wendy's Restaurant. For more information, visit: http://www.lakewoodartscouncil.org
About the Cat Care Society
The CCS, founded in 1981 by Linda East, DVM and Lynn Rowe, is a nonprofit organization established to improve the quality of life for homeless, injured and abused cats in the Denver metropolitan area. The Society's goals are:
* To sponsor educational programs that promote responsible pet ownership, humane treatment of all animals, and the elimination of pet overpopulation;
* To shelter cats in a healthy, cage free environment and to find compatible and responsible families for every cat;
* To provide community outreach programs that improve the quality of life for cats and people;
* To be a friend to all cats.
The CCS is supported by a number of loyal members and contributors, without whom the shelter could not operate. CCS receives no government funding. In addition, CCS volunteers assist with many fundraising activities each year. For more information, visit http://www.catcaresociety.org.
Denver's Cat Care Society is also is found on these social media sites:
Facebook Page: http://www.facebook.com/CatCareSociety
Facebook Tails of the Painted Cats Page: www.facebook.com/TailsofthePaintedCats
Twitter: http://twitter.com/CatCareSociety
You Tube: http://www.youtube.com/CCSNewsEvents
Pinterest: http://pinterest.com/catcaresociety
Google+: https://plus.google.com/u/0/b/116089620444884678284/#
News Feed Blog: http://denvercatcare.blogspot.com
Contacts:
Suellen Scott, Cat Care Society - 303-239-9680 x19 - sscott@catcaresociety.org
Maggie Chamberlin Holben, APR, Absolutely PR on behalf of the Cat Care Society – http://www.absolutelypr.com – 303-984-9801, maggie@absolutelypr.com