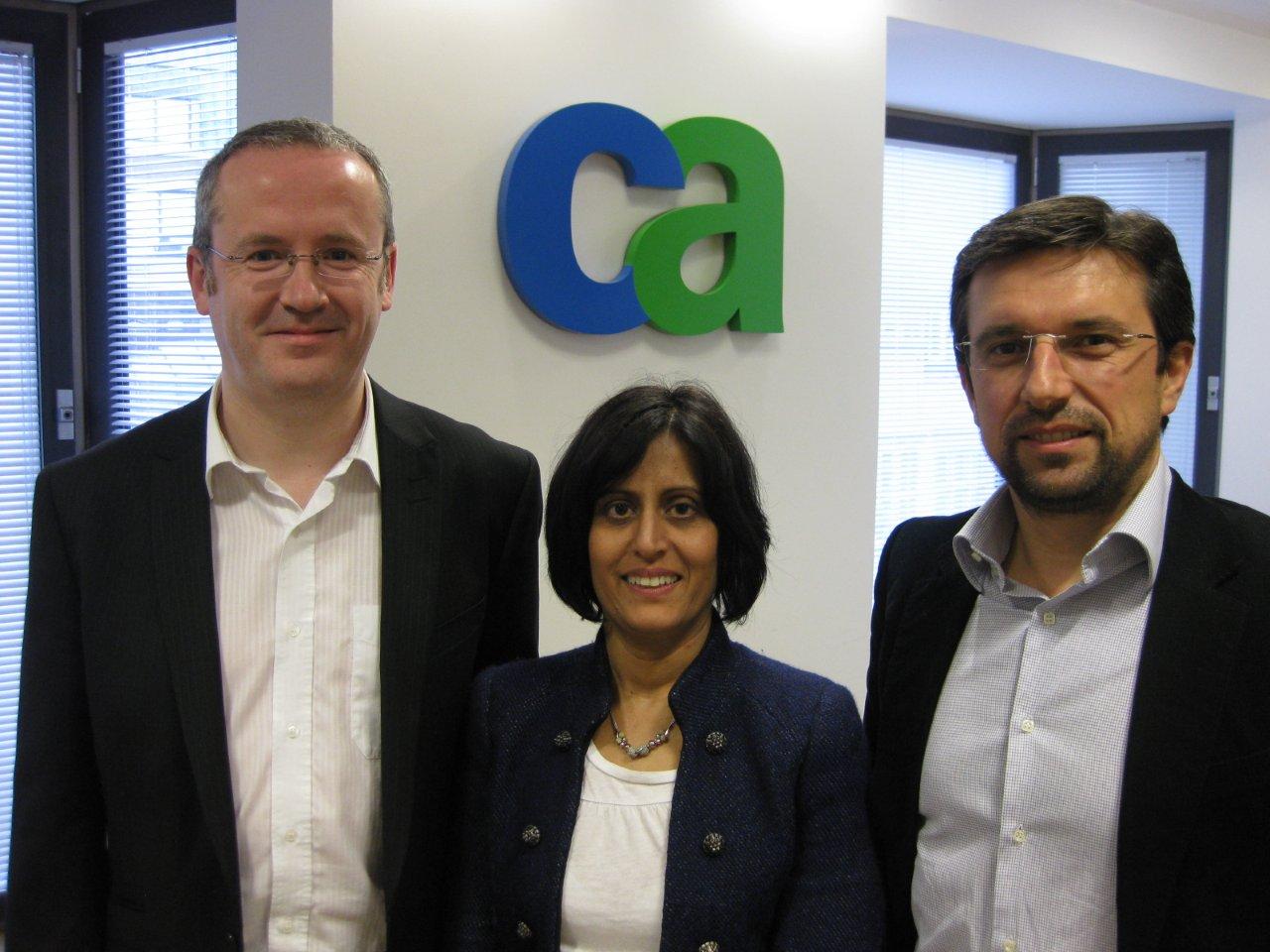 MORGES, Switzerland – CA Technologies (NASDAQ:CA) today announced the appointment of three senior executives in EMEA to spearhead further growth in service virtualization and Cloud application development solutions across the region through their ITKO software group.
Ritu Mahandru is appointed senior sales director, ITKO solution sales in the U.K. and the Nordic region; Chris Rowett is appointed senior director for ITKO technical sales in EMEA; and Paolo Restagno is appointed senior director with responsibility for ITKO sales in the Southern Europe, Middle East, and Africa (SEMEA) regions.
"These important senior executive appointments to the ITKO business will benefit our customers whilst heralding further growth for our Service Virtualization and Cloud development solutions across the region," says Eric Grotefeld, VP EMEA, ITKO. "Our technology enables customers to anticipate how their applications will perform in alternate environments, significantly reducing risk, and accelerating their time to value. With these appointments, ITKO will drive even further demand for the broadest continuum of IT management solutions that includes composite and cloud application environments."
Ritu Mahandru joins as Senior Director of Solution Sales. She will have responsibility for accelerating ITKO Solutions sales growth in the Northern Europe region, which includes the U.K. and Ireland, the Nordics and the Netherlands. Prior to joining ITKO, Mahandru was responsible for all business development activities in Europe at Tealeaf technology, a leading provider of customer experience management software for online businesses. Her extensive experience also includes work at BEA Systems and Cape Clear.
As Senior Director with responsibility for running ITKO in the Southern Europe, Middle East, and Africa (SEMEA) regions, Paolo Restagno will be accountable for driving growth for CA LISA Solutions throughout this important territory. Restagno joins CA Technologies from Telligent, a leading provider of Enterprise Social Business Software and Enterprise Networking, where he built the SEMEA operations. Prior to this, he held different Regional Sales Management positions in companies like Plumtree Software, BEA System and Oracle.
The appointment of Chris Rowett as Senior Director of Technical Sales will help customers increase their adoption and value from Cloud-based applications. Rowett joins ITKO from IBM, where he was the services lead for Open Pages Centre of Excellence. Prior to this, he was managing director for EMEA at Cape Clear Software (UK) Ltd.
The combination of CA LISA Service Virtualization and DevTest Cloud capabilities with Service Assurance, Unified Automation, Service Management and Turn-key Cloud creates the most compelling offerings in the market that accommodate the complexity inherent in today's applications and environments. The benefit for customers are business services that can be built, tested, and delivered in hours and days, not months and years. ITKO solutions drive faster time-to-market by eliminating software dependences, and increasing the reliability of composite applications that leverage cloud computing, SOA, BPM, integration suites and ESBs.
About ITKO
ITKO, a CA Technologies company, optimizes composite application lifecycles. Their CA LISA virtualisation and validation software increases the agility of developing and delivering complex and cloud-based applications to market faster, while shifting quality left to eliminate costly constraints and defects in an environment of constant change. ITKO solutions drive Business Service Innovation by eliminating software dependences, decreasing release times, and increasing the reliability of composite applications that leverage cloud computing, SOA, BPM, integration suites and ESBs. ITKO's global customers include five of the top six Fortune 500 commercial banks, five of the top six Fortune 500 telecommunications firms as well as leading firms in insurance, travel, retail, utilities and government agencies. For more information, visit http://www.itko.com.
About CA Technologies
CA Technologies (NASDAQ: CA) is an IT management software and solutions company with expertise across all IT environments – from mainframe and distributed, to virtual and cloud. CA Technologies manages and secures IT environments and enables customers to deliver more flexible IT services. CA Technologies innovative products and services provide the insight and control essential for IT organisations to power business agility. The majority of the Global Fortune 500 relies on CA Technologies to manage evolving IT ecosystems. For additional information, visit CA Technologies at www.ca.com.
Follow CA Technologies
Legal Notices
Copyright © 2012 CA. All Rights Reserved. One CA Plaza, Islandia, N.Y. 11749. All other trademarks, trade names, service marks, and logos referenced herein belong to their respective companies.
Press Contact
Tariq Ahmed, EMEA Communications, CA Technologies
Tel: +44 (0)1753 241 069
Mobile: +44 (0)7747 638 791
E-Mail: tariq.ahmed@ca.com