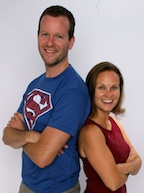 Grandville, MI – May 16, 2012
- Adam Dudley and Heather Stearns have created a lifestyle model that makes the wealthiest envious. Dudley and Stearns, a dynamic husband and wife entrepreneurial team originating from central Florida, are the founders of Location Liberated, a publishing and coaching enterprise designed to educate others on how they too can live a "location liberated" lifestyle. They are educated professionals that have traded the corporate and traditional business lifestyle to pursue destination spots worldwide while earning income through conducting virtual business from any location of their choice. They are balancing time, lifestyle and income and enjoying each of these life components to its fullest through their "modern vagabond" type experiences.
Dudley and Stearns are dedicated to helping others achieve this same lifestyle if they so choose. To this end they have created their website to chronicle their journey and encourage others to step out and fulfill the dreams of their lives as well. Additionally, they are developing Location Liberated University which will be another on-line resource to provide a curriculum that will work hand in hand with their coaching services.
Dudley and Stearns don't let any grass grow under their feet when it comes to business. Within the past year they have launched their fully designed website, LocationLiberated.com; Published over seventy-five episodes of their web show, Get Free TV; Published their no cost downloadable Getting Free Manifesto; Published the Free Spirits Guide to Long-Term Travel; Launched Location Liberated University for free spirits that want to improve their business and entrepreneurial skills; and they launched their twice-monthly newsletter One Step Closer for those who want to get free, travel, and enjoy life at a different level. Additionally, they have been interviewed and written about in multiple travel blogs and had their story featured in the AmEx Open Forum.
Dudley and Stearns will soon be featured in USA Today as one of America's "Game Changers" and leading experts in their field. They also will be releasing in the very near future their new book, The Free Spirit's Guide to Long Term Travel. Additional information about Location Liberation as well as Dudley and Stearns can be found on their website at
www.locationliberated.com
.
Read More:
http://locationliberated.com/whole-story/