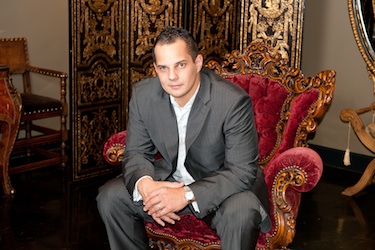 Michael Reese real estate industry expert and Co-Founder of the National Association of Expert Advisors™, will team with CelebrityPress, a leading business book publishing company, and several leading real estate experts from around the world to release the book, Sold!
Frisco, Tex. – May 8, 2012 – Michael Reese, of the National Association of Expert Advisors™, and a select group of the world's leading real estate experts have joined together to co-write the forthcoming book titled, Sold! The World's Leading Real Estate Experts Reveal The Secrets to Selling Your Home for Top Dollar in Record Time! Nick Nanton, Esq. along with business partner, JW Dicks, Esq., recently signed a publishing deal with each of these authors to contribute their expertise to the book, which will be released under their CelebrityPress™ imprint.
Michael Reese and business partner Jay Kinder decided to open the doors to their successful businesses and began recreating their own success by helping agents like them master massive growth and celebrity stardom in their own real estate markets. Their new passion, The National Association of Expert Advisors, has been credited to helping 1,000's of real estate agents strategically grow their businesses with the association's highly differentiated tools for real estate professionals. Jay and Mike now share a passion for growth minded individuals who have a burning desire to add value to people's lives while enjoying a higher quality of life. Michael is also a co-author of the upcoming real estate book, The New Rise in Real Estate: The Nation's Trusted Real Estate Advisors Reveal Their Top Secrets for Buying and Selling Homes in the New Real Estate Economy.
Sold! The World's Leading Real Estate Experts Reveal The Secrets to Selling Your Home for Top Dollar in Record Time! features proven secrets and strategies from some of the world's leading real estate experts. These experts share how to realize maximum sales and profits in an uncertain real estate environment. The book is currently scheduled to be released in May 2012.
Learn More about Michael Reese and the National Association of Expert Advisors visit http://www.NAEA.com
About Jay Kinder and Michael Reese:
More than 10 years ago, Jay Kinder and Michael Reese inadvertently caught up with each other one summer afternoon at Lake Texoma. Real estate was the discussion of the day as a young Jay Kinder shared how he sold 233 homes the prior year to a very open-minded Michael Reese. Who knew that a chance encounter would turn into the wildly successful partnership that is now Kinder Reese Real Estate Partners?
Since that day, Michael, Jay and their teams have sold more than 4,250 homes combined. Together, they've brought in more than $18,000,000 in commissions for their real estate businesses and haven't looked back since that fateful day.
Both Jay and Mike have been members of Realtor Magazine's prestigious 30 under 30 group. They have also both been ranked within the top 100 of the 400 most successful real estate teams in North America by Real Trends of The Wall Street Journal.
Individually, Jay has established himself as one of the top agents in the world, selling more than 3,000 homes during that period while capturing 14% market share in Lawton, Oklahoma. In 2007, Jay was named #2 in the World for Coldwell Banker, competing with over 120,000 realtors – being the youngest to ever obtain this achievement. The results don't stop there. In 2007, Jay was also ranked #1 in Oklahoma and #2 in the Southern Region including over 1,700 realtors from 14 states. He has been recognized with the honor of #1 Sales Associate in Oklahoma in 2002-2010 before opening his new company, Jay Kinder Real Estate Experts in 2011.
Mike, too, has enjoyed immense success as one of Keller Williams' top 50 agents worldwide. He is regularly ranked as one of the top 5 teams in the Southwest Region for Keller Williams and he and his team recently broke the record for buyer sales for the Keller Williams he works out of in Frisco, Texas – one of the largest Keller Williams franchises in the world. Mike earned $1,000,000 in GCI after only his 6th year in the business and he's never made less since then.
In 2004, Jay and Mike started Kinder Reese Real Estate Partners with the aim of helping success-minded agents like themselves create the business and lifestyle that virtually every real estate agent dreams about. Kinder Reese currently serves more than 23,000 agents across North America with its revolutionary business model and innovative business systems.
In 2011, they co-founded the National Association of Expert AdvisorsSM (NAEA), which offers the most prestigious designations a real estate agent in today's market can have. The Certified Home Selling Advisor™ has been recognized as a highly differentiated, proven, repeatable system to get sellers up to 18% more than the methods of average real estate agents. The NAEA's goal is to provide the highest level of education, training and business materials to agents who are truly serious about bringing the absolute best consumer experience to today's home sellers and buyers.
The Certified Home Selling Advisor™ designation is a four-part certification process that helps today's real estate agents learn what they need to truly distinguish themselves from their competition and establish themselves as the true, number one choice for real estate consumers in their market place.
They are both best-selling authors on Amazon's top ten list of books for small businesses with their book Trendsetters and they can be seen on NBC, ABC, CBS, CNBC and other major networks as expert advisors™ on the new television show, The New Masters of Real Estate.
Currently, Jay lives in Lawton, Oklahoma and has two sons, Brayden and Karsen. Mike lives on Lake Texoma in Texas with his wife Stacey and their son Cache.
If you'd like to learn more about Celebrity Press™ please visit http://www.celebritypresspublishing.com