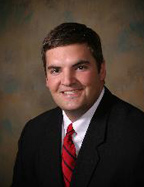 David A. Miller, Pennsylvania personal injury lawyer, was recently seen on Fox News, CNN, CNBC and MSNBC as the focus of the TV show, The New American Dream. The show was also seen on NBC, CBS, ABC and FOX network affiliates around the country.

Frackville, Penn. – May 25, 2012
–
David A. Miller
, of Michael J. O'Connor & Associates, LLC, was recently a featured expert on the TV show "The New American Dream." The show was recently seen on Fox News Channel, CNBC, CNN and MSNBC as well as NBC, CBS, ABC and FOX network affiliates around the country. "The New American Dream" was filmed in Washington, D.C.
"The New American Dream" features segments featuring some of the best business minds and marketing experts from around the world. Mr. Miller was one of the recent guests, discussing his take on the show's overall theme: how the old American dream has almost fizzled in every way, and how everything is different than when our parents or grandparents formulated their dreams. These experts explain how and what the new American dream looks like today for budding entrepreneurs and established businesspeople alike.
The Law Offices of Michael J. O'Connor & Associates offer a full range of legal services, including real estate, wills & estates with emphasis on aggressive representation in Workers' Compensation, Social Security and Personal Injury Law (Nursing Home litigation, Auto Accidents and Motorcycle Accidents). The firm is equipped with technologically advanced equipment that assists the efficient and accurate handling of cases.
The 23-year-old firm now has seven lawyers and 15 offices throughout a forty county area, representing the cases of thousands of fellow Pennsylvanians from Allentown and Bethlehem to Philadelphia, Reading, Scranton and Pittsburgh, against everything from massive Fortune 500 companies to smaller entities.
"The New American Dream" was produced by Nick Nanton, Esq. and JW Dicks, Esq., Co-Founders of America's PremierExperts® and The Dicks and Nanton Celebrity Branding Agency®. One of the country's leading expert organizations, "America's PremierExperts®" also recently recognized Cindy Speaker and the other businesspeople featured on the show as "Ambassadors of the New American Dream."
To learn more about David A. Miller and Michael J. O'Connor & Associates, please visit
http://www.oconnorlaw.com/