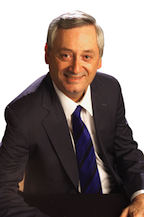 Ron LeGrand, best-selling author and real estate expert, will team with CelebrityPress, a leading business book publishing company, and several leading real estate experts from around the world to release the book, Sold!
Orlando, Fla. – March 6, 2012 – Ron LeGrand, noted real estate expert and trainer, and a select group of the world's leading real estate experts have joined together to co-write the forthcoming book titled, Sold! The World's Leading Real Estate Experts Reveal The Secrets to Selling Your Home for Top Dollar in Record Time! Nick Nanton, Esq. along with business partner, JW Dicks, Esq., recently signed a publishing deal with each of these authors to contribute their expertise to the book, which will be released under their CelebrityPress™ imprint.
Ron LeGrand is a 30 year veteran in real estate with over 2,000 of his own transactions and has trained over 500,000 people in North American on his patented Quick Turn System to buy and sell houses without money, credit, license or experience. He is a highly sought after platform speaker whose addressed audiences as large as 20,000 and as small as 100 in hotels and convention centers across North America, sharing the stage with leaders such as Donald Trump, Robert Kiyosaki, Rudy Giuliani, Tony Robbins, Larry King, Dr. Phil, Suze Orman, and many others. For the last 20 years he's been helping thousands of ordinary people take their lives back and create financial freedom by implementing his systems for success as real estate investors. Today he's considered the country's leading expert and is referred to by many as the "millionaire maker."
Sold! The World's Leading Real Estate Experts Reveal The Secrets to Selling Your Home for Top Dollar in Record Time! features proven secrets and strategies from some of the world's leading real estate experts. These experts share how to realize maximum sales and profits in an uncertain real estate environment. The book is currently scheduled to be released in May 2012.
Get Ron LeGrand's free book and CD at www.RecessionProofRon.com and learn about his live training event at www.RonsQuickStart.com. Learn more about Ron at http://www.RonLeGrand.com
About Celebrity Press™:
Celebrity Press™ is a business book publisher that publishes books from thought leaders around the world. Celebrity Press™ specializes in helping its authors grow their businesses through book publishing. Celebrity Press™ has published books alongside Brian Tracy, Dr. Ivan Misner, Ron Legrand, Mari Smith, Kelly O'Neil, Alexis Martin Neely and many of the biggest experts across diverse fields. CelebrityPress™ has helped launch over 500 best-selling authors to date.
If you'd like to learn more about Celebrity Press™ or to see if we're a good fit for your book project, please visit http://www.celebritypresspublishing.com/contact-us