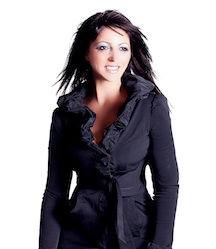 Luba Winter, developer of Rejuvenation G4, was recently featured in USA Today as well as major online media outlets, including Yahoo!Finance, Morningstar, CNBC, MarketWatch and many others.

Clackamas, OR – July 11, 2012
– Luba Winter, CEO of Nu Way Beauty, was recently featured in USA Today with other leading financial professionals from around the world as one of America's PremierExperts'® "GameChangers." A feature story about Luba Winter was also recently seen on the online home pages of major publications such as Yahoo! Finance, CNBC, The Boston Globe, The Miami Herald, Morningstar, Los Angeles Daily News and MarketWatch, among many others.
As seen in the USA Today feature:
Alongside top engineers and cosmetologists Luba Winter, developed Rejuvenation G4, which is designed to help men and women control their aging process and look gorgeous. Luba is on a mission to guide men and women around the world to love what they see in the mirror. Three "ABC-Skin Care" steps help them unlock the secret to healthy skin and start loving their lives as soon as possible.
Luba's popular Rejuvenation G4 FDA cleared, patent pending device safe and easy to use, celebrating by hundred men and women who have get amazing results from their daily skin care routine, reclaimed self-esteem, and started bold, happy lives with Luba and her proven Rejuvenation program.
Being inspired by her grandmother 27 years ego, Luba along with top worldwide engineers and cosmetologist develop a very unique device where she put all amazing beauty technology of "Galvanic, Ultrasound and Photo Therapy" in one convenient unit to begin a journey to guide others men and women to live more joyous, balanced lives. Luba believes that self love and right skin care is where the transformation begins.
To read the full feature story about Luba Winter, as seen on CNBC, Morningstar, CBS MoneyWatch, The Houston Chronicle and others, please visit
https://www.nuwaybeauty.com/nu-way-beauty/
Learn more about Rejuvenation G4 at
http://www.nuwaybeauty.com