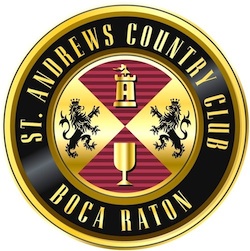 St. Andrews Country Club, a world-class golf and country club, discusses their recently approved club improvement project which is scheduled to commence in 2012.

Boca Raton, FL – June 2, 2012
-
St. Andrews Country Club
, a world-class golf and country club, recently published an article on their website (http://www.standrewsboca.com/) revealing their plans for an extensive club improvement project. The article, titled
"St. Andrews Reveals Plans for $15 Million Club Improvement Project,"
discusses the three-phase project in detail.
St. Andrews writes, "St. Andrews proudly announced a major club construction improvement imitative in April 2012. This plan consists of three phases, and is designed both to further enhance the quality of life that our members enjoy and to increase real estate values."
St. Andrews Country Club is a private, world-class
golf and country club
.
The entire article can be found at
http://www.standrewsboca.com/articles/st-andrews-reveals-plans-for-15-million-club-improvement-project.php
To learn more about St. Andrews Country Club, please visit
http://www.standrewsboca.com
About St. Andrews Country Club:
St. Andrews – Created with you in mind!
The St. Andrews Style – developed to reflect the shared tastes and interests of our Members – has given the Club the often elusive quality that helps friendships grow from shared good times and memorable experiences. The Clubhouse complex provides the perfect settings for you to mingle with people who enjoy the same activities that you do:
• Fine and Casual Dining, featuring exceptionally prepared food by our world acclaimed professional culinary team who utilize the finest ingredients
• A Social Calendar with a diverse assortment of pastime pleasures
• Two exquisitely maintained Championship Golf Courses that are complemented with an extensive program of tournaments, clinics, and a high-tech Golf Performance Center designed to help you maximize your mastery of the game
• Fifteen Clay Tennis Courts, with a busy schedule of matches and round robins, presided over by the incomparable Aaron Krickstein
• A state-of-the-art Fitness Facility, with exercise machines, a variety of classes, a complete Pilates studio and innovative ways for you to reach optimum fitness
• A luxurious Spa and Salon, highlighting body treatments, facials, and hair and nail services from expert licensed therapists and aestheticians
• Activities that include cards, classes, lectures, and trips to surrounding attractions, as well as facilities to keep youngsters happy and occupied.
From the moment you enter the safety and security of the St. Andrews gates, it really is all about you. Our friendly, professional, and highly trained staff takes great pride in making our Members feel special every time they visit.
You've earned it…now is the time to enjoy it – St. Andrews Style.