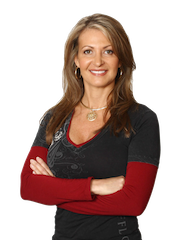 Dr. Sabreena CopeLyn, wellness expert and human performance specialist, recently hit #1 in two separate Amazon.com best-seller lists with the new health book, The Wellness Code: Your Ultimate Guide to Health, Fitness and Nutrition.
Los Angeles, Calif. – April 23, 2012 – Dr. Sabreena CopeLyn, President and Founder of Waypoint Wellness, LLC, recently joined with a select group of the world's leading health and fitness entrepreneurs to co-write the best-selling health and fitness book titled, The Wellness Code: Your Ultimate Guide to Health, Fitness and Nutrition. The book was released by CelebrityPress™ - a leading fitness and health book publisher.
The Wellness Code: Your Ultimate Guide to Health, Fitness and Nutrition was released on Thursday, April 12th, 2012 and features top advice from health, fitness and wellness experts from across the globe on the subjects of total body health, fitness and nutrition. The authors offer proven strategies to help people achieve the level of wellness they have always desired – and feel better than they ever have. Dr. Sabreena CopeLyn contributed a chapter titled "Discovering Health Through Adversity."
On the day of release, The Wellness Code: Your Ultimate Guide to Health, Fitness and Nutrition reached best-seller status in two Amazon.com Exercise and Fitness categories. The book reached #1 in the "Injury Prevention" category and the "Quick Workouts" category.
Dr. Sabreena CopeLyn is a professional speaker, consultant, and coach. She is a leading wellness expert, plant-based nutritionist, and human performance specialist. She has been successfully empowering teams and individuals with advanced strategies designed to enhance human performance for over 20 years.
A former international corporate executive and college professor, Dr. CopeLyn understands the challenges of living/working in a fast-paced world and the challenge of staying healthy, focused, and energized. After successfully conquering her own health challenge, which nearly resulted in death, she has dedicated her life to educating others about healthy food choices and optimizing wellness. Using the latest research and cutting edge solutions in nutrition, psychology, and coaching; she utilizes a unique combination of techniques to deliver extraordinary results for her clients.
From CelebrityPress™:
The Celebrity Experts® in this book document the fact that healthy bodies and healthy minds are key ingredients to cracking The Wellness Code. In our lives, there are many different routes to "Wellness" for each of us. There is no panacea. Consequently, these Celebrity Experts® focus on the most relevant areas, including: nutrition, diet and exercise, physical and mental health, medical considerations, career wellbeing and healthy habits.
In the search for "Wellness" the Celebrity Experts® discuss healthy living from the standpoint of balance, lifestyle and mindset. When you read this book, you will find numerous topics of interest written by those who have experienced positive results. The leading coaches in their subject matter have poured out their best tips that clients invest thousands of dollars to glean. This subject matter is set in a contemporary setting for twenty- first century relevance, so read and enjoy…
After such a successful release, Dr. Sabreena CopeLyn will be recognized by The National Academy of Best-Selling Authors™, an organization that honors authors from many of the leading independent best-seller lists.
To order a copy of the book, please go to http://www.celebritypresspublishing.com/publications/the-wellness-code.php
To learn more about Dr. Sabreena CopeLyn and how you can receive free healthy recipes and wellness strategies, visit http://www.waypointwellness.net.
About Dr. Sabreena CopeLyn:
Along with providing wellness education, consultation and coaching, Dr. CopeLyn also teaches clients how to be smart food consumers and how to prepare easy to make nutritious, delicious gourmet raw/vegan meals at home. Dr. CopeLyn holds Bachelor of Science, Master of Science, and PhD degrees. In addition, she has also achieved over 18 professional certifications including Dynamic Eating Psychology, Advanced Certified Personal and Executive Coach, Master Weight Loss Coach, Wellness Coach and Instructor, and Certified Gourmet Raw/Vegan Chef and Instructor.
About Celebrity Press™:
Celebrity Press™ is a leading business, health and wellness book publisher that publishes books from thought leaders around the world. Celebrity Press™ has published books alongside Jack Canfield, Brian Tracy, Dan Kennedy, Dr. Ivan Misner, Robert Allen and many of the biggest experts across diverse fields. CelebrityPress™ has helped launch over 500 best-selling authors to date.
If you'd like to learn more about Celebrity Press™ or to see if we're a good fit for your book project, please visit http://www.celebritypresspublishing.com/contact-us