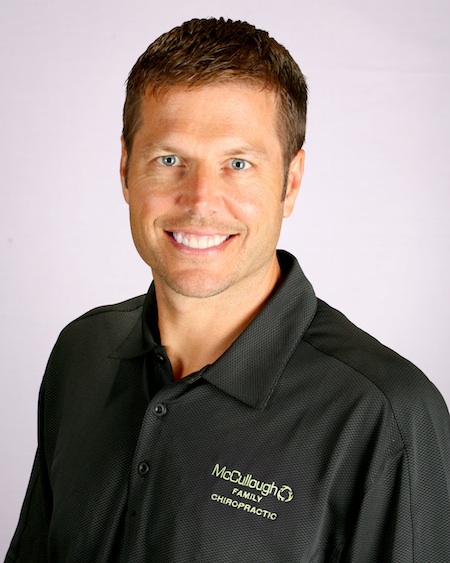 Battle Creek, Mich. – May 11, 2012 - Dr. Mark McCullough, Founder and CEO of Pure Health Solutions, LLC, recently published an article on his website (http://www.ivaluelife.com/) discussing the importance of a healthy back and spine. The article, titled "Five Steps to a Healthier Back" shares five tips that his readers can utilize on a daily basis.
Dr. McCullough writes, "Back pain makes everything difficult—sleeping, exercising, and even moving around the house. Fortunately, there are steps you can take to keep your back healthy and avoid painful symptoms."
Dr. Mark is a contributor to the New York Times, USA Today, and Wall-Street Journal Best-seller One Minute Wellness. Dr. McCullough co-founded Next Level Health, a program to help doctors start up and run successful "patient-centered" care to their respective communities. Dr. Mark is founder and CEO of both Pure Health Solutions, LLC, a nutritional consultancy, as well as BCXfit, LLC, a Crossfit Affiliate in Battle Creek.
Dr. Mark also served as the Team Doctor for the 2005 IBL Champion Battle Creek Dr Mark McCullough Family Chiropractic Battle Creek Michigan Knights from 2005-09 and is currently the Team Physician for Team Active Cycling and Multisport Team as well as the Priority Health Cycling and Multisport Team. Dr. Mark's mission is in serving his patients and helping potential students of Natural Whole Body Health realize and achieve their potential as Doctors.
The entire article can be found at http://www.ivaluelife.com/blog/five-steps-to-a-healthier-back.php
Learn more about Dr. Mark McCullough at http://www.ivaluelife.com/ or contact him at (269) 964-3300.
About Dr. Mark McCullough:
Dr. Mark McCullough graduated in 1991 with a Bachelor of Science degree in Chemistry from Michigan State University. From there he worked as an analytical pharmaceutical chemist and spent many years performing research and development in the pharmaceutical industry. Later, he sought to expand his knowledge of how the body functions in healing and wellness and the best applications for reaching optimal potential as opposed to mangaging disease. To this end, he graduated from Palmer College of Chiropractic in 1999 and is a contributing author to a New Your Times best-selling book called One Minute Wellness.
Dr. McCullough's life is dedicated to reaching people of all ages to begin a healthful, life transformation. The goal is to start the body healing, resulting in feeling and functioning better than it ever has before. This passionate work began when his own son was diagnosed with autism. Through a customized, nutrition plan, a life-management plan, and dedication, his son is now a mainstream teenager excelling in academics, music, and sports.
Dr. McCullough is the team doctor for the champion Battle Creek Knights basketball team. An athlete himself, Dr. Mark competes in numerous sporting events, including marathons and triathlons.
Dr. McCullough has hosted the weekly radio show "For Your Health" on WBCK for four years. Dr. McCullough speaks at local corporations, community events, schools, and churches.
Dr. Mark has been happily married to his wife Missy for 16 years. Together they have two beautiful children that they love to spend time with watching them play sports or music. Dr. Mark and his wife's vision is to see their city become a place of destination in the way of health like it once was many years ago.