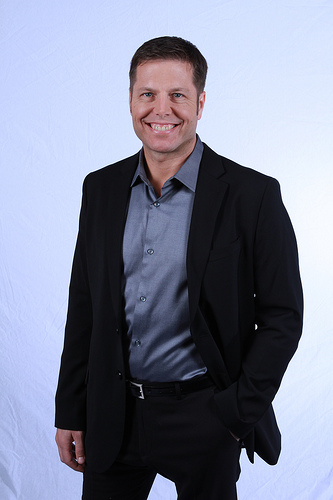 Dr. Mark McCullough has recently signed a publishing deal with CelebrityPress, a leading fitness and health book publishing company, along with several leading health and fitness experts to release the book, The Definitive Guide to Youth Athletic Strength, Conditioning and Performance.
Battle Creek, Mich. – February 27, 2012 – Dr. Mark McCullough, Founder and CEO of Pure Health Solutions, LLC, has joined with a select group of the world's leading health and fitness entrepreneurs to co-write the forthcoming fitness book titled, The Definitive Guide to Youth Athletic Strength, Conditioning and Performance. Nick Nanton, Esq. along with business partner, JW Dicks, Esq., recently signed a publishing deal with each of these authors to contribute their expertise to the book, which will be released under their CelebrityPress™ imprint.
Dr. Mark is a contributor to the New York Times, USA Today, and Wall-Street Journal Best-seller One Minute Wellness. Dr. McCullough co-founded Next Level Health, a program to help doctors start up and run successful "patient-centered" care to their respective communities. Dr. Mark is founder and CEO of both Pure Health Solutions, LLC, a nutritional consultancy, as well as BCXfit, LLC, a Crossfit Affiliate in Battle Creek.
Dr. Mark also served as the Team Doctor for the 2005 IBL Champion Battle Creek Dr Mark McCullough Family Chiropractic Battle Creek Michigan Knights from 2005-09 and is currently the Team Physician for Team Active Cycling and Multisport Team as well as the Priority Health Cycling and Multisport Team. Dr. Mark's mission is in serving his patients and helping potential students of Natural Whole Body Health realize and achieve their potential as Doctors.
The forthcoming book, The Definitive Guide to Youth Athletic Strength, Conditioning and Performance, will feature top advice from health and fitness experts from across the country on the subjects of total body health, fitness and nutrition for children and youth. The authors will offer health and fitness tips for kids ranging from preschool age to college student athletes. Some of the topics covered include keeping youth motivated, parental and athletic coaching, preventing injuries, taking the high school athlete to the next level, fitness for preschool age children, and much more.
Learn more about Dr. Mark McCullough at http://www.ivaluelife.com or contact him at (269) 964-3300.
More about Dr. Mark McCullough:
Dr. Mark McCullough is a Michigan native who earned his B.S. degree in Chemistry in 1991 and began his career as a bioanalytical scientist. After 5 years of Research and Development, Dr. McCullough went back to school to pursue his doctorate degree.
A graduate of Palmer College of Chiropractic in 1999, Dr. McCullough established his clinic and within the first few years of practice become one of the largest Chiropractic clinics in the state of Michigan and operates one of the largest Natural Health Clinics in North America. In addition, he is a nutritional consultant as well as being a certified specialist in both Youth Fitness and Youth Nutrition by the International Youth Conditioning Association. Dr. Mark is also pursuing a Master's Degree in Herbology.
Dr. McCullough has hosted weekly radio shows for years. His incredible contributions to his local community of Battle Creek that he serves has allowed him to be invited as a guest speaker to many of the schools that teach Health Care around the country. At seminars, conferences, and media appearances throughout North America, he shows people how to apply his Whole Body Wellness Solutions that will get you to the Next Level in health, happiness, and life.
His innovative strategies, inspiration, and passion for helping people are the foundation to his thriving practice in Battle Creek, Michigan as well as the many clinics he consults around the nation. His passionate work began when his own son was diagnosed with autism. And through a customized plan involving numerous lifestyle-enhancing strategies, his son is now a mainstream teenager excelling in music and will be attending Hillsong College in Sydney Australia in 2012.
In addition to being a devoted to husband to Missy and devoted father to Jake and Macy, Dr. Mark is an outstanding athlete. He was sponsored by a type-1 diabetic team, Triabetes, in 2009 and was not only an Arizona Ironman Finisher but has been slated as one of the fastest diabetics to do ironman distance triathlon in the world. Other endeavors include the 2009 Huff 50K, 2011 Run Woodstock 50K, 2008 and 2009 Steelhead 70.3 and the 2012 Yankee Springs 50k. Dr. Mark placed 4th and 3rd in the 2008 and 2009 Bayshore Half Marathon and has achieved National qualifying times in Master's swimming in both 2009 and 2010.
About Celebrity Press™:
Celebrity Press™ is a business book publisher that publishes books from thought leaders around the world. Celebrity Press™ specializes in helping its authors grow their businesses through book publishing. Celebrity Press™ has published books alongside Brian Tracy, Dr. Ivan Misner, Ron Legrand, Mari Smith, Kelly O'Neil, Alexis Martin Neely and many of the biggest experts across diverse fields.
If you'd like to learn more about Celebrity Press™ or to see if we're a good fit for your book project, please visit http://www.celebritypresspublishing.com/contact-us