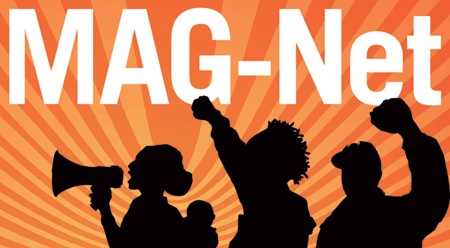 FOR IMMEDIATE RELEASE
Contact: Brandi Collins, 510.698.3800 x409 
Early this morning, ten community-based organizations-many of them members of the Media Action Grassroots Network--filed a
letter
electronically with Minnesota Attorney General Lori Swanson.  These organizations are urging her to support and participate in the antitrust lawsuit filed by the Department of Justice to the block $39 billion AT&T- T-Mobile merger on behalf of community members and consumers. 
If the merger is approved and T-Mobile, a vital low cost wireless carrier, is eliminated, AT&T and Verizon would control nearly 80 percent of the wireless market.  This would leave millions of consumers facing higher prices, fewer choices, and lower quality services. Minnesotans could see mobile service plans increasing by as much as $50 a month with only the two providers competing against one another. 
"At a time when Minnesota can least afford it, this proposed takeover will cause a great deal of harm to Minnesotans in rural and urban communities by increasing prices, reducing choices and eliminating thousands of jobs," says amalia deloney, Media Policy Field Director for the Center for Media Justice.  "Mergers by their very nature almost always- if not always- lead to pink slips. Minnesota's poverty rate is already hovering around 10 percent."   
The following organizations signed onto the letter to Attorney General Swanson - 
The Center for Media Justice
The League of Rural Voters           
KFAI, Fresh Air, Inc,           
First Person Radio  
TruthToTell           
Main Street Project           
MIGIZI Communications, Inc,           
People's Press Project
Institute for Local Self Reliance
HOPE, Community Development Corporation
Line Break Media 
On September 5th, these organizations met with FCC Commissioner Michael J. Copps, to discuss the impact of the proposed AT&T takeover and broadband and Internet access for communities of color, rural and Tribal communities, and America's poor. "With 31 T-Mobile locations throughout the state, hundreds of Minnesotans' jobs will be on the chopping block if this deal goes through - meanwhile, their bills will go up." Said Danielle Mkali, a media justice organizer with Main Street Project, and meeting co-host. 
The organizations hope that community-based organizations in other regions will also follow suit and urge their Attorney Generals and the FCC Commissioners to stand up against the merger on behalf of consumers, un- and under-served communities.