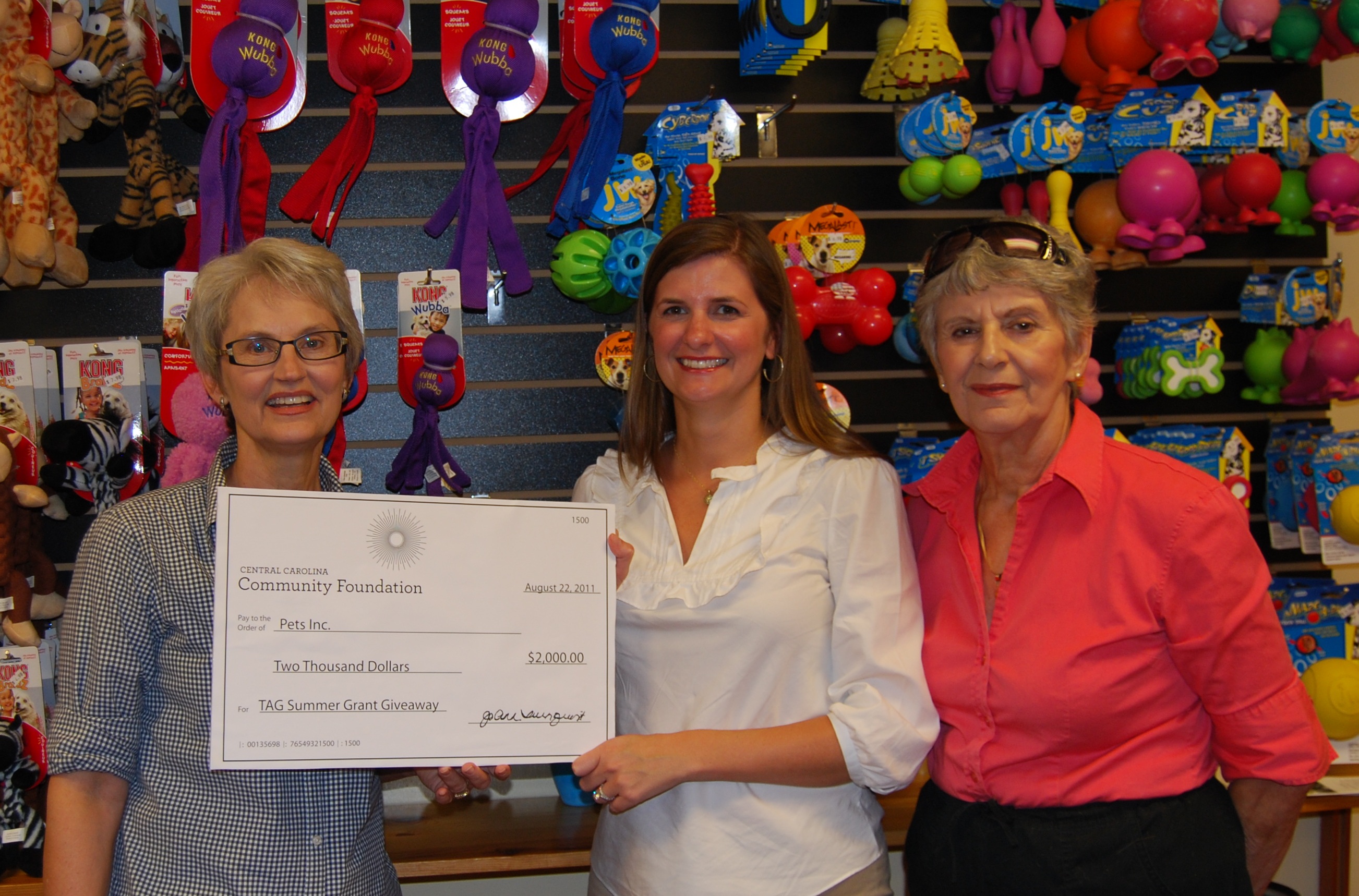 COLUMBIA, S.C. (August 25, 2011) - Central Carolina Community Foundation has announced that Pets Inc. is the winner of the Talk About Giving (TAG) Summer Grant Giveaway.

Pets Inc. was selected by fans of the Talk About Giving Facebook page. Throughout the summer, more than 600 TAG Facebook fans have nominated more than 60 Midlands nonprofits to receive the grant. For the second phase of voting, all fans of the TAG Facebook page were eligible to vote for three of the top 12 finalists to win the $2,000 prize. Pets Inc. received the most votes in the final round of the competition and was awarded a check earlier this week.

Pets Inc. was founded in 1992 by Jane Brundage and Patricia McQueen. The organization's mission is to assist people with their pets through education, counseling, training assistance and low-cost health care. Pets Inc. has developed programs to address pet overpopulation problems from the point of rescue, through the rehabilitation and adoption processes, and then ensuring the animal has a reasonably good chance for successful integration into a family by addressing its training and emotional needs. Financial support is provided by private donations and a few private grants.

"We can only accept new animals if we can pay their veterinary bills, so every time we get a new donation it opens the doors to allowing us to receive new animals," said Jane Brundage with Pets Inc. "This particular gift was perfectly timed for the heavy demand for intake we experienced last weekend. We are so grateful to our supporters for nominating us and voting for us to receive the TAG Summer Grant Giveaway."

"This summer's contest enabled us to highlight the rich variety of programs and services available in our community," said TAG program coordinator Kristin Williamson. "As we move forward with our initiative to encourage families to talk about philanthropy, we hope that we continue to foster conversations across our community about how people can get involved."

Talk About Giving is a long-term initiative of Central Carolina Community Foundation designed for families who want to pass along to their children a healthy understanding of the importance of giving. Through ongoing conversation and active participation in giving, children recognize philanthropy as a part of their family's value system. Studies show children of parents who give are much more likely to continue giving as adults.

For more information about Talk About Giving and Central Carolina Community Foundation, visit www.talkaboutgiving.org or www.YourFoundation.org.