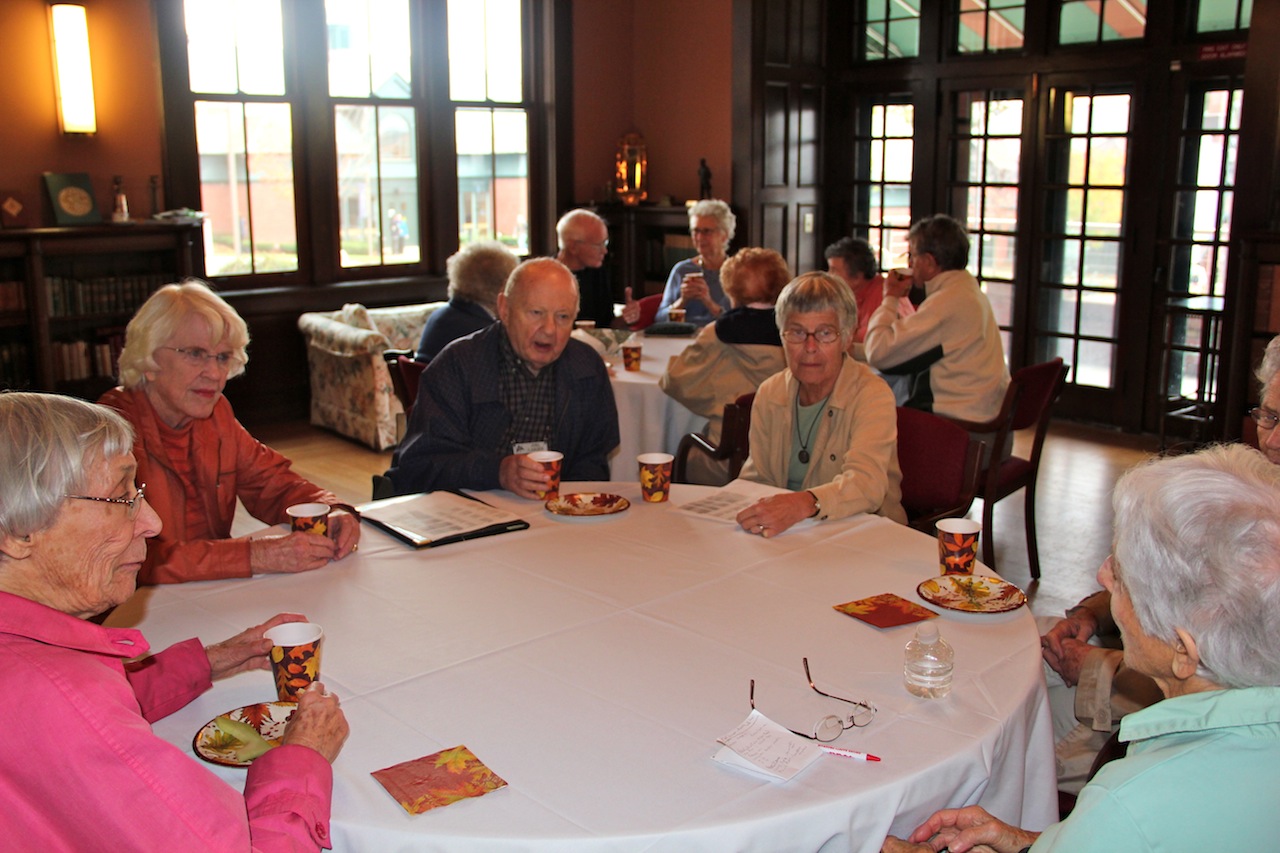 By Kayla Hedman '14 / Champlain College News
BURLINGTON, VT – Last fall, Champlain College and Wake Robin Lifecare in Shelburne brought an unusual classroom experience to the Wake Robin senior residents in Shelburne, Vt. through a pilot program called Inquire. Now in its second term, Inquire is providing another eight-week semester of learning opportunities in the areas of digital media, libraries, Lake Champlain history and Vermont local food.
The program is in high demand, offering valuable information and skills and the chance to travel to desirable locations such as Champlain's Montreal campus. This semester's course are:
Traditional Media in a Digital Age: What it Means to You
The Educated Palate: Experience Vermont Fresh
Master Lecture Series
Libraries Past, Present, and Future
Lake Champlain Yesterday to Today – together with Lake Champlain Maritime Museum
Each course is taught by volunteer members of Champlain College's faculty. After Jeff Rutenbeck, dean of Communication and Creative Media at Champlain College, taught his first Traditional Media in a Digital Age course last semester, he was blown away by the students' eagerness to learn about the history of media, books, and Wikipedia. His class, back by popular demand, will include discussions on printed books to Kindle, broadcasting to podcasting, and hand-on sessions called "Geek Lab."
Those involved agree that the best part about the program is that Inquire brings together different generations of scholars to illustrate how the past has influenced the present day. The "Silent Generation" that grew up expecting disappointment during the Great Depression and World War II; the Champlain faculty of Baby Boomers whom experienced great amounts of social change; and the Millennial present-day college students which are technology dependent.
"This gives each generation the opportunity to share life experiences and perspectives to reach an appreciative insight for one another," said David F. Finney, President of Champlain College.
Faculty involved in facilitating the spring term of Inquire includes:
In October, Elizabeth Beaulieu, dean of the Core Division at Champlain College, invited her students from Wake Robin Lifecare to visit campus. Out of Beaulieu's class of 22 students, 18 attended the field trip to campus. Their afternoon included lunch in the school's dining hall and a short tour given by Champlain College Student Ambassadors through the academic campus and the Miller Information Commons.
Following the tour, four small groups sat in on various Core classes with first and second year Champlain students. They were surprised by the amount of participation, open discussions, the diversity of students, and the ratio of males to females in the classrooms. "It is a valuable experience for them to be exposed to college as their grandchildren experience it," said Beaulieu. "Most of them are highly educated. We have a few students with masters and doctorates. They are still curious and passionate about learning."
The group closed the afternoon with an on-campus reception in the Morgan Room of Champlain's Aiken Hall. There they discussed what they noticed about Champlain and how it applies to what they had been covering in class.
Visiting Inquire students were a sharp bunch of men and women, with the oldest, 97-year-old Catherine Boettcher. "Their presence was inspiring; they were all eager to expand their knowledge, socialize and have new experiences. They even taught the tour guides a thing or two about Burlington in the good old days, Beaulieu recalled. "We used to sunbathe in late summer and ski down the edge of it throughout winter," said Jean Davison of Carriage Hall, a residence hall on Champlain campus that used to be part of University of Vermont.
Inquire students often used words like beautiful and lovely to describe campus architecture and layout. They were impressed by the technology, especially the under-desk mounted computer screens. They enjoyed meeting dynamic professors as well as cheerful, upbeat, and polite students. It all contributed to a very relaxed, enjoyable experience.
The majority of the group followed up their Burlington-campus visit by visiting Champlain College's abroad campus in Montreal, Quebec in early November. They received a tour of the academic center, attended a panel of students and faculty, visited the residence hall, and enjoyed dim sum for lunch.
The winter/spring term is nearly complete, ending in February. The Lake Champlain Yesterday and Today course begins in mid-April, allowing students to enjoy the lake during warmer weather. The semester will truly close after a reception, allowing students to share what valuable intangible outcomes they will take away from the program. Past faculty and staff involved include:
About Champlain College
Since 1878, Champlain College has provided career-focused education to students from its hilltop campus in Burlington, Vt. Champlain's distinctive educational approach embodies the notion that true learning only occurs when information and experience come together to create knowledge. Champlain offers traditional undergraduate and online undergraduate courses, along with online certificate and degree programs and eight master's degree programs. Champlain offers study abroad programs at its campuses in Montreal, Quebec and Dublin, Ireland. Champlain College will be included in the Princeton Review's "best colleges" guidebook, "The Best 376 Colleges: 2012 Edition." Champlain was named a "Top-Up-and-Coming School" by U.S. News & World Report's "America's Best Colleges" and was ranked in the top tier of 2012 Regional Colleges in the North. For more information, visit www.champlain.edu.