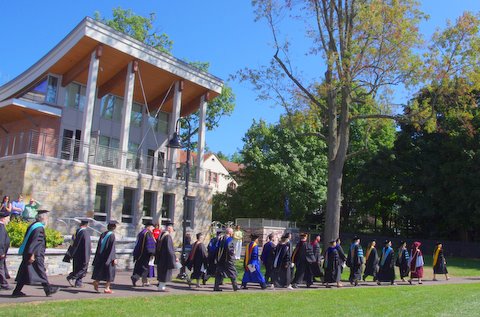 By Kayla Hedman '14 / Champlain College News

BURLINGTON, VT – Champlain College will celebrate receiving one of the nation's top green building awards on Thursday, March 29. President David F. Finney and the Champlain community are inviting the public to attend the official LEED Platinum Award Ceremony for an exclusive look at the construction of one of Vermont's greenest, most energy efficient, and high performing buildings.
"Champlain students, faculty and staff are delighted with the new Welcome and Admissions Center. Perry Hall is a beautiful example of our commitment to campus sustainability in our built environment," stated Christina Erickson, sustainability director at Champlain.
The public open house will run from 4 to 6 p.m. on March 29, with remarks and the official unveiling of the LEED Platinum Award beginning at 4:30. Perry Hall is located at 251 South Willard St. Light refreshments will be served. Champlain students will give guided informational tours of the building and surrounding landscape to highlight the many sustainable design features.
Champlain College's Welcome and Admission Center at Roger H. Perry Hall opened in the summer of 2010 after an extensive restoration of the historic 1859 residence. The U.S. Green Building Council's LEED green building certification program (Leadership in Energy and Environmental Design), certified the project to the Platinum level, making it one of only three buildings in Vermont to be recognized at that level. LEED Platinum is the highest LEED certification a building can receive. The project's certification proves that green restoration is possible and can address environmental problems like climate change on a local level.
Compared to an identical building built to current energy standards, Perry Hall has:
Projected energy use savings of 65.6 percent

Estimated cost saving of 64.2 percent ($45,921 annually)

Ability to save 370 tons of carbon emissions annually
The restoration of the original home was expertly combined with the design team's incorporation of modern sustainable features including:
A geothermal heat pump to provide space heating and cooling

Super insulation and tight construction

Use of local and recycled building materials

Green roof technology

Ecological landscaping for wildlife habitat and stormwater reduction

Energy efficient lighting
The result is a unique historical treasure fully revitalized for a new era of service in the 21st century, Champlain officials say. The building was also awarded the 2011 Architectural Excellence Award by the Burlington Business Association for contributing significantly to the physical and architectural quality of Burlington. The Vermont Chapter of the American Society of Landscape Architects awarded Perry Hall and its surrounding landscape the 2010 Vermont Public Space Award.
Roger H. Perry Hall has been home to a statesman and lawyer, a capitalist and botanist wife, a businessman and developer and a doctor, his wife and their 11 children. Only four families had lived in the home prior to Champlain's purchase in 2004. Ground was broken on the restoration project in May 2009 and it was completed in late July 2010.
The building now houses the Advising and Registration Center, Admissions and Financial Aid and serves as the welcome center for prospective students and their families visiting Champlain College. A restored carriage barn at the rear of the Perry property houses a state-of-the-art computer design lab for students in the Creative Communications and Media Center, Game Design and other technical majors.
As Champlain College President David F. Finney said at the Perry Hall dedication, "You never have a second chance to make a first impression. We wanted to make our first impression be memorable to our prospective students and families… to let people know that even as we embrace the future, we honor and cherish the past, the heritage of place and of our people."
Perry Hall represents a milestone in the College's history, Finney said, representing a remarkable example of historic preservation, and one that at the same time models the highest levels of modern sustainability and environmentally sound development in Vermont.
Perry Hall demonstrates the feasibility of advanced sustainable technologies and sets a precedent for institutional green building. "The green building movement offers and unprecedented opportunity to respond to the most important challenges of our time, including global climate change, dependence on non-sustainable and expensive sources of energy and threats to human health," said Rick Fedrizzi, president, CEO & founding chair, U.S. Green Building Council. "The work of innovative building projects such as Roger H. Perry Hall at Champlain College is a fundamental driving force in the green building movement."
Champlain College is devoted to continuing its commitment to campus sustainability. As members of the USGBC, Champlain's historic Aiken Hall was awarded Champlain's first LEED Gold Certification in October 2009. Currently, Champlain is slated to receive LEED Gold Certification for the new 95-bed residential hall under construction on the north end of campus.
Erickson, together with other members of the Champlain community, put together a full-color booklet to explain in detail the adaptive reuse of Roger H. Perry Hall. This book will be available to visitors at the March 29 event. It is printed on 50% recycled content paper and an online PDF version will also be available to view and download.
Learn more about Perry Hall at http://www.champlain.edu/perry-hall.html.
About Champlain College
Since 1878, Champlain College has provided career-focused education to students from its hilltop campus in Burlington, Vt. Champlain's distinctive educational approach embodies the notion that true learning only occurs when information and experience come together to create knowledge. Champlain offers traditional undergraduate and online undergraduate courses, along with online certificate and degree programs and eight master's degree programs. Champlain offers study abroad programs at its campuses in Montreal, Quebec and Dublin, Ireland. Champlain College will be included in the Princeton Review's "best colleges" guidebook, The Best 376 Colleges: 2012 Edition. Champlain was named a "Top-Up-and-Coming School" by U.S. News & World Report's America's Best Colleges and was ranked in the top tier of 2012 Regional Colleges in the North. For more information, visit www.champlain.edu.
About the U.S. Green Building Council
The U.S. Green Building Council is a nonprofit membership organization whose vision is a sustainable built environment within a generation. Its membership includes corporations, builders, universities, government agencies, and other nonprofit organizations. Since USGBC's founding in 1993, the Council has grown to more than 17,000 member companies and organizations, a comprehensive family of LEED® green building rating systems, and expansive educational offering, the industry's popular Greenbuild International Conference and Expo (www.greenbuildexpo.org), and a network of 78 local chapters, affiliates, and organizing groups. For more information, visit www.usgbc.org.
About LEED®
The LEED® (Leadership in Energy and Environmental Design) Green Building Rating System™ is a feature-oriented rating system that awards buildings points for satisfying specified green building criteria. The six major environmental categories of review include: Sustainable Sites, Water Efficiency, Energy and Atmosphere, Materials and Resources, Indoor Environmental Quality and Innovation and Design. Certified Silver, Gold, and Platinum levels of LEED green building certification are awarded based on the total number of points earned within each LEED category. LEED can be applied to all building types including new construction, commercial interiors, core & shell developments, existing buildings, homes, neighborhood developments, healthcare, schools and retail facilities.
Incentives for LEED are available at the state and local level and LEED has also been adopted nationwide by federal agencies, state and local governments, and interested private companes. For more information, visit www.usgbc.org/LEED.