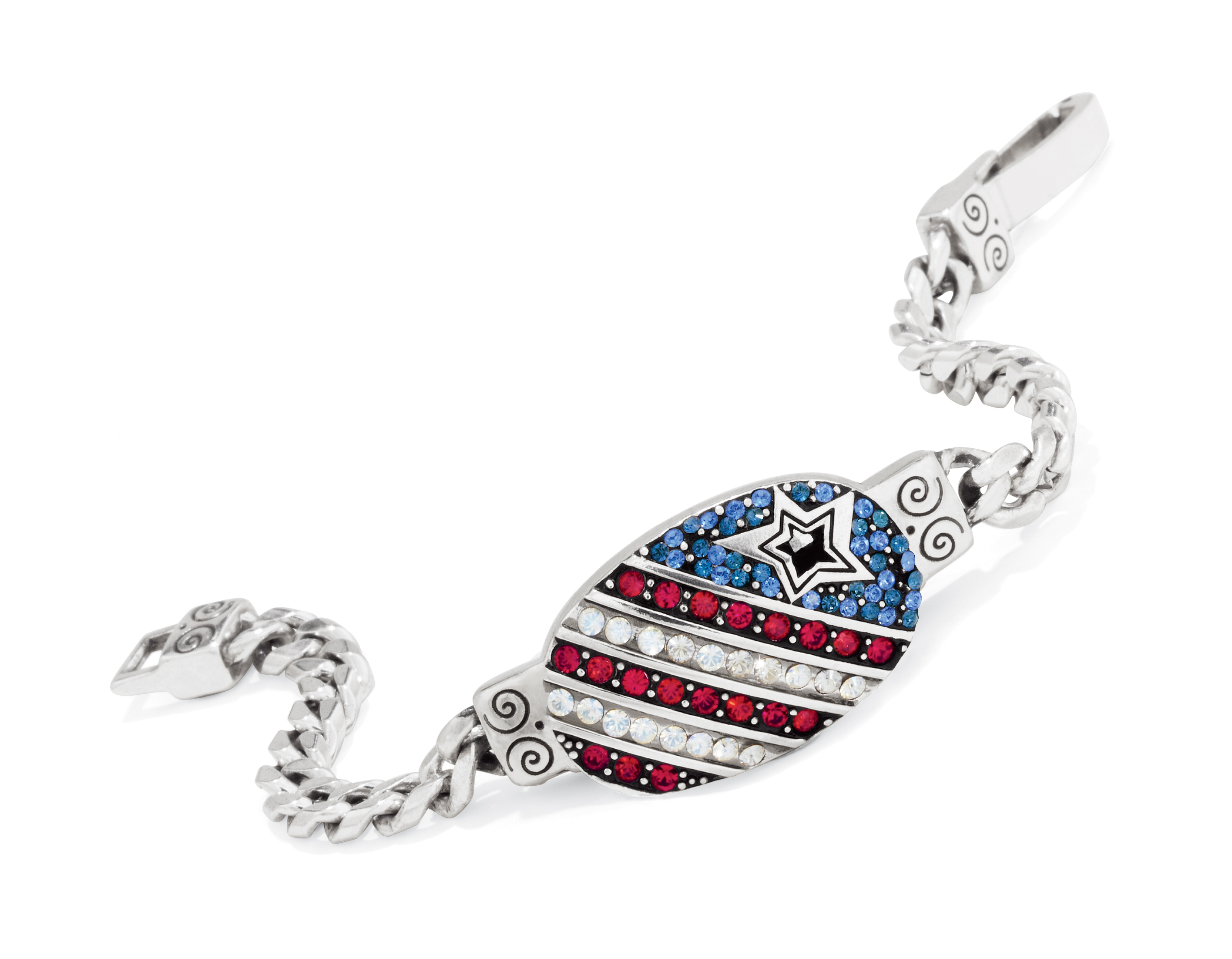 CHANDLER, AZ – [July 16, 2012] – Only two weeks remain for the Brighton Loves America promotion, benefiting Chandler Center for the Arts this summer. The Chandler Brighton Store is leading the nation in sales of the Americana bracelet, taking the #1 ranking in bracelet sales for the 160 Brighton Collectibles stores in the nation and raising more than $7,000 to date to support the Connecting Kidz programs at Chandler Center for the Arts.

The Brighton Loves America promotion, which began on June 1st and ends on July 31st, offers local communities a special way to support charities and other non-profits each year in their quest to sustain arts programs for children. Chandler Center for the Arts was selected by Brighton Collectibles in Chandler Mall this year for their unyielding commitment to arts outreach and education for children through their various Connecting Kidz programs.

"Annually, at each Brighton location, a charity or other non-profit organization is chosen as a partner for the sale of the limited edition Americana Bracelet," explained Sharon Lehew, Store Manager. "We were delighted to select Chandler Center for the Arts as our beneficiary."

The I.D. style, zinc-based Americana bracelet that features a Swarovski crystal American Flag design is sold for $48.00 each, with 50% of all proceeds donated directly to the chosen non-profit in order to fund future arts programming and enrich the lives of youth across the country.

The Center's programmatic opportunities, which include: Music Theatre Summer Camps, Theatre Kidz, Vision Kidz and the Youth Advisory Council encompass every area of the arts, from visual arts to live performance arts.

With a personal passion for the arts, Brighton co-founder Jerry Kohl created the Brighton Loves America program nearly a decade ago, in efforts to assist those supporting the arts and making a difference in children's lives in communities throughout the United States. After almost ten years of charity support, Brighton Collectible's nationwide stores have collectively donated over $8 million to worthy charities and non-profit organizations.

To show their appreciation for the partnership, the team at Chandler Center for the Arts has joined hands with the staff at Brighton Chandler to provide live performances from some of CCA's youth, a wine and cheese party, as well as in-store visual displays that illustrate CCA's work in the community.

"We felt extremely honored and blessed in the beginning just to be given this opportunity by Brighton," says Katrina Papas, General Manager at Chandler Center for the Arts. "Now, with over $7,000 raised for Connecting Kidz and a few weeks to go in the promotion, we could not be more overjoyed and thankful for what they have already done and continue to do to help us maintain our kids arts programs."

The bracelets are available for purchase now through July 31st in-store at Brighton Collectibles inside Chandler Fashion Mall. Customers who do not wish to travel to the store may call Brighton at (480) 726-0263 to purchase a bracelet and have it shipped directly to the home, with only a $5 added fee.

Brighton Collectibles inside Chandler Mall is located at: 3111 W. Chandler Blvd, #1024, Chandler, AZ 85226. The store is located on the lower level of the mall next to the Apple store. Shoppers can conveniently access Brighton Collectibles by parking in parking lot P1, outside of the Nordstrom department store.


CALENDAR LISTING INFORMATION
Event: Brighton Americana Bracelet promotion for Connecting Kidz at CCA
Event Type: All ages
Date: June 1, 2012 – July 31, 2012
Cost: $48.00 per bracelet
Venue: Brighton Collectibles, Chandler Mall (lower level, 1B)
Venue Address: 3111 W. Chandler Blvd, #1024, Chandler, AZ 85226
Website: www.chandlercenter.org
Twitter: www.twitter.com/chandlerarts
Facebook: www.facebook.com/ChandlerCenterfortheArts

Contact: Judi Johnson, Marketing Coordinator judi.Johnson@chandleraz.gov
Phone: 480-782-2674?

Located on the northwest corner of Arizona Avenue and Chandler Blvd, the Chandler Center for the Arts is Arizona's leading collaborative arts institution dedicated to reaching out to audiences of all ages with the highest quality of artistic work to continuously inspire audiences and artists to dream, to discover, to create and celebrate.

The Chandler Center for the Arts serves as a creative driving force, educational resource, and economic engine of entertainment vitality in Chandler by making visual and live performance arts accessible to the entire population.

###

About Chandler Center for the Arts

The Chandler Center for the Arts is jointly owned by the City of Chandler and the Chandler Unified School District. The Chandler Cultural Foundation was contracted in 1989 by the City of Chandler as a means to facilitate programming and fund development for the Chandler Center for the Arts.

As a nonprofit organization, the Center relies on a variety of funding sources to help underwrite internationally acclaimed artists, educate young audiences, create important community programs and maintain our remarkable facility. Ticket sales and other earned income do not completely cover the costs of the Center's numerous programs and education offerings. Only support from individuals, corporations, foundations and our public partners can make these programs possible.

Membership contributions sustain a spectacular array of services and programs and make Chandler a better place to live and visit. To become a member or to purchase tickets with no per-ticket fee, visit the Web site at www.chandlercenter.org.