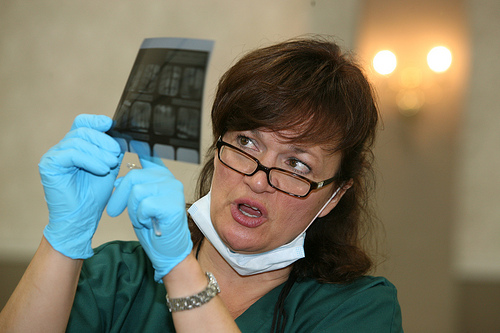 Forgot to brush your teeth this morning, had an onion overload at lunch, no time to floss—these sound like practical reasons to be conscious of your mouth when arriving at a dental check-up. For some dentists, a case of bad breath is nothing compared to the things they've seen come out of a patient's mouth.
Chicago Dental Society asked members about the strangest thing they've found in a patient's mouth. Here is the society's top ten strangest:
10) A chicken bone
9) Part of a ballpoint pen
8) Obscene lip tattoos
7) Pet hair
6) DIY remedies, like Super Glue and wire, to hold broken and loose teeth in place
5) Fragment of a blasting cap
4) Fingernails
3) Hot Wheels tire
2) Insects, both dead and alive
And the strangest thing found in a patient's mouth?
1) A blinking LED light the patient had installed in a tooth.
Now that gives new meaning to having a bright smile!
The survey was conducted for the Chicago Dental Society's 147th annual Midwinter Meeting, which will bring more than 30,000 dental professionals to Chicago this February. The Midwinter Meeting is a forum for dentists to learn about new products, technologies and methods.