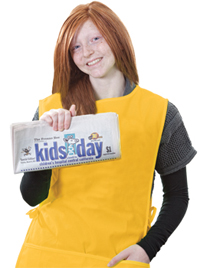 Posters of Hollywood stars feature professionally styled hair and makeup to suggest perfection. Chelsea Dunn's authenticity stands in absolute contrast. The 2011 Kids Day ambassador for Children's Hospital Central California may have plopped a wig on her head for the Kids Day photo shoot, but that's only because Chelsea is defined - at least in part - by her gorgeous red hair. Her fiery personality refuses to submit to the unwelcome cancer which invaded her body. "I'm not helpless. I'm just sick," said Chelsea, comparing nausea from chemotherapy to the stomach flu. "I want cancer survivors to feel strong about ourselves," she said.

The high school sophomore demonstrated her fortitude long before her cancer diagnosis, and this battle further proves her strong character. "She's such a wonderful child," said Ruth Martinez, registered nurse at Children's Hospital. "She's one of those kids that you just cherish."

Chelsea's freshman year at Tulare Union High School started off on the right foot. She quickly fell in love with the marching band, and thoroughly enjoyed playing the marimba and the vibraphone. Even as a freshman, she took charge of the percussion section. "They called me `mom' because I would tell them what they were supposed to be doing," she said. "I like to get things done at rehearsal."

Mario Capote, director of bands at Tulare Union High School, calls Chelsea a hard worker. He spoke of the time some equipment needed to be moved and she came alongside him and began to help. Capote was surprised by her spontaneous assistance. "I'll never forget it. She said, `That's what we're here for. We're the students, you're the teacher. Just tell us what you want us to do.' I wish all kids were like that," said Capote. He was also surprised by her talent. "When I first auditioned her back in eighth grade I asked if she'd had private lessons and she said no, that she'd picked it up on her own," he said. "She's a great musician - very talented for someone learning on her own."

Soon after Chelsea began her second semester, she felt uncomfortable sitting at her desk in school. "I found lump on my back between my shoulder blade and my spine," she said. "My first thought was that I had cancer, but everyone said no." Her family doctor in Visalia, William C. Holvick, MD, thought it might be a cyst. Chelsea lived with the lump for a couple of months, but in time it became quite painful. "One morning it was hurting so badly that my mom decided I should have it removed," she said. Dr. Holvik removed it during a routine outpatient visit and had the tissue tested. "A week or so later we went in and he said, `This might be cancer.' It was hard from then on," said Chelsea.

Chelsea's extended family anxiously awaited results from a second biopsy of the mass. Her parents separated when she was three years old. They divorced and her mother later remarried. "I was spoiled, and then when I was eight I got a sister, and I was like. wait a minute," said Chelsea with a grin. Her half sister, Bethany, is now seven years old and Chelsea loves having her as a member of the family. "She's so sweet," Chelsea said as she placed a hand over her heart.

Bethany was in school on May 21, 2010, when Chelsea drove from her home in Tulare to Children's Hospital Central California with her dad, her mother and stepfather, and her grandmother to learn the results of the biopsy. "I don't remember a whole lot that day," said Chelsea. But she hasn't forgotten her very first thought. "I was right," she said. Chelsea and her family learned that she definitely had cancer.

J. Daniel Ozeran, MD, PhD, hematology/oncology at Children's Hospital, called it Ewing sarcoma and scheduled surgery for the first available date. "The doctor said, `This is an aggressive cancer so we're going to treat it aggressively,'" said Chelsea, who was given less than three days to prepare herself for surgery. "He said, `I wish we could do it sooner.'"

"It's never easy," said Dr. Ozeran of breaking the news to families of a cancer diagnosis. "We are the boogey man," he said. "We tell parents they're facing their biggest fear."

When Chelsea saw the bad news hit her parents even harder than it hit her, the determined redhead made a decision she later voiced. "As long as I'm strong, they're going to be," she declared.

"Chelsea has an ability to look outside herself," said Joan Dimino, registered nurse at Craycroft Cancer Center. Dimino worked as a neonatal intensive care nurse for 16 years then moved to Children's oncology clinic after her son successfully battled cancer. "It's a weird thing to say you love treating cancer patients," she said of the switch. "I found my first best destiny." Dimino was quick to express her delight at treating Chelsea. "She has a strength she brought with her. We see defeat in certain kids in their hearts and minds, but Chelsea has a strength and energy that moves her through this," she said.

The surgery on May 24 accomplished three important procedures. Chelsea received a port in her chest for chemotherapy treatments, had the original site of the mass excavated, and had a sample of bone marrow taken from her hip. After surgery Chelsea learned the cancer was not in her bones. "It's only stage one. OK, so I'm not gonna die," she said. "We feel real lucky that it's not in the bones. I was very excited about that!"

Chelsea comes to Children's for chemotherapy every other week and usually stays from three to five days. "I've never had one rude nurse," she said. "I've seen six or seven doctors. They're all very nice. They talk to me about me and I really appreciate that."

Chelsea likes the way Faisal Razzaqi, MD, hematology/oncology, acts as if he has all the time in the world whenever he enters her room. "Dr. Razzaqi is really nice. He looks right at me and he makes sure he answers all our questions," she said. Chelsea gets a kick out of the jewelry worn by Vonda Crouse, MD, hematology/oncology. She mentioned liking Dr. Crouse's flower earrings best. Chelsea is also grateful for the volunteers who bring their dogs to visit. Chelsea loves dogs, especially her own. "She'll lick my head and it's awkward `cause I'm bald," she said with a smirk.

Heather Christenson knew her daughter would jump at the opportunity to be named the 2011 Kids Day ambassador. "When they asked if I thought she'd want to be involved with Kids Day, I said, `Yes, she'll do it,' and they said, `You probably should double-check with her.'" Chelsea's mom laughed at her own enthusiasm, but Christenson had pegged her daughter's reaction. When Chelsea found out, she exclaimed, "I'm gonna be famous!"

As Kids Day ambassador, Chelsea will be the Hospital's spokesperson for the 24th Annual Kids Day, a fundraising campaign involving thousands of volunteers selling special edition Fresno Bee newspapers at nearly three dozen sites throughout the Central Valley's 10-county area.

When asked if she knew the spokesperson's duties, Chelsea said, "They told me, but I'm a teenager and I've had sleep since then."

Witty comments like these often spring from Chelsea. "The cancer hasn't beaten her for sure. It hasn't beaten her down," said Dimino. "She's not letting it mess with her head to the point where she won't joke or laugh." Chelsea now knows our Kids Day ambassador speaks with reporters, at events and in schools about her experiences at Children's Hospital Central California.

Chelsea wants people to know that cancer treatment and hospital stays are difficult. "I'm a teenager! I'm supposed to be worrying about my hair and boys, but I'm not. I'm nauseous all the time," she said. After mentioning her hair, Chelsea reached up and touched her head, which she described as feeling like "peach fuzz." When asked her reaction to losing her long red hair, she said, "I was so upset with it. I just started pulling it out. I'm a girl and I'm 15 and my life revolves around my hair."

Her mother looked up from the scarf she was making and said, "And she was known by her hair. People would say, `You know the freshman with the red hair?'"

Chelsea doesn't gloss over her pain and struggle as a cancer patient, but at the same time she adamantly insists no one pity her. "I may be going through chemo, but I can still whip anyone's butt," she said with a playful gleam in her eye. Chelsea's redheaded attitude serves her well in this fight. "The chemo treatments always hit me hard," she said and fell silent for a moment. Then she shrugged and said, "I'm only sick when I'm here. I think it's a hospital thing." Chelsea's nurses know how difficult coming to the Hospital for chemotherapy can be and are impressed with Chelsea's fortitude. "She does what she has to do," said Dimino.

Chelsea's mom taught her daughter how to crochet as a way to pass time during hospital stays. "Her mother is wonderful," said Martinez. "I think she did a wonderful job with Chelsea." Martinez watched Chelsea work diligently on a scarf during a recent five-day visit to Children's. "All day she worked on the scarf. She was so focused on it. She kept saying she wanted to finish it before she left," said Martinez. "I'd say, `Don't worry. It's OK if you don't finish. Don't put so much pressure on yourself to finish.'" But at the end of Chelsea's hospital stay, she did finish, and gave the scarf to Martinez. "I was out of words," she said.

Chelsea's dad has also been very supportive. He may not be able to teach her to crochet, but he reached out to his daughter in a very special way. "He shaved his head for me," Chelsea said. "All of us girls have a special connection to our daddies. It's comforting to me when my dad rubs my head."

Chelsea missed the last two weeks of her freshman year and has been homeschooled since beginning tenth grade. Originally, Chelsea's oncologists at Children's Hospital planned to complete her cancer treatments in time for her to rejoin her sophomore class for the second semester. But illness and infection have delayed her treatment enough to keep her out of school the entire year. "I miss the high school drama, but I'm a couch potato," said Chelsea, alluding to the volume of her television consumption since becoming ill.

As an oncology nurse, Dimino knows how exhausting cancer treatment can be. "A lot of what happens to these kids is they get isolated. The world keeps going and forgets they are there. Chelsea's not gonna let that happen," she said.

When Chelsea's not being homeschooled or watching television, she keeps busy texting. "I'm very glad we have unlimited text!" exclaimed Christenson of her daughter's efforts to stay in touch with friends.

Life has been very different for Chelsea since last May. She takes classes at home and no longer plays percussion with the band. She texts her friends rather than visiting with them face to face. "You have to find a new normal," said Dimino of living with cancer.

But for Chelsea, redefining normal does not mean losing her authenticity. Chelsea is as genuine as ever. And some things will never change. For example, does she plan to attend summer school to catch up on her studies? "Oh, heck no!" Chelsea exclaimed. "Summer's a time for fun!"

This year Kids Day will be held on Tuesday, March 8. Make sure to purchase your $1 special edition of the Fresno Bee to support Children's Hospital Central California in our mission to provide high quality, comprehensive healthcare services to kids like Chelsea Dunn.