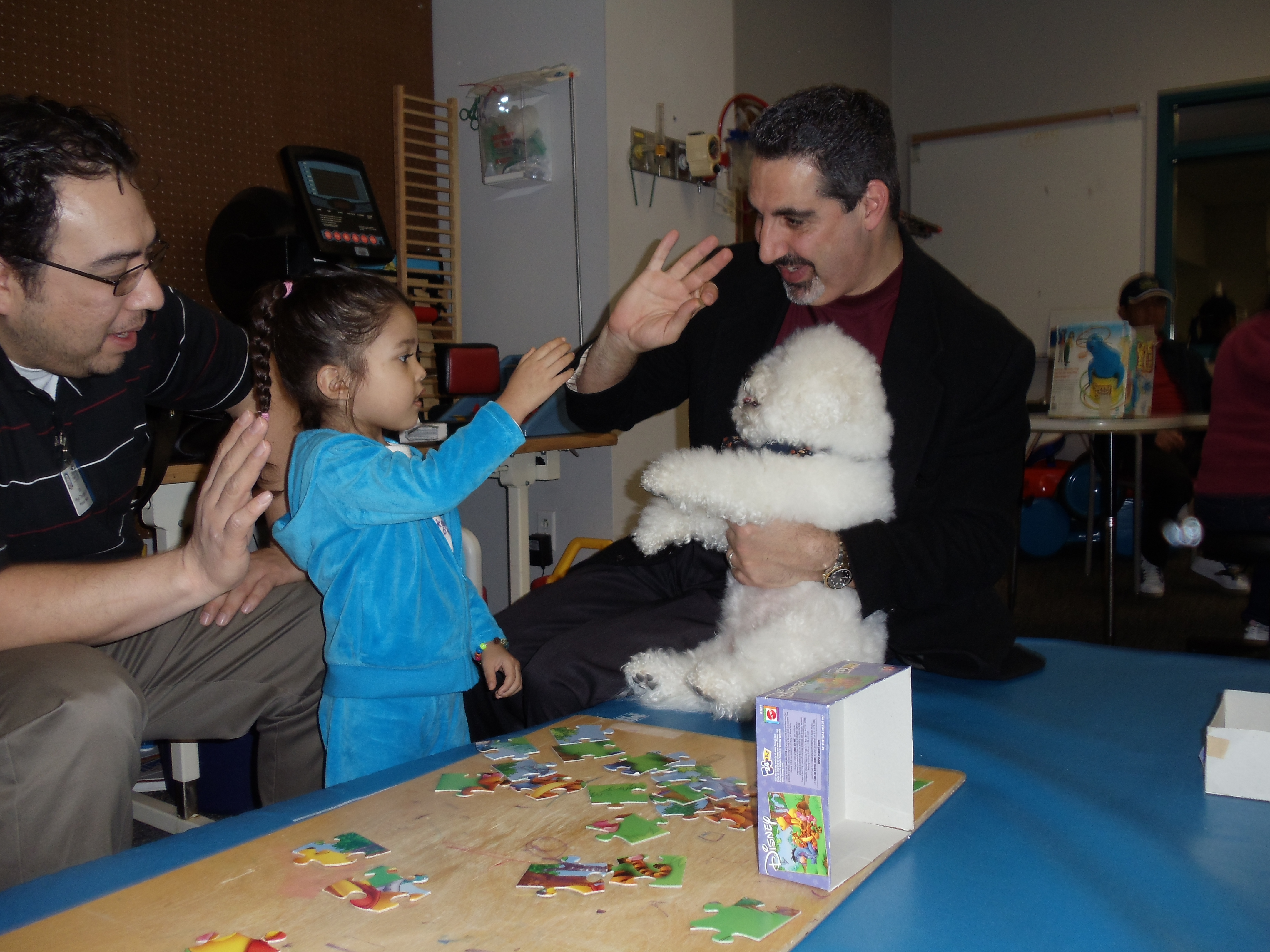 Marley and Snoopy make us laugh. Old Yeller and Lassie give us hope. And all 101 Dalmatians warm our hearts. Though these furry, four-legged creatures exist only on screen, something about them evokes an emotional response. When we can wrap our arms around a real dog, we kindle more than mere sentiments. The right one can wiggle his way passed fear, anger and confusion to forge a powerful connection. Several of these irresistible dogs visit Children's Hospital Central California on a regular basis. They work their magic by forming a bond with sick and injured kids, and in some mysterious way these canine volunteers promote both physical and emotional healing.

The Hospital's SPOT program - which stands for Special Pets Offering Tender loving care - began as an intern project when Child Life Supervisor Mary Beth Jones attended California State University Fresno with a recreational therapy major. "It was in February 1991, and back then we were only allowed in rehab," said Jones. She initially met with minor resistance from executives at the Hospital because no protocols had been established to bring animals into patient rooms. While working to develop policies and procedures for animal-assisted activities at Children's, Jones learned that placing the program under the management of volunteer services erased regulations for written parental permission and eased liability concerns. The Hospital gave a welcome nod to the SPOT team of volunteers, and the children in rehab embraced their new four-legged friends.

Tales of the visiting dogs soon reached the ears of several oncologists. "They wanted the dogs for their patients too," said Jones. Before long, SPOT teams were granted access to any area that did not have an infection control concern.

"All SPOT volunteers go through the regular volunteer screening process, including a health screen and background check," said Erin Collins, manager of the volunteer services department at Children's. "The dogs are screened by a veterinarian for health and behavior."

Twenty years ago, Jones sent a mass mailing to veterinarians in the Fresno area asking for assistance with her internship project. Dr. Linda Porter of Bullard-Marks Veterinary Medical Center was the only one to respond. She partnered with Jones to carefully screen every dog and owner applying for the program. To this day, Dr. Porter sees potential SPOT team members regularly at her clinic. In addition to checking vaccination records and conducting a health assessment, Dr. Porter also tests the dog's temperament. "She'll drop stainless steel canisters in another room and watch how they react," said Jones. "And I'll take my kids along to make noise and pull the dog's tail."

Sue Bissell has been a volunteer since the program's inception. She taught kindergarten and first grade at the time, and would come to Children's Hospital after school and stay until dinner time. Bissell has retired since then, and so have a few of her canine companions. Jenny, Bella, Charlie and Lucy have each walked the Hospital's halls on the other end of Bissell's leash. All have worked magic.

"I used to take my dog into the classroom," Bissell said of her days as a teacher. She recounted the story of a troubled, angry boy in her class who was transformed by the dog's role in his life. "It made me a believer in the positive impact of a dog on children." When she heard of Jones' plan to begin an animal-assisted activities program at Children's Hospital Central California, she was among the first to volunteer.

Valerie Brauner began volunteering over 13 years ago and joined the SPOT team in March 2007. She had no problem taking a back seat to her dog, Ruby. "The kids know the SPOT teams by the dog's name," said Collins. "They're even listed that way on our website." When Brauner drops in for a repeat visit, she will often hear the young patient say, "Hi Ruby!"

Paul C. Lebby, PhD, a neuropsychologist at Children's Hospital, often makes bonus rounds with his dogs, Dolce and Mia-Gabbana. "I've been bringing them in for a couple of years now and there are some situations where there's really nothing we can do medically to make a child feel better, to make a child's day happy. They may be very ill from medications; they may be very sick from an injury and there's something about bringing these guys into the room that always brings a smile to their faces and achieves a goal that we can't do as physicians," said Lebby.

Jim Maxwell remembers a request he received from a nurse when he and his Great Dane, Max, visited rehab. "She said, `I've got one for you tonight' and told me that her 14-year old patient had not spoken to anyone since her accident." Maxwell learned the injured girl would not talk to the nurses and would not talk to her parents. She would turn her head away when someone entered the room. When the Great Dane approached the girl's bed, everything happened just as the nurse described, but Max would not be ignored. "He tunnels under her arm and flips her hand onto his head," said Maxwell. "She got to the point where she was just giggling with Max." Then the girl's mother walked into the room. Maxwell's voice grew excited as he recalled the teen's change in behavior. "She said, `Mom, can you believe this dog?' It's the first time she's spoken to her mom since the accident and Mom bursts into tears," said Maxwell. He emphatically believes dogs have an innate ability to sense things people can't and respond in a way the child needs.

Dr. Lebby knows Dolce and Mia-Gabbana contribute to his patients' physical, as well as emotional, healing. "Today we took the dogs for a walk with a little girl who's just learning to walk again after being very, very sick," he said. "It's only been a few days since she's been walking and that's something that allows the child to participate in an activity that's difficult without even realizing they're doing it because they're really playing with the dogs." Dr. Lebby spoke of incorporating his dogs into his patient's therapy. "Especially with children who are having difficulty walking or they have difficulty with mobility because of a spinal cord injury or a brain injury or an infection," he said. "A lot of times the children have a difficult time not only moving their limbs, but they don't want to move their limbs. So in therapy, for example physical or occupational therapy, we may want the child to move the limb, but because the child has difficulty, they don't want to. But if you put a ball in the child's hand and have them throw the ball to Dolce and he brings the ball back, you can spend 20 minutes or a half an hour with a person doing the therapy with them and they don't even realize they're doing it.

Though not a medical professional like Dr. Lebby, Bissell and her dogs have also helped promote physical healing. "A lot of times I'm down in the gym and the kids will try things with the dog they won't do with the therapist," she said. Bissell gently persists in drawing children out. She encourages them in her warm, assuring "kindergarten-teacher" voice. "Nine times out of 10 you can work them into petting the dog," she said.

A dog's companionship can actually lower blood pressure and lessen anxiety, possibly slowing elevated heart rates. According to Marian Facciani, Child Life specialist II at Children's, dogs connect beautifully with kids in altered mental states. "The dog brings them back to reality, especially if they have a dog of their own," said Facciani. "If the child is confused and doesn't know where he his, a dog can bring him back."

Two strong and positive parents stood at their son's bedside when Max paid them all a visit recently. The teenager had suffered a brain injury. He was lying very still and staring straight ahead when the huge Great Dane entered his room. "Do you know what that is?" his mother asked with an animated voice and a smile.

He nodded and whispered, "A dog." The boy slowly lifted his hand to pet Max as a smile tugged at the corner of his mouth.

"What color is the dog?" The mother queried. "Do you know the color of his fur, son?" The boy quietly petted the giant animal. "He's doing well with a lot of things, but he still can't remember his colors," the patient woman said. Then she told her son, "His nose is black."

The child looked at his beautiful mother and nodded. In a barely audible voice he said, "Black."

Jim Maxwell owns another Great Dane named Mia. A short time ago, the two of them were walking the Hospital's halls, going through their regular routine, when a doctor from the emergency department approached. "I like going to emergency because there's a lot of energy," said Maxwell. "The doctor came and said, `Let me tell you what I've got down the hall. Near drowning. I've got him wrapped up and can't evaluate him because he's so scared and his parents are so scared that I can't do a reasonable evaluation.' Then he asked if Mia could go down there and break that cycle." Maxwell and Mia followed the doctor who announced their presence with enthusiasm. "The kid took to her immediately," said Maxwell. "Brought his hand out of wrapping and began petting her." The volunteer and his dog did what the doctor could not. Maxwell asked the child if he had a dog. "We started a conversation and the doctor is watching the whole thing. He conducted his assessment in less than 10 minutes, and then he gave me a nod."

Child Life Specialist Facciani works closely with the patients in Children's Pediatric Intensive Care Unit. (PICU). "Different areas of the Hospital have different needs," said Facciani. "Children on the floor are more playful and active. PICU patients are very still, very sick." She said some SPOT teams focus on entertaining the kids. The dogs perform tricks to laughter and applause. "PICU calls for a different kind of dog because it's a different environment," she said. "Kids there need comfort. They need the dog to just lie there beside them. It's very therapeutic."

All the owners and their pets have a unique approach to the children they visit, and many build relationships. Valerie Brauner knocked on an oncology patient's door and said, "Alyssa, Ruby's here to see you." The SPOT team member not only knew the patient had a dog at home, but she knew its breed. When Alyssa mentioned her dog had delivered puppies two months ago, Brauner asked, "Did you keep any of the little Chihuahuas?"

Alyssa's room was decorated with several posters of her favorite stars. Justin Berber clearly ranked at the top. As the patient cuddled with Ruby, Brauner commented on the picture of the singing sensation with his dog. "His dog's name is Sam," said Alyssa. Brauner smiled and undoubtedly took the trivia to heart, further nurturing the relationship Ruby had helped form.

When it comes to entertaining, Lee Ann Fleming's tiny dog Mitzi steals the show. This playful team radiates energy. Mitzi dances for a piece of carrot - an organic carrot no less. Even the youngest patients coo and giggle as she pirouettes round and round on her hind legs. Children love to present Mitzi's organic treat after a performance. Her repertoire surprises and delights audiences of all ages. A favorite for patients is when Fleming tells Mitzi to "take a nap." The little dog lies down, grabs the corner of her wild animal print blanket with her mouth, and rolls over, thereby wrapping herself from head to tail in the blanket. Mitzi also obeys the command to "say your prayers." She puts her front paws on Fleming's forearm and bows her head. Children often videotape Mizti's antics and send them far and wide.

Mitzi is not the only SPOT team member familiar with the camera lens. Max and Mia - often by virtue of their size alone - pose for countless photographs, many of which get posted on facebook. An ambulance driver pulled his cell phone camera out of his pocket and asked Maxwell, "Would you mind if I take a picture of your dog? Just the other day my children were asking me what a Great Dane looks like." He snapped the picture and shook his head, "Man, that dog is big."

Sue Bissell's dog, Lucy, comes to Children's Hospital Central California for a different purpose. Children rarely applaud her or take her picture, but that's only because they are often too weak to do so. Lucy quietly, unpretentiously works miracles. "It's like this is what she was made to do," said Bissell of Lucy's special way with the Hospital's sickest children. Lucy's owner is also perfectly suited for her work as a volunteer. Bissell's gift of patience and compassion enables her to carry a conversation with the most unresponsive children. Her wisdom, garnered from years as a schoolteacher, guides every encounter.

"My daughter spent time in one of those," she told a teenager with a spinal cord injury, as she pointed to the brace around his mid-section. "I remember that."

His face lit up as the look of alienation left. "What happened to her?"

"She was thrown 45 feet head first off a racing horse. She broke her T6, shattered her T7 and broke her T8," Bissell paused. "Now she's racing again." The boy reached for Lucy's furry white head. Perhaps one day he will also break free from the wheelchair parked in the corner of his room.

Bissell recalled an exchange with a doctor working to rehabilitate a 7-year-old girl with a disorder of her peripheral nervous system known as Guillain-Barré. "She told me, `I'm going to either make her well or make her crazy. Your job is to make sure she doesn't go crazy.'" Bissell brought her dog twice a week just to spend extra time with the little girl. "She was paralyzed even up to her eyes, but when the dog came she would work as hard as she could to open them. Her whole motivation to get better was so she could pet the dog," she said.

Following Bissell and Lucy from room to room is like watching a ray of light break through a dark cloudy sky. One bony little girl hadn't touched her food and told Bissell she wanted to go home. In her warmest grandmother voice, Bissell asked the little girl if she had ordered the yummy food she hadn't touched. The girl nodded and Bissell said, "Being here is not so bad because you get to be the boss. You even get to tell them what you want to eat." Bissell placed Lucy close enough to cuddle. "Do you get to be the boss at home?"

"Uh-uh. My mom is."

"So see, it's not so bad here, then."

In another room a 5-year-old girl lay silently in her bed while her sister - just one year her senior - chatted incessantly. Whenever Bissell asked the patient a question, her big sister would answer. Lucy played with big sister while Bissell engaged the quiet patient in conversation. Given the opportunity, the 5-year-old wanted to talk about her kindergarten teacher. Bissell knew all about kindergarten. "Does your teacher laugh a lot?" she asked.

"Yes, she laughs a lot," she giggled in reply.

"Oh, that's good. That means she's a good teacher."

For nearly 20 years, Bissell has brought a small dog with a huge heart to the PICU. Child Life services specialist, Marian Facciani, highly esteems the work of this faithful volunteer, especially with comatose and dying patients.

"Sue is so patient and knows how to work with the kids. I can't even tell you." she said as her voice trailed off. "I remember a little girl who was like 5. She made no response to anything else. The dog had been there three times beforehand. This time when Sue was helping her pet the dog, we watched her fingers move! Her mom started bawling. She was moving on her own."

Once Facciani got started, she remembered more heart-rending stories. She spoke of a 4-year-old boy hit by a car while riding his tricycle. Bissell spent weeks exposing the unconscious boy to her dog's textures: the soft fur, the rough foot pads, and the wet tongue. Facciani said, "She would say, `Oh, her nose is cold.' And would pick up the child's hand and have him touch the dog." Sometimes while Bissell was there Facciani would see a little reaction on the monitors. When the boy awoke from his coma, Bissell continued to visit him with her dog. "She'd say, `Can you smell her? She just had a bath. Doesn't she smell nice?' The dogs really do make a difference," said Facciani.

Eventually the child was moved to a long term facility in Northern California. When Bissell learned he was telling people that his dog was going to come visit him, she asked for permission and then made plans to take her dog up there. "He told everyone that it was his dog. It wasn't my dog, it was his dog," Bissell said. "I just stood back like I wasn't there and let him spend time with his dog."

Years ago a 15-year-old boy with cystic fibrosis fell so deeply in love with Bissell's dog, Jenny, that his parents bought him a dog that looked just like her. "He was so sick he never got to go home to be with it, but Jenny would come to the Hospital," said Bissell. One day the Hospital called Bissell and said, "It's time." She brought Jenny to the Hospital and put her on his pillow. The little dog curled up in the curve of his neck above his shoulder and stayed there until the boy died.

SPOT teams offer tender loving care to caregivers as well. Valerie Brauner walked Ruby passed a room with an empty bed, but the room was still occupied. "My grandson's gone to get a PICC line," said the woman sitting alone. Brauner offered to come back later, but as she turned away the grandmother asked, "What kind of dog is that?" Brauner came back into the room and shared several minutes of "dog talk" with the patient's grandmother. While the boy was having a spaghetti-like tube inserted into his arm and advanced to a large vein near his heart for intravenous access, his grandmother was distracted by light-hearted conversation with Brauner and cuddle time with Ruby.

Dr. Lebby has experienced similar situations when he brings his dogs to the Hospital. "The patients' families just adore them," he said. "Sometimes when the patient is not able to interact with one of the pups, I have the parents play with the dog. It gives them a break from their daily routine and from thinking about their sick child all the time."

SPOT teams also visit the staff to provide a welcome change of pace. "The staff at the Hospital, they also have a very difficult job dealing with a lot of difficult issues and some very sad issues, and they can love on them and play with them, and so it gives the staff a break as well," said Dr. Lebby.

As Maxwell waited for an elevator to leave the oncology department, a nurse ran up and said, "Good! I caught you." She led him down the hall toward a room with a closed door and a drawn curtain. "I want Max to visit a boy who's dying," the nurse said softly. "He loves dogs." Powerless over the child's advancing cancer, the compassionate nurse was given an opportunity to bring comfort through the loving presence of a dog.

The Special Pets Offering TLC have lived up to their name countless times since Mary Beth Jones first introduced the SPOT team concept in February 1991.These canine volunteers give their two-legged friends a sense of purpose. They combat feelings of loneliness. And they offer tender loving care unconditionally.

"To just say it's a visit.it's not. It's part of the total care," said Collins.

"She knows you love dogs," said Fleming to a patient Mitzi kissed lavishly.
"I like her ears," the little girl said.

"Do you think she could fly?" asked Fleming, holding Mitzi's ears straight out from her head.

A grin lit up the once sad face. "Can I give her a treat?" The weak child reached for a piece of organic carrot and offered it to Mitzi who gobbled it down.

"You're so good with her!" exclaimed Fleming. "Mitzi loves you. She appreciates how good you are with her."

It doesn't take a rocket scientist (or even a neuropsychologist) to brighten a child's day. Sometimes the perfect medicine comes from the companionship of a furry friend. Just ask Dr. Lebby. "Watching the expressions on the patients' faces and on the parents' faces to me is what it's all about."

To learn more about how you and your dog might offer a little TLC, contact the volunteer services department at Children's Hospital Central California at (559) 353-5222 or visit online at http://waystogive.childrenscentralcal.org and click Volunteer @ Children's.