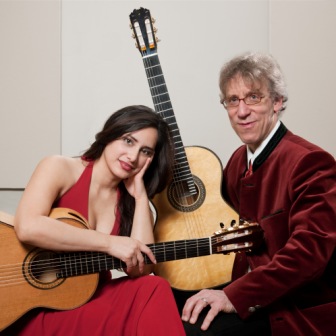 Eliot Fisk and Zaira Meneses - the dynamic husband-wife duo - and the Young Symphonic Ensemble with Michael Dadap as conductor will perform Vivaldi's "Concerto for Two Mandolins (R532)" in the 17th Annual Discovery Concert and Benefit Gala for the Children's Orchestra Society at Alice Tully Hall on May 26th at 7:30 PM. Discovery Competition winner Miss Hinano Ishii will debut in "Chaminade's Concertino for Flute and Orchestra." The gala concert also features Joachim Rodrigo's "Concierto de Aranjuez," Mussorgsky's "Night on Bald Mountain," and Mendelssohn's Symphony #4, "Italian."

Discovery Concert tickets are $30, $50 & $75; available at Centercharge: 212-721-6500 or by calling the Children's Orchestra Society: 516-869-9696.

The Discovery Competition, a juried contest originally inspired by the Avery Fisher Career Grant, encourages young musicians in the metro NYC area to strive for excellence, and provides an opportunity to share the stage with world-class musicians. This year's winner, 18-year-old Hinano Ishii, studies flute with Koaki Shinkai and Kaori Fujii. She is also a competitive horseback rider and a serious art student.

The Young Symphonic Ensemble's conductor, Michael Dadap, is an accomplished composer, guitarist, recording artist, and folklorist. "A performance with Eliot Fisk, my colleague and friend, has been one of my dreams, " Mr. Dadap explains." The audience will find Vivaldi's concerto for two mandolins and strings--which Eliot and Zaira will perform on guitar--truly inspiring, because of its intimate nature and pure beauty."

Eliot Fisk was the last direct pupil of Andres Segovia, and also studied interpretation with the legendary harpsichordist Ralph Kirkpatrick at Yale University. Depicted as a "Fiery Missionary to the Unconverted" by the NY Times, Eliot Fisk devotes considerable energy to teaching; he is Professor at the Universitat Mozarteum in Salzburg, Austria, and in Boston at the New England Conservatory.

Zaira Meneses displayed great talent for music from the time she was a young girl in Xalapa, Mexico; studying both classical guitar and voice. She has traveled widely, performing with the famed Orquesta de Guitarras founded by Maestro Alfonso Moreno. "We feel so honored to welcome this year's distinguished guests," shares Yeou-Cheng Ma, the Executive Director for Children's Orchestra Society, "The Rodrigo Concierto de Aranjuez is special to my husband, Michael, and me; he was performing it in Chicago when I was in labor with our first child!"

Children's Orchestra Society has been hailed as one of two thriving youth orchestras in NYC by Anthony Tommasini in a New York Times article last year, "Youth Movement, New York Edition" (July 9, 2010). The Young Symphonic Ensemble, a talented group of 55 young musicians, is one of the five performance groups at Children's Orchestra Society. "Our child-centered approach to teaching is unique," explains Yeou-Cheng Ma, daughter of the organization's late founder, Dr. H.T. Ma. "Each child enjoys the benefits of music making in a supportive environment."