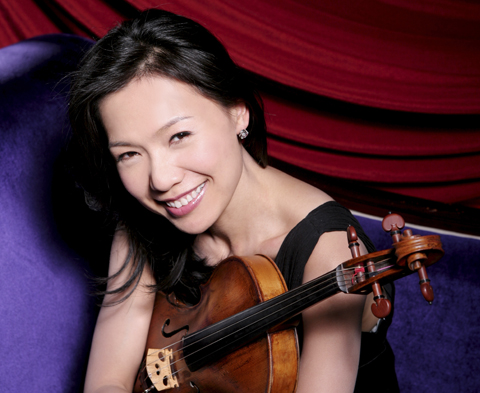 A Romantic program by the Young Symphonic Ensemble, leading violist Hsin-Yun Huang and competition winners Eric Zhang and Aya Terki celebrates the 18th annual Discovery Concert and Benefit Gala for the Children's Orchestra Society. The Lincoln Center concert at Alice Tully Hall on May 12th showcases the young musicians and Ms. Huang in Brahm's Double Concerto, Bartok's Viola Concerto and Tchaikovsky.
Tickets for the performance on Saturday, May 12th at 3:00 PM are $30, $50 and $75, and may be purchased by calling Children's Orchestra Society: 516-869-9696 or Centercharge: 212-721-6500.
This year's winners of the annual Discovery Competition, which is judged by a jury of professional concert artists, are high school seniors on Long Island: Cellist Aya Terki attends East Meadow High School, and violinist Eric Zhang attends Great Neck North High School. As promising young musicians they share the Discovery Award, which is given to encourage excellence and to provide an opportunity to share the stage with established concert artists. Previous winners have performed with notables such as Yo-Yo Ma, Emanual Ax, Elliot Fisk and others.
Guest artist Hsin-Yun Huang came to international prominence in 1993 when she took the top prize of the ARD International Music Competition in Munich and the Bunkamura Orchard Hall Award. A dedicated teacher, she serves on the faculties of The Juilliard School and the Mannes College of Music.
The Young Symphonic Ensemble's founder and conductor, Michael Dadap, is an accomplished composer, guitarist, and folklorist. In 2006 he received the Philippine Presidential Award for efforts to promote Philippine music & culture worldwide.
The Young Symphonic Ensemble, one of the four orchestral groups in the Children's Orchestra Society, draws its talented members from the NYC metro area; many of them starting at COS at a young age. "Our child-centered approach to teaching is unique," explains Yeou-Cheng Ma, daughter of the Children's Orchestra Society's late founder, Dr. H.T. Ma. "Each child enjoys the benefits of music making in a supportive environment." Ensemble playing, with their peers and with professional musicians, is central to the COS experience.
This performance is made possible, in part, through generous grants from the Franklin Family Foundation, the David Aronow Foundation, the Scholz Family Charitable Trust, Farrell Fritz, P.C. and the Bernstein Family Foundation.