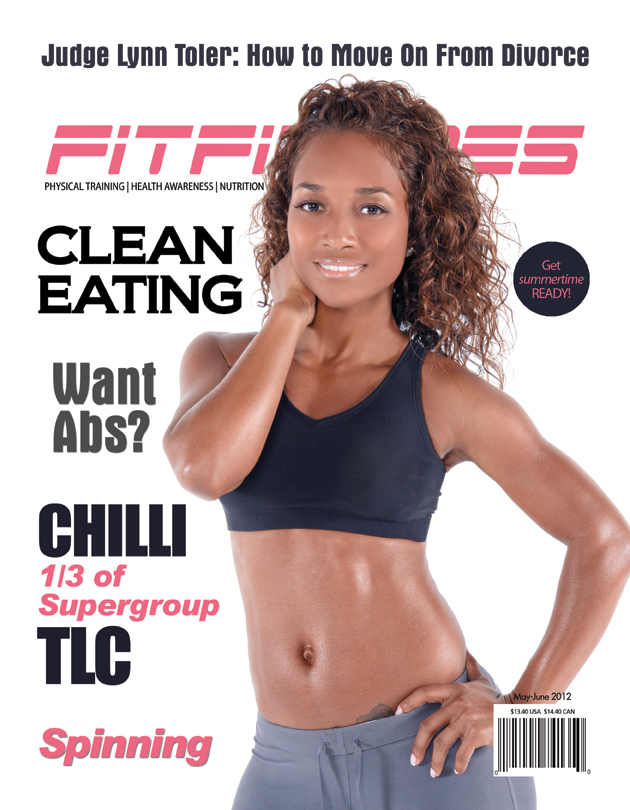 ATLANTA – TLC's Chilli graces the cover of FitFigures Magazine for their May/June 2012 issue, which is a special edition of the magazine featuring two different cover stories.
The singer/actress/dancer is well known as a stickler for health with her dedication to healthy eating and working out. Her amazingly fit body, six-pack abs, and youthful looks are all visualized on this cover. Although admittedly a busy celebrity but extremely hands-on mom, Chilli makes it a point to diligently follow a daily exercise routine coupled with a healthy eating to maintain her lean muscular physique. She has always been a promoter of healthy lifestyle as well as the former spokesperson of Dasani water. "Being healthy isn't just about looking great, for me its about really living your best life. The things you do to and for your body today predict your health tomorrow," Chilli says.
"I chose Chilli as a FitFigures cover model because she is a huge advocate for living a healthy lifestyle by clean eating and exercise," says Dionne D. Davis, CEO and Founder of FitFigues Magazine. "Our goal is to reach out and encourage those that struggle with diet and exercise and give support to those that implement this lifestyle on a daily basis and felt that Chilli was a perfect example of how you can balance being a mother and a business woman, and still get that workout in. She is the Twitter mother of workouts. She encourages her fans to workout and eat right. Chilli is the epitome of a multitasker. NO EXCUSES!"
Chilli is currently launching her first annual summer camp for Chilli's Crew, which focuses on self-esteem building and inner beauty. Chilli will also share her fitness and beauty tips with the girls. She is also currently working as a consultant and executive producer for TLC's biopic with VH1 set to air in the 4th Quarter.
Chilli's FitFigures Magazine cover will hit newsstands next month. You can also preview the cover at www.fitfiguresmagazine.com.
##
To keep up with all things Chilli like her Facebook page Official Chilli and follow her on Twitter @officialchilli